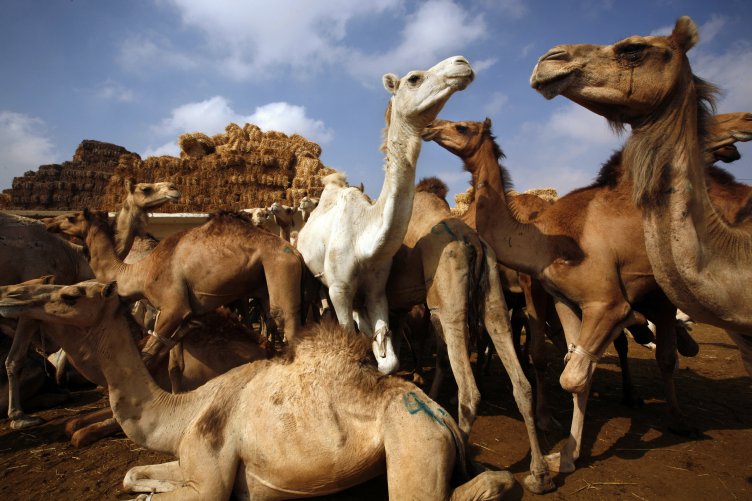 For over a week now, Ahmed Awni has struggled to offload any of the "prime" cuts of camel haunch that dangle on bloodied hooks outside his Cairo butcher's stall. He's tried a few gimmicks—"Buy 5 kilos of meat and receive a free pigeon." He's careful to beat off the flies that swarm his alleyway in the intense late summer heat. "You need to keep it looking clean," Awni says, while sprinkling the skinned carcasses with water as passing motorized rickshaws kick up clouds of dust.

But on this day, like most others before it, residents of the working-class Darb al-Ahmar neighborhood in the city's historic core won't bite. They have little appetite for Awni's wares—most of the camels are castoffs from the Giza pyramids tours that were no longer strong enough to bear the weight of camera-laden travelers—and so, after 25 years of plying his trade, the aging butcher is slowly resigning himself to reworking his stock. "People here used to savor camels in the same way as Christians love wine," he says wistfully, hacking the last edible scraps off a butchered sheep in preparation for the Muslim holiday of Eid el-Adha. "Not anymore, though. Now it's all chicken, chicken, chicken, chicken, chicken."

Ever since the earliest days of Nile civilization, camels and their meat have been a fixture of Egyptian and Sudanese life. From hauling heavy sacks of grain to market to providing a welcome high-protein treat for laborers, the hardy animals have sustained commerce and rural communities for millennia.

But as millions of villagers flock to urban areas, these big beasts have become less popular. "Ew," or some variation of it, is the standard response when a dozen residents of Cairo and Assiut, a city to the capital's south, are asked for their thoughts on the strong, tangy flavor of camel meat. "It's only good for kofta"—meatballs—is the verdict of a chef in one of Khartoum's swankier restaurants.

All this spells serious trouble for the farmers, dealers and shepherds who make their living along the storied camel caravan routes that extend from the Sudanese hinterland to the Nile Delta's densely populated wetlands. Their profit margins have been thin since a ban on slavery was first enforced a little over 100 years ago. (Human cargo sometimes subsidized the camel industry.) "God knows it's never been easy," says Alameen Hammad, a herder at the buzzy livestock market in Dongola, Sudan, as he readies his 70-strong pack of camels for the short, but ferociously hot, hop across the northern Sudanese desert to the Egyptian customs post alongside Lake Nasser. "Even when I began 30 years ago, it was difficult. But not like this. This is brutal." After losing two camels to masked robbers near his hometown of El Obeid, Sudan, his chances of recouping his family's investment are low. He has taken to watering his charges once every other day in order to save on expenses.

Looking out over this sprawling bazaar, which stands less than a mile from the Nile, it might appear as if the camel trade is thriving. Over 2,000 grunting, spitting creatures straggle across the scrubland on the edge of the Sahara, periodically lashing out at nearby people and protesting furiously as they're loaded onto trucks.

But part of Hammad and his counterparts' problem is that spiraling costs have pushed the price of camels beyond the reach of many of those who still care to eat them. At nearly $4 a pound in southern Egypt—compared with just a few cents a pound a few decades ago—it's more expensive here than beef. With about 40 percent of Egyptians earning less than $2 a day, meat of any kind is a luxury for many.

Mostafa Hassan Ibrahim, the self-described "wealthiest man" at the camel market in Daraw, Egypt, which is just to the north of Aswan, says there are many reasons for the sky-high price of camel meat. Both Cairo and Khartoum have taxed the trade to death, he says, often collectively demanding up to $250 per animal sold. Violence and instability in Sudan, where seven of its 18 states are at war, including camel-heavy Darfur and South Kordofan, have also exacted a serious toll. "And then there's the food, the water, the gas. All these things just get more and more expensive," Ibrahim says, pausing to listen in on a furious haggle, before swiftly darting to the side as a pack of camels, their right forelegs bound, hurtle toward us.

Above all, though, it appears the camel trade has fallen victim to climate change. A severe reduction in rainfall has shrunk grazing lands in Sudan by up to 50 percent, according to the U.N. Environment Program, while desertification has covered many watering holes. "The distances between a lot of the oases are just too great now," says Mohammed Ahmed Riad, a hardware merchant, who deals in the chains and iron brands used by camel herders at Daraw. "In a lot of places they now have to go by truck, which is expensive. Everything's just going wrong."

Poor conditions in the camel-rearing heartlands appear to have inspired an uptake in intertribal rivalries, as struggling clans compete for scant resources. Hammad says members of the Darfuri Rizeigat tribe, who dominate Dongola's market, are renowned thieves and have stepped up their camel rustling. "They use the haboob [sandstorms] as cover," he says. Rival dealers insist Hammad's Kababish tribe has a reputation for double-dealing and trading in stolen goods.

Whatever the truth is, it's clear that the several-thousand-year-old camel industry is close to extinction. If it were to disappear, Awni feels the region would lose part of its soul. As the Cairo butcher puts it, "When you hear Egypt, you think camels, no?"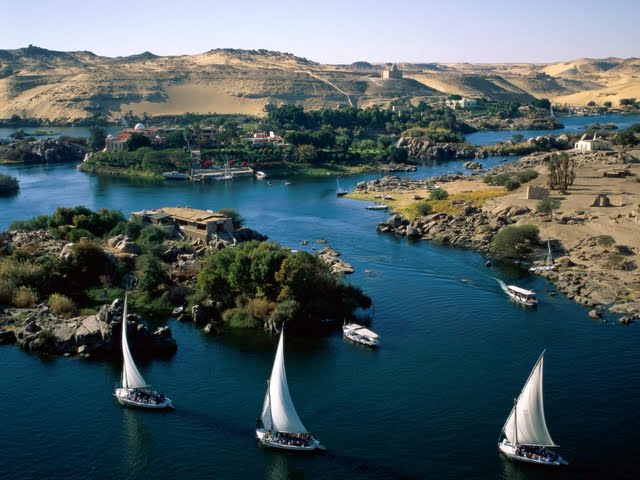 Over the course of summer 2015, Leyland Cecco, Jonathan Rashad, and Peter Schwartzstein spent six...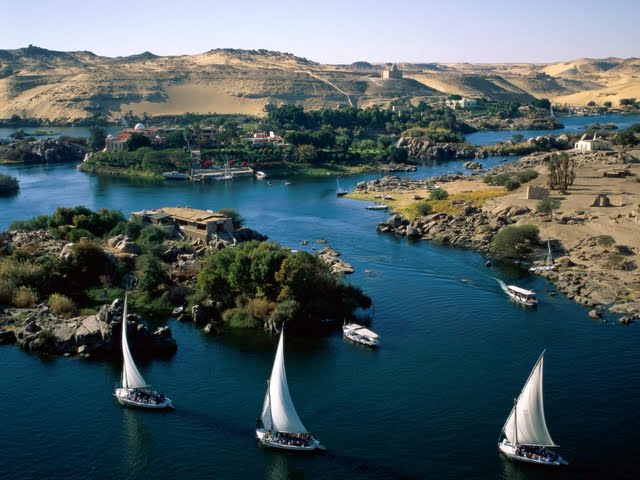 Over the course of summer 2015, Leyland Cecco, Jonathan Rashad, and Peter Schwartzstein spent six...
RELATED ISSUES