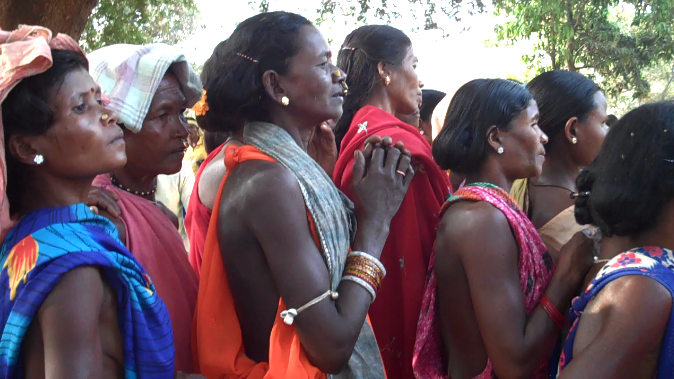 Morning started with an assembly at a school called KISS, the Kalinga Institute of Social Sciences in Bhubaneswar, the capital of Odisha (formerly Orissa) in east India. Thousands of students in crisp uniforms lined the expansive field, listened to announcements and sang in the morning sun. It's an inspiring sight due to their shear numbers and the remarkable order among so many young students. At this social enterprise, Adivasi--or indigenous--children are provided with an education, regular meals and access to healthcare at no cost. Opportunities such as this are extremely rare for Adivasis, and while KISS is a bright spot in the landscape of challenges faced by this group, tremendous hardship and poverty persists.

There are 400 distinct aboriginal tribes in India, numbering about 80 million. For millennia, they've lived in near isolation in forests across central and eastern India. The prejudice faced by Adivasis across the country is extreme and seemingly insurmountable. Even today, they are not accepted into Indian society and have only have themselves and their land to rely on. This means healthcare, education and regular meals often elude them.

The only outsiders to have shown great interest in Adivasis are the Naxalites. This far-left Maoist anti-government movement is growing, capitalizing on the displacement of Adivasis by the former-British colonizers, and more recently by mining interests, and government corruption. The Maoists are well organized. Some parts of this group operate legally, while most others wreak havoc on communities through exploitation of poor villagers, including the Adivasis. On multiple occasions, Prime Minister Manmohan Singh has said that "Naxalism remains the biggest internal security challenge facing [India]," and it remains a great threat to the advancement of Adivasi communities.

In an effort to better understand the plight of the Adivasis, our team traveled from Bhubaneswar through rugged terrain to the Bonda Hills with Haadi, a bright and athletically gifted KISS student who served played on KISS's championship rugby team (yes, rugby in India!). The Bonda Hills are remote, to say the least, and are inhabited by some of the world's most isolated communities. We traveled with police escorts because of heavy Naxalite activity in the region. About halfway through our journey, we stopped at a celebration where police and Adivasi community members were singing and dancing together in an effort to strengthen their strained relationship. Suddenly, our congenial escort's expression turned serious and he insisted that we leave "now." We asked for a minute to finish capturing video of the festivities. "Right now," he said very seriously. We later learned that two policemen had been killed by Naxalites in the same area that very afternoon.

We continued our journey into the Bonda Hills, parked our jeeps and hiked up several rocky hills. Haadi led us to a village and into the small hut where his family lives. We stooped down to clear the low doorway and entered into a dark room. His mother greeted us as she was grinding rice on a heavy, hand-cranked stone grinder. Very slight, with weathered skin and an amputated foot due to an untreated infection, she reflected on her son's departure to KISS.

"At first I didn't want him to go away," she said. "I am an old lady and [my husband] is an old man. We work only to eat and survive. I didn't want my eldest son to leave. There is a scarcity of food. I wanted him to work since I have two more small children." But Haadi, committed to the idea despite of his parents' resistance, ran away from his village and ultimately enrolled in the school. Today, Haadi has aspirations of returning to his village after graduation to help other kids in the way he has been helped. Meanwhile, his mother learned to accept his absence with some reluctance.

While the Adivasi community continues to face extreme challenges, emerging programs like KISS provide Adivasis with the education and resources they need to become a part of India's growth story. The KISS founder Dr. Achyuta Samanta sums it up: "The best answer to Naxalites is education."
RELATED ISSUES

Governance

Women

Children and Youth