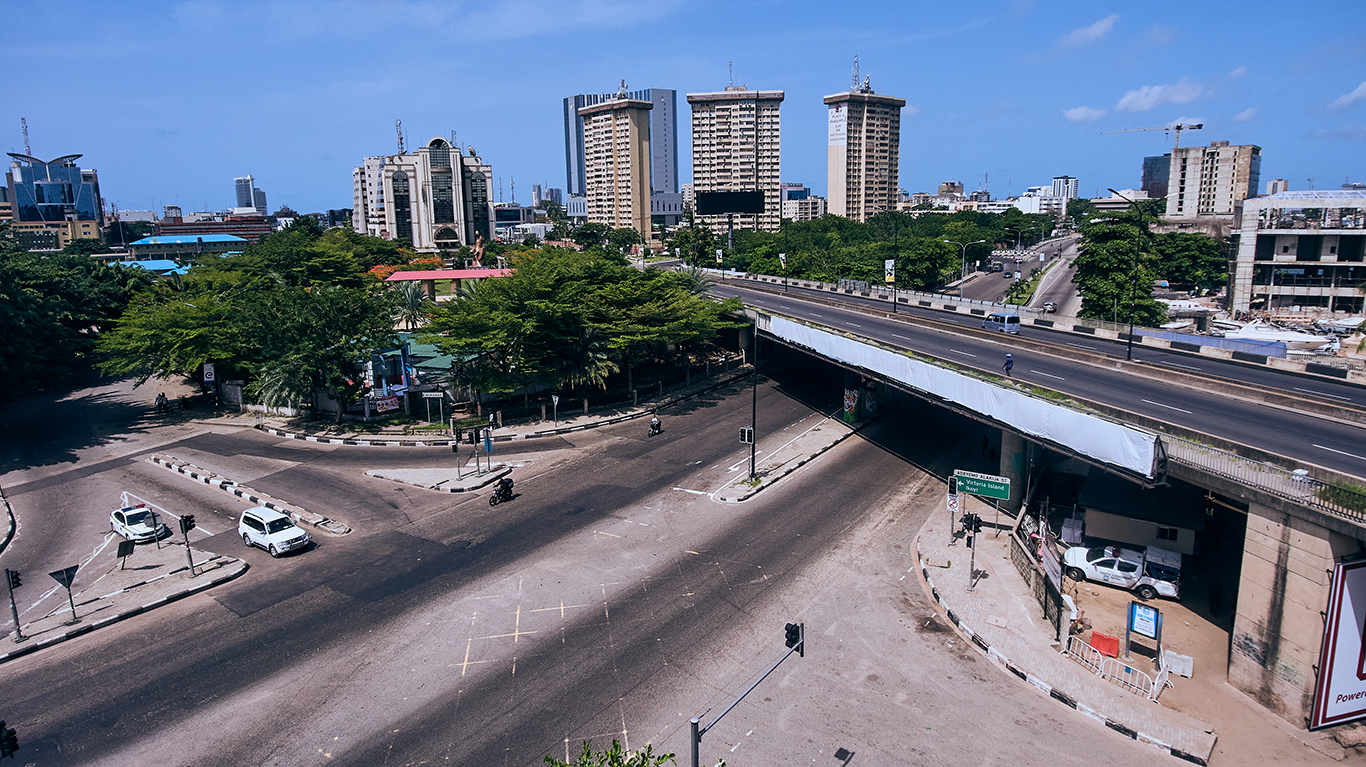 As the reality of the coronavirus pandemic dawns on Nigeria, the country, like the rest of the world has begun canceling events, flights, and virtually everything that requires social, official, and religious gatherings.
The impact of these measures aimed at reducing the spread of the virus has hit the economy too. These impacts are likely to cripple the economies of most countries and may lead to the collapse of fragile economies.
Nigeria's economy is facing collapse as it largely depends on oil exports. The oil markets have been on a downward trend as COVID-19 has crippled demand. Fuel prices fell and recorded 18-year low trading at less than 22 dollars per barrel and expected to go lower.
To salvage the situation and enable ease of business in Nigeria despite the pandemic, the Central Bank of Nigeria (CBN), through Godwin Emefiele at the 'Growth 2.0 Meeting' held in Abuja on March 15TH and at the 'Banker's Committee Meeting' on March 20th in Lagos, announced "policy measures such as the additional moratorium of one year on CBN intervention facilities, interest rate reduction on intervention facilities from 9% to 5%; the activation of the N1.5 trillion InfraCo Project for building critical infrastructure; the strengthening of lending to deposit ratio policy, additional N100 Billion naira intervention in healthcare loans to pharmaceutical companies; and the N1 trillion loan to boost local manufacturing and production across critical sectors".
At the popular Sahad stores at Area 11 in Abuja, on March 21st, Aminat Waziri, a mother of 4 lamented of visiting four stores in search of bread, as all the bread shelves were empty.
'Walahi, mothers need help at this time to keep children at home with little money and no food.'
The Economic Impact of the Pandemic on Citizens
The presidential order for a lockdown over a two-week period, effective from March 30th had more adverse effects on the economy of the country. Most private organizations laid-off workers and the few that remained had their staff salaries slashed.
The media houses were not left out, one out of many is the Punch newspapers that laid off about 40 staff at the end of May because adverts were not coming as it used to maintain staff overhead cost.
Most hotels that closed counted losses for maintenance, while staff, most of whom are breadwinners, were laid off since March 2020. The effect will no doubt have a great impact on paying their bills and managing their family.
Mr. Ukamaka Donatus, a chef with a five-star hotel in Abuja, who has a family of 5, lamented that he was laid off unexpectedly after he was paid his march salary.
Aside from this, people's purchasing power has drastically dropped due to no money in circulation.
In addition, the price of goods has skyrocketed. Many essential products like water and food items doubled in price due to panic buying and hoarding as supplies cannot meet the demand.
A loaf of bread which is for the common man, formerly sold between 300-350 Naira is now sold for 400-450 Naira.
A basket of tomatoes that was sold for 500-600 Naira before the coronavirus pandemic now ranges between 1,700 and 1,800 Naira.
Likewise, a kilo of meat increased in cost from 1000 to 1,500 Naira on the average. A bag of pure water sachet that is essential in every home doubled in price from N100 naira to N150 to N200.
Before the coronavirus epidemic, 100 ml of hand sanitizer was sold at 350 Naira but now are sold at triple its initial cost. A store owner at a supermarket in Garki district, Emeka IME, said they cannot be blamed because they bought it at double its price "Madam, nobody fit say as the price they go up, my oga sef buy am very cost".
The cost of transportation also increased. As a result of the social distancing measures, it became mandatory for public vehicles to reduce the number of passengers carried at a time. Due to this requirement, few commercial drivers plying the road increased the fare cost to meet the shortfall of the limited numbers it conveys per time.
Business owners, especially small businesses that survive on daily sales, can no longer meet their daily family needs due to the lockdown that led to the closure of shops and businesses that do not provide essential services.
According to PWC, Nigeria's SMEs account for 96% of businesses and 84% of employment, posing a severe risk to small businesses. The impact of the epidemic on small businesses is leading to low turnover and laying off staff.
A good example is Peace Hope, who works in the hospitality sector. She was laid off after getting her March salary because the hotel had low patronage since the coronavirus outbreak. This case is one of many in private businesses.
Aside from small businesses, some states like Adamawa, in the northern region of Nigeria issued a circular that they will not be able to pay March salary due to small allocation from the government as a result of a downturn in the sale of crude oil. These may also be the case with other states that did not make public announcements about their struggle to pay salaries of workers.
The effect of the pandemic has been predicted to linger on till three to six months, which will further affect more small businesses and in turn more citizens. As a result, consumers will have low purchasing power as some small businesses will be affected due to low turnout of sales and reduced economic activities.
Now with the nation in total lockdown, the effect will be more adverse as economists have predicted that the effects of the pandemic might last between three to six months.
Effects on the Nation's Income
The Nigerian government can no longer meet the targeted demand of crude oil benchmark of $57 per barrel to fund the 2020 budget as the fall in crude price has made it to reduce the benchmark to $30, a gap of 27 Naira, which is a deficit, aside from slashing 1.5 trillion Naira in order to make the budget realistic.
Stock markets as a result of the global crisis are falling daily as the world's economy is crashing.
Most economies, like the United States, are already in recession, which automatically affects investing in stock markets. In addition, every nation and economy is looking for relief funds for survival and to cushion the effect of the pandemic rather than thinking of investment.
In all, the gross domestic output is at the receiving end, as Nigeria's GDP before the crisis was below the one dollar per day for an average citizen and a country that is already in debt and facing coronavirus epidemic crisis without external shock, because, according to the last Federal Allocation committee meeting on March 23rd, where federal government distributes revenue to states and local government from the proceeds of crude oil, it lamented of low revenue because crude oil benchmark has fallen.
With all these, the effect on the economy is high.
As the world economy slowly stops, there is a need for Nigeria to pick its own rubbles to help its citizenry. Governments all over the world are giving bailout funds to stimulate their economies.
What are the bailout options considered for Nigerians by their government?
In recognition of the global impact of COVID-19 on economies and the need to stimulate and positively turn around our economy, the Federal Government has been implementing various stimulus packages offered to businesses and state Governments through the CBN.
These include a reduction in the interest rates from 9 percent to 5 percent for all CBN intervention facilities; a restructuring of loans to longer tenors for all sorts of companies whose businesses are adversely impacted by COVID-19; N50 Billion facilities to household and businesses adversely impacted by COVID-19 through NIRSAL Micro Finance Bank; an N100bn facility to Pharmaceutical and health sectors companies to retool their businesses; an N1 trillion facility to Agric and Manufacturing companies to expand and set up new factories; and a suspension of repayment of all state government loans for one year to give states ample financing room to pay salaries.
At the monthly Federal Executive meeting and the Ministry of Finance media briefing in March 2020, the Minister of Finance, Budget and National Planning, Ahmed Zainab announced the reduction in the price of premium motor spirit in petroleum to 125 Naira, a 20 Naira reduction, which they believe will cushion the effect aside from ongoing economic policies like reducing the recurrent in the 2020 budget by 25percent and capital by 20percent, oil price at 24 Naira, lowest in 17 years as the new benchmark is now 30 dollar per barrel and a cut in budget with 1.5 trillion Naira.
Also, the president in a Nationwide message on Sunday, March 29th, 2020, announced some stimulus package for small businesses which are two months arrears for those benefiting from small grants for small businesses, which are the 'Trader Moni and Farmer Moni' to further cushion the effect of the hardship as a result of the pandemic on small businesses.
Should we say these measures can cushion the effect of the coronavirus on Nigeria's economy and her citizens? What could be the solution at this critical stage of the ravaging epidemic?
Economic Analyst, Elechukwu Bristol, urged the government "to reduce Nigeria's high budget cost by cutting down overheads in government salaries and block leakages in corrupt public offices like customs so that they can generate enough to fund the economy to cushion the effects by providing stimulus package while the little money in the purse can be used to service essential sectors.
"Not forgetting that the expected funds are supposed to come from borrowing and taxes, with this effect on the economy, the expectations are now dashed."
With the challenge of no capacity by the government for price control of goods, artificial scarcity has set in, and the price of goods doubled due to panic buying.
This Banker, Gabriel Idakolo strongly advised the government to spend on areas that can generate internal businesses that will grow the economy, like the agriculture and manufacturing sector with a tax exemption for the producers and manufacturers of essential products while commending the releases of some funds by the CBN, he said the solution to the high cost of imported goods is to support manufacturers to strengthen local production by releasing more funds for them to be able to produce to full capacity for local consumption.
"With the challenge of the pandemic, the government can focus on states that have a comparative advantage in the production of some product and support them with funds to produce to maximum capacity, especially manufacturers in Aba, the eastern region of Nigeria."
"With limited access to inter border trade, it is time to maximize local production."
He noted that aside from the local production of goods, the government should also look into a reduction in interest rate to encourage production and keep the economy flowing.
Meanwhile, some economic analysts are calling for a devaluation of the Naira to complement other initiatives of the government.
Professor of Economics, Mike Obada from the University of Benin, calls for tax cuts, rent reduction, a bailout for state governors to pay salaries to cushion the effect of low production.
"Says the consequences are grave on the economy. The impact on Nigeria at the moment is a micro impact due to dependence on crude oil and exchange rate, naira revenue, and foreign exchange earnings have reduced drastically which is having an impact on the fiscal challenge on naira revenue and foreign exchange."
"There is a need for a micro response in which some monetary measures can help through this period."
One question still begging for an answer is: As the country's debt financial crisis worsens due to the Corona crisis, with more borrowing, will Nigeria use more than half of the revenue to service debt?
*Flourish chart by Code for Africa.
This Outbreak story was supported by the Pulitzer Center and Code for Africa's WanaData women data science initiative.
---
COVID-19 Update: The connection between local and global issues–the Pulitzer Center's long standing mantra–has, sadly, never been more evident. We are uniquely positioned to serve the journalists, news media organizations, schools, and universities we partner with by continuing to advance our core mission: enabling great journalism and education about underreported and systemic issues that resonate now–and continue to have relevance in times ahead. We believe that this is a moment for decisive action. Learn more about the steps we are taking.