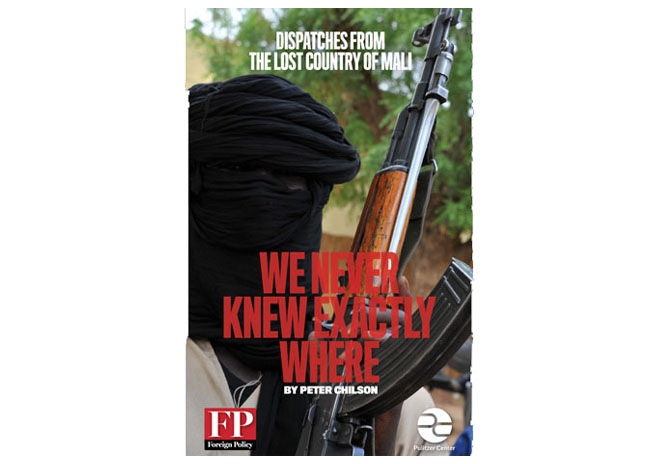 Click here to buy the Foreign Policy PDF edition.
The Kindle version is available here.
What happens when a country suddenly splits in two? In 2012, Mali, once a poster child for African democracy, all but collapsed in a succession of coups and countercoups as Islamist rebels claimed control of the country's north, making it a new safe haven for al Qaeda. Prizewinning author Peter Chilson became one of the few Westerners to travel to the conflict zone in the following months to document conditions on the ground. What he found was a hazy dividing line between the uncertain, demoralized remnants of Mali's south and the new statelet formed in the north by jihadist fighters, who successfully commandeered a long-running rebellion by the country's ethnic Tuareg minority to turn Mali into a new frontier in the fast-morphing global war on terror. Chilson's definitive account -- the first in the new Borderlands series of ebooks from Foreign Policy and the Pulitzer Center on Crisis Reporting -- is a gripping read, taking us back to the founding of French West Africa and right to the very front lines of this contentious new flashpoint.
Buy the PDF version from FP here.
About the author: Peter Chilson teaches writing and literature at Washington State University and is author of the travelogue Riding the Demon: On the Road in West Africa and the story collection Disturbance-Loving Species: A Novella and Stories. His essays, journalism, and short stories have appeared in Foreign Policy, the American Scholar, Gulf Coast, High Country News, Audubon, and Ascent, among other publications, as well as twice in the Best American Travel Writing anthology. A longtime visitor to Mali pursuing scholarly inquiries on French West Africa and the history of its borders, Chilson first traveled to the region in 1985 as a Peace Corps volunteer in Niger.
RELATED ISSUES