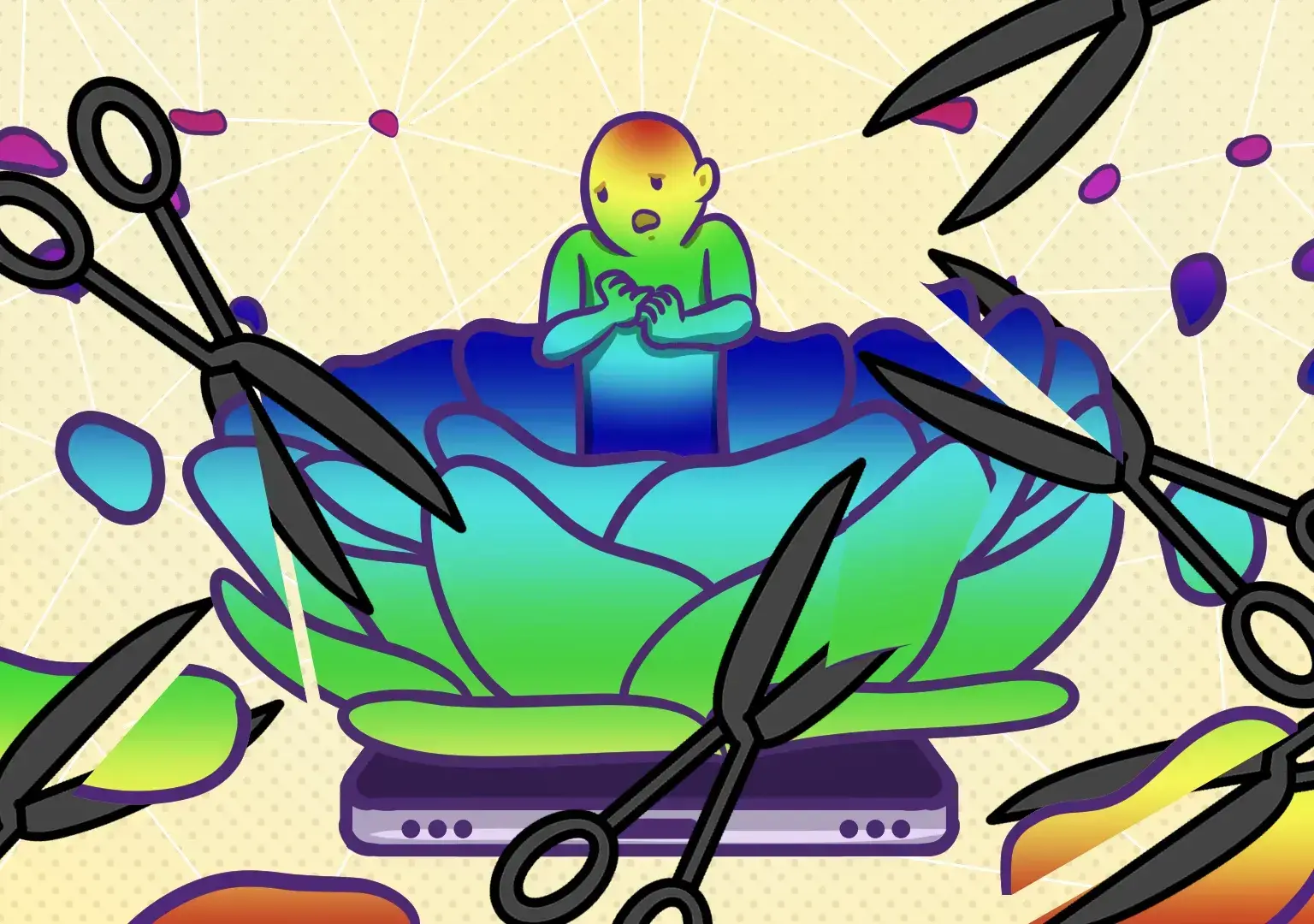 Twenty-three years since it was first filed in the Philippine Congress, an anti-discrimination bill goes through the grinder, threatened by disinformation
---
MANILA, Philippines—Speaking at the podium during a Senate session on Wednesday, February 8, Senate Majority Leader Joel Villanueva paused to grab a plastic bag sitting on a chair next to him. From the bag, he pulled out piles of paper, which he struggled to hold with both hands. He told his colleagues that these were all letters from "concerned religious groups," sent to his office to protest the proposed Sexual Orientation, Gender Identity and Expression, and Sex Characteristics Equality Act, better known as the SOGIE bill.
"I can't even bring them all here, Madam President, because there's too many," he told the Senate. He then complained about being "bullied and crucified" by some groups who were not happy that the chamber held only one hearing on the controversial measure.
Villanueva spoke to defend himself from allegations he's trying to delay the passage of the bill which aims to protect individuals from discrimination on the basis of their SOGIE. It's been sitting in Congress for 23 years now, a delay that is longer than the controversial reproductive health bill that was eventually passed under the administration of the late president Benigno Aquino III.
The allegations are not without basis: Villanueva is the son of evangelist Eduardo Villanueva, founder of Jesus Is Lord Church Worldwide. Eduardo Villanueva, who is also a party list representative in the House, once disrupted a hearing on the House versions of the bill. He also dished out impassioned rhetoric against the bill, saying it "threatens" the rights of those who are not LGBTQ+.
On Wednesday, February 8, Villanueva the son did manage to delay the bill once again. The SOGIE bill was already awaiting sponsorship for a plenary discussion after passing the Senate panel on December 8. But after the Wednesday speech, it's been reverted to the committee level for the religious sector to be "given a chance to participate."
The main proponent of the bill, Senator Risa Hontiveros, yielded to having more consultations on the bill, but maintained that for over two decades, they've always listened to, and engaged with, religious groups on the matter.
As illustrated in Part 1 of this report, this square-off on the SOGIE Equality Bill is nothing new. Politicians, usually linked to religious groups, have displayed the same theatrics against the bill many times in the past. They would bring letters from "concerned" groups that represent thousands of churches around the country. And they almost always claim being discriminated against in favor of the much smaller LGBTQ+ sector.
The Anti-SOGIE Movement
While the bill has been languishing in Congress for more than two decades, it shot to national consciousness in 2019 because of a viral incident involving a transwoman in August of the same year.
Gretchen Custodio Diez, a transgender woman, was prevented from using a female restroom in a mall by a janitress who insisted that she use the men's restroom. Diez recorded the incident live on Facebook. In the live video, she was held inside the mall, isolated from other shoppers. The janitress was recorded as saying that she will file a case against Diez. The janitress then said: "May utin ka pa rin. Tandaan mo 'yan (You still have a penis. Remember that)." 
Gretchen was later on arrested by the police, apparently for going live on Facebook while inside a female restroom.
The incident sparked widespread condemnation from the queer community and intensified calls for the passage of the SOGIE Equality Bill, which is a proposed law that punishes discrimination on the basis of sex, gender identity or expression. Heavy campaigning lasted for months after this incident. But it also agitated sectors that were opposed to giving the queer community's advocacies.
Should transwomen be allowed in female restrooms, was one topic that gained traction online. Conservative politicians and fundamentalists started reframing the conversation by saying that it was the janitress who was being bullied. As can be seen in the graph above, it was in 2019 that anti-SOGIE communities started to form, matching in scale the pro-SOGIE network within just a month.
At the core of the anti-SOGIE networks religious pages and groups, such as the following, have pushed #NoToSOGIEBill into top trends.
This network of the religious was able to leverage existing political networks, with help from propagandists who shared the same conservative values and spread falsehoods on the SOGIE bill. Notable here is Mocha Uson, a blogger supporting former president Rodrigo Duterte, advocating against the SOGIE Equality Bill
Reyna Valmores of the gay rights organization Bahaghari was not surprised at all when she saw the data on the rising anti-SOGIE network online. As advocates of the bill, they've come face to face with this powerful combination of religious and political networks online that's easily dominated the conversation on SOGIE.
"You definitely have to frame this out: this is a propaganda war. It's not just rainbows and butterflies. You have to be willing to fight for it," said Reyna. "This is not just a fight for gender equality. This is a fight for the truth. A fight against falsehoods."

Reyna stressed how important it is for LGBT advocates to branch out of their echo chambers and work with other sectors, especially those who are also abused and have been victims of disinformation.
"The fight for equality for the LGBT community has to be fought in coalition with other sectors also fighting for their rights. Especially for people also facing disinformation, with regards to the advocacies they're fighting for," according to Reyna.
LGBTs are found in every sector of Philippine society. "We have to tap into those issues as well. That would create a powerful force capable of taking down what seems to be an insurmountable enemy."
Weaponizing Religious Freedom
At the core of the narratives being pushed by the anti-SOGIE network is the argument on religious freedom.
Posts from anti-SOGIE clusters on Facebook, grouped into thematic clusters using natural language processing. Image by Rappler.
The irony is that pro-SOGIE advocates also bank on the same argument: The Philippine Constitution guarantees religious freedom precisely to protect individual liberties. Even within the ranks of the LGBT community are queer Christians and churches that believe in same-sex marriage. (READ: "A Christian church that celebrates same-sex marriage")
Over the years, the religious majority have been able to reinterpret this to favor them: that bills like the SOGIE bill give "special" rights to the LGBT sector and impose a penalty on those who do not support homosexuality. To them, the SOGIE bill discriminates against the majority and punishes those who are trying to uphold Filipino values. Emphasis on the word "Filipino," as they almost always equate Christian values with Filipino values, therefore declaring that being pro-SOGIE is akin to being anti-Filipino.
In their paper published in 2019, Filipino scholars Jayeel Cornelio and Robbin Charles M. Dagle called this "weaponizing religious freedom." The authors posit that religious freedom has been deployed against proponents of same-sex marriage and gender equality in the Philippines.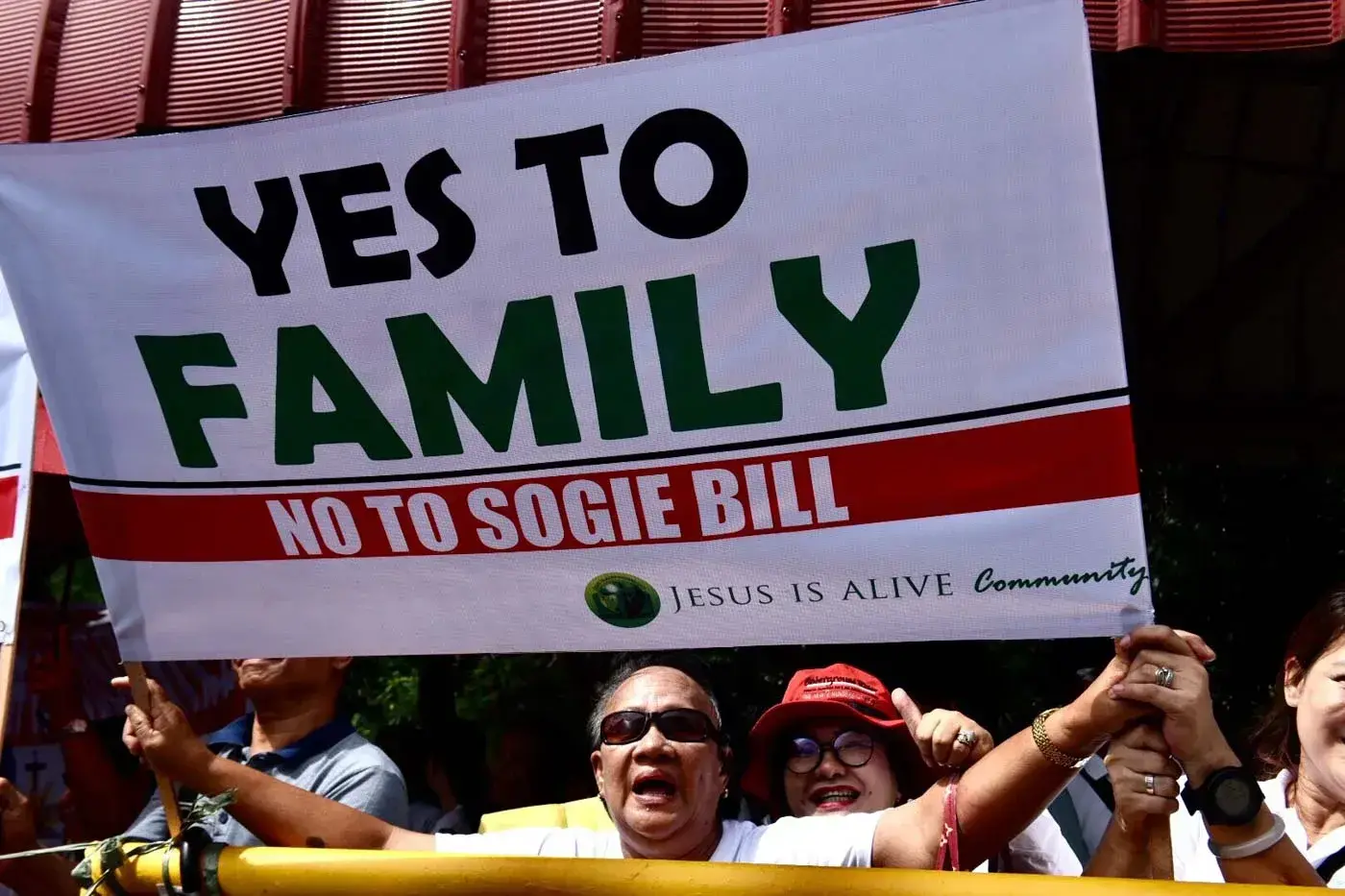 "They have appropriated religious freedom, which has historically been interpreted by the courts in favor of individual liberties, to defend majoritarian values surrounding sexuality," Cornelio and Dagle wrote.
The anti-SOGIE sectors express this narrative with various hypotheticals—often false interpretations of the bill—that highlight "special rights" to be given to LGBTQIA+. One of the most viral anti-SOGIE posts, for example, is one that's already been flagged as false by independent fact-checkers.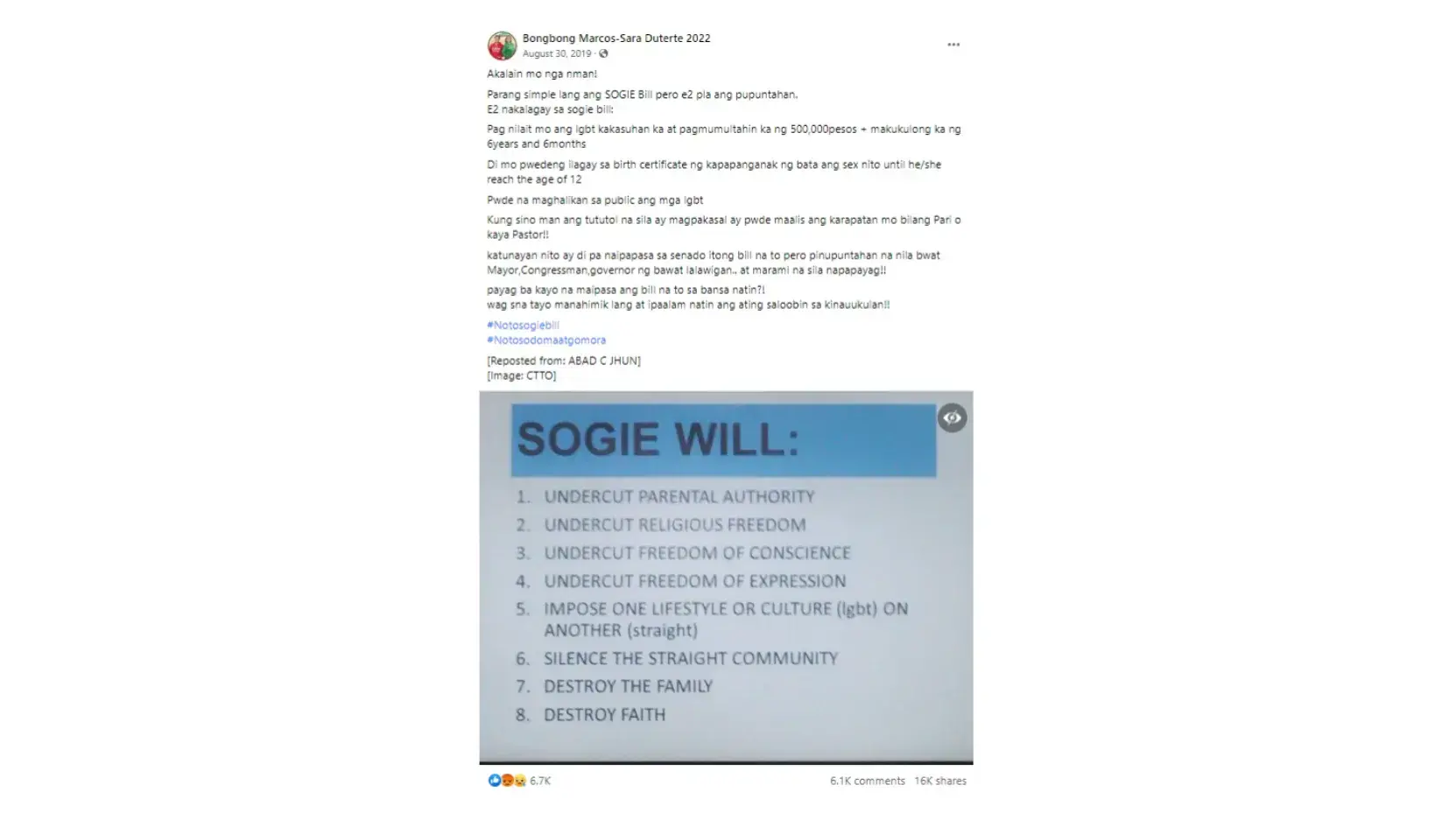 The post, posted by a page supporting Bongbong Marcos and Sara Duterte, made several false claims about the SOGIE bill: that those who insult LGBTs will be fined P500,000 and face imprisonment, that birth certificates will no longer include gender markers, and LGBTs will be allowed to kiss in public.
The versions of the bill in the Senate at the time this was posted did not demand any of the things enumerated. But the posts went viral anyway and were shared more than 16,000 times on Facebook before they were fact-checked.
Other common hypothetical scenarios posted were the following:
The bill puts "real women" in danger, because any man may disguise themselves as a transwoman to infiltrate female restrooms.
That schools' academic freedom will be curtailed, because they won't be able to uphold policies that discourage homosexuality (such as no cross-dressing policies)
That conservative business owners will be forced to serve homosexuals, despite their beliefs
That the SOGIE bill will also legalize same-sex marriage and other "immoralities," like pedophilia or transracialism
These are all lies that can easily be fact-checked, according to Reyna. A perverted man who'd be bold enough to break the law, for example, will always find a way to harass women if he wanted to, without going through all the trouble of disguising himself as a transwoman. 
The SOGIE bill is also explicit about respecting parental authority and academic freedoms. It only seeks to prohibit discrimination on the basis of SOGIE, such as the non-admission of LGBTQIA+ to an educational institution open to the general public on the basis of gender and sexuality. A student's SOGIE, after all, should have no bearing on his or her academic performance and admissibility.
The SOGIE bill likewise does not legalize same-sex marriage. It does not include provisions related to pedophilia, transracial identity, or any other classifications outside sexual orientation and characteristics, gender identity, and gender expression.
Lies Go Viral
One falsehood that has gone viral is that transgenderism is a disorder.
Most of the posts scanned emanate from the statement of Ansel Beluso of the Missionary Families of Christ during a 2019 Senate hearing on the SOGIE bill. In his speech, Ansel, who calls himself an "ex-gay," quotes the American Psychiatric Association to say that gender dysphoria is a mental disorder.
But according to the APA, "diverse gender expressions, much like diverse gender identities, are not indications of a mental disorder." In fact, organizations like the World Health Organization have removed "gender identity disorder" from their list of mental illnesses. Beluso's speech, however, continued to be reposted a year after.
Among anti-SOGIE posts, it was observed that the most viral ones were those that quoted LGBT personalities who are anti-SOGIE. They included quotes from celebrity hairdresser and businessman Ricky Reyes who has been vocal about his disagreement with proponents of the SOGIE bill.
As Reyna pointed out, this goes to show that the community cuts across the political spectrum and can be divided even on issues that concern them. Even within the community, for example, are those who hold conservative values, having internalized the discriminating culture they grew up in.
"The LGBT community is not a monolith. We come from different walks of life and have different levels of political consciousness," Reyna explained. "Even among workers, for example, there'd be a section who'd accept their contractual status and low wage, and there'd be a small section who'd protest for their rights […]. That's why it's important that we make people realize that they don't have to accept things as they are."
Fight for Equality
While disinformation on the bill festers online, discrimination against members of the LGBTQIA+ continues. 
The Philippine Corporate SOGIE Diversity and Inclusiveness (CSDI) Index, a 2018 study conducted by the Philippine LGBT Chamber of Commerce and research firm Cogencia, said that out of 100 companies they've surveyed, not one Philippine-based company has implemented policies meant to protect their employees from SOGIE-based discrimination.
It cited another research paper by Patricia Angela Luzano Enriquez submitted to the International Institute of Social Studies, where 26% of respondents reported SOGIE-based harassment from their superiors, 33% experienced harassment from co-workers, and 61% became subject of slurs or jokes in the workplace because of being LGBT.
A survey conducted by the Rainbow Rights Project and Metro Manila Pride in 2019 showed that 62% of 400 LGBT youth aged 18-24 have experienced discrimination on the basis of SOGIE. A majority of this, 51%, said they've experienced it in public schools.
A 2019 report by the Commission on Human Rights detailed the different forms of discrimination and abuse LGBT children face in the Philippines, including being subjected to physical violence by family members as punishment for their SOGIE, bullying in school, in the community, and in public spaces, as well as abuse from law enforcers. Most of these, the SOGIE bill aims to address.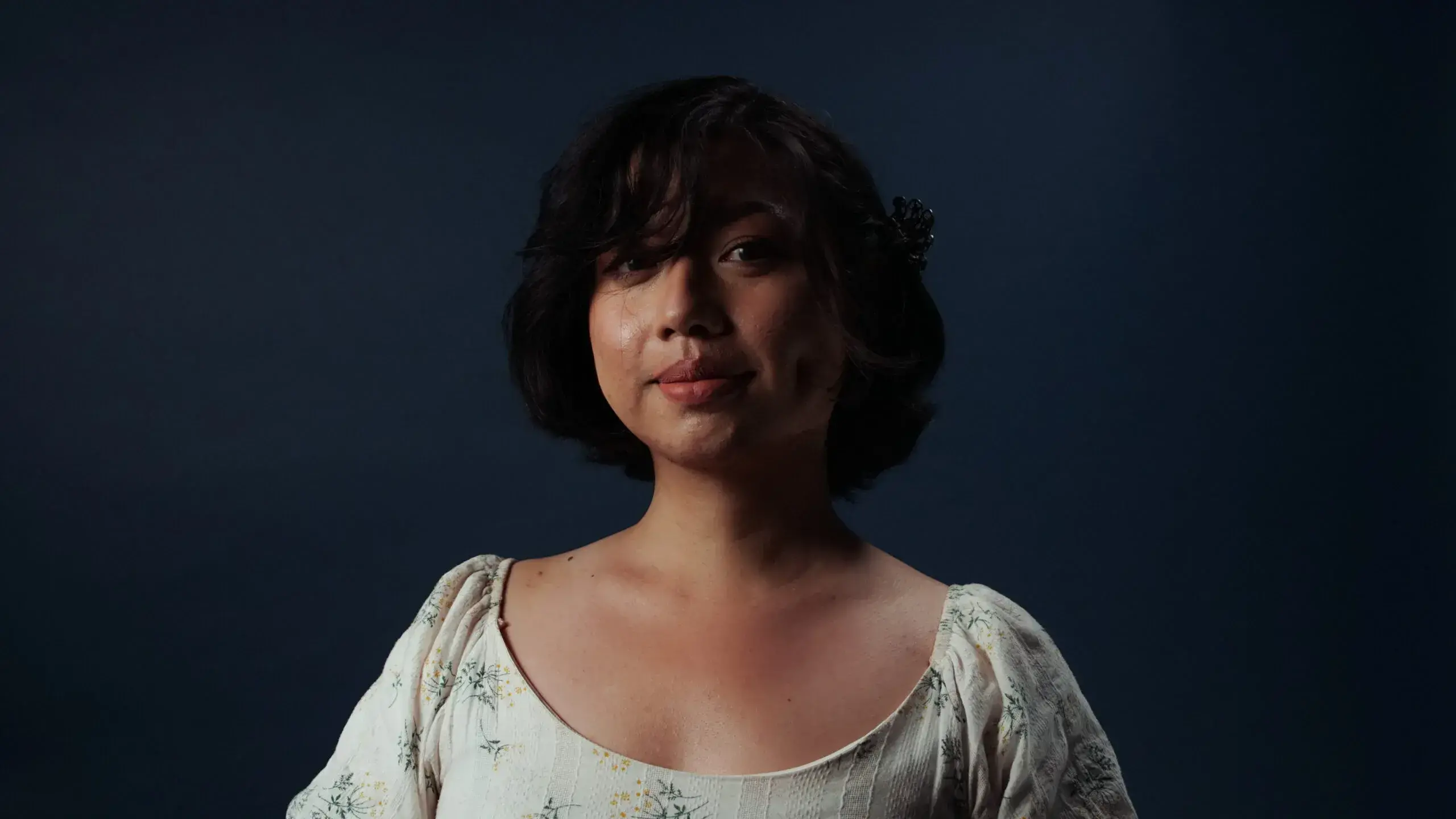 Reyna, herself a transwoman, has made it her life's mission to fight for the bill's passage despite the dangers she faces.
It's a personal battle for her, too. Her mom was a victim of physical abuse and she was also constantly abused by her father for being effeminate. Her father is a businessman who eventually joined politics. According to Reyna, he must've been wary that being associated with a gay child, more so a transwoman, would hurt his public image.
In 2020, a few months since the onset of the pandemic, Reyna was among the 20 protesters who were arrested in a Pride rally near the Malacañang Palace in Manila. According to reports, the protesters were observing physical distancing and other health protocols when the police arrived to disperse them. The police did not cite any violations while arresting the protesters and only told them, "Nasa batas iyan na bawal iyan (The law prohibits it)," without citing any specific law.
They were eventually charged with disobedience of persons in authority in relation to the Law on Reporting of Communicable Diseases and the Public Assembly Act. These were the usual complaints thrown at activists during the pandemic—disobedience to authority and illegal assembly. The complaints were eventually dismissed by Manila prosecutors.
During her five-day detention, Reyna recalled consistently being harassed and discriminated against by the police. They refused to acknowledge her as a woman and she was put in the male cell. She also claimed being verbally harassed by the police, and that one of the police was masturbating while guarding them. This further ignited her resolve in pushing for the SOGIE Equality Bill, which would have protected her against the discrimination and abuse she experienced from law enforcers.
Now among the staunchest voices in the local gay rights movement, Reyna works with Bahaghari (the Filipino word for rainbow) and its volunteers across the country to advocate for equal rights. Their primary work is to collect data on LGBTQIA+ discrimination and abuse across the country. "There's a lot of missing data when it comes to the LGBT community," she said.
Advocates are divided when it comes to the fate of the SOGIE bill in the current Congress. 
For some like Louis, there are slivers of hope: First is that some of the SOGIE bill's biggest blockers in the Senate are no longer there. 
The bill also passed the Senate committee on women, children, family relations, and gender equality led by Senator Hontiveros. Nineteen of 24 senators also signed the committee report. Reyna did emphasize, however, that several of those senators signed while saying that they still have reservations about the bill. Her pessimism was validated just a week after her interview with us when Villanueva successfully reverted this initial win.
Reyna cited the lack of political will among presidents as a reason why the SOGIE bill hasn't yet been enacted into law. Duterte, during his time, tended to flip-flop about the SOGIE bill. President Ferdinand Marcos Jr, meanwhile, has nothing to say about the bill, both during his campaign and now that he's president.
This is worth noting because contentious bills in the past have managed to pass only with the president's support, given the power and influence the chief executive wields over lawmakers. The reproductive health bill, for example, was able to power through massive opposition after getting support from then-president Benigno Aquino III.
While the prospects remain bleak for now, Reyna sees a silver lining.
One concrete step is for people to contact their representatives and ask about the bill. "It's our right to express our concerns about certain laws—they're supposed to represent you and your interests." 
A more long-term approach is how organizing the community and reaching out to people outside the LGBT circles can, in itself, be a strategic antidote to harassment and discrimination. 
Some communities may not be as concerned with LGBT issues because they have more immediate problems to solve, like finding jobs and getting food on the table. They are not always welcoming of queer advocates, who are laughed at and sometimes even insulted while doing their outreach. 
"We didn't give up on them," said Reyna. She and other advocates approach the communities anyway, not to pontificate and sing a chorus about the LGBT struggle, but to listen to their struggles, help them organize, and find solutions. 
"Those who were initially homophobic, who did not care about the LGBT advocacy, that's when they started to see us as one of their peers, and just other people struggling like them."
Standing beside the locals for issues that mattered to them is eventually what helped the community develop a better perspective of who the LGBTs are and relate to their struggle. Some of the locals they've worked with have even put up stickers declaring their villages safe spaces for the LGBTQ+ community.
"It's all about empathy […]. At the basic level, we're all humans. And we just need to be there for each other."
---
This study was also made in collaboration with TheNerve, a Manila-based consultancy that specializes in analyzing data to bring forth powerful insights and narratives.
RELATED ISSUES