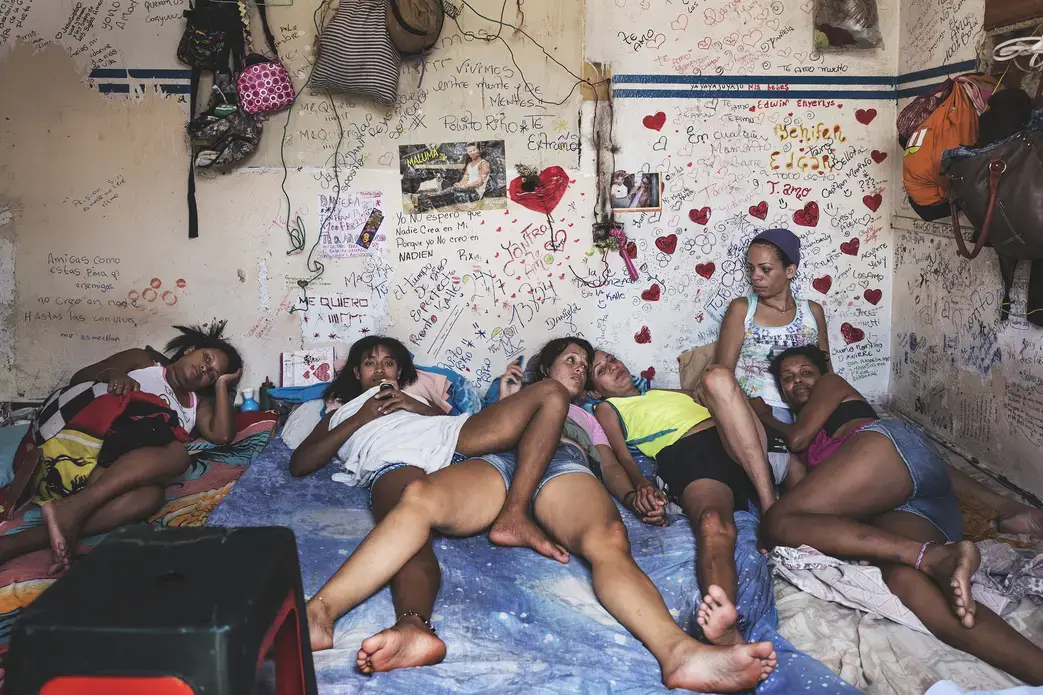 The room looks like the aftermath of a party out of control: six women sprawled out on sheets, legs intertwined. Behind them, walls slathered with graffiti and red hearts. Look closer at the writing on the wall, amid the scrawled declarations of love and longing, and reality hits.
"I don't expect anyone to believe me," reads one message, "because I believe in no one."
Whether from nihilism, hopelessness or grim resignation, that sentiment fits the setting: a packed Venezuelan jail cell where women — most awaiting trial and presumed innocent — wait for months, if not years. Though these women, some of them pregnant, are normally expected to be held for only 45 days, Venezuela's unending political and social crises have rendered that notion a memory.
Ana María Arévalo Gosen has been documenting these women who wind up in overcapacity jails for long stretches as part of her project "Eternal Days," a phrase that sums up a situation where hope is elusive. Ms. Arévalo Gosen, a Venezuelan photographer now living in Europe, said she found a cramped world of little light, no medical care, water or privacy.
"The justice system, like everything else in Venezuela, doesn't function," said Ms. Arévalo Gosen, 30, who produced the project with a Women Photograph + Nikon grant and a travel grant from the Pulitzer Center on Crisis Reporting. "They spend all day in little cells, sitting or standing, but doing nothing. The pregnant women have lots of infections, they cannot move. It's not healthy."
Ms. Arévalo Gosen became aware of the conditions of these women a few years ago during a conversation with a journalist. Working through acquaintances, she connected with a police officer who she said gave her access. She has since traveled to various regions of Venezuela to pursue her project, looking at the jails run by the police and other investigative and law enforcement agencies.
The offenses that landed these women in custody range from theft and drug possession to extortion and homicide, with some having been held for as long as three or five years before trial. In other cases, because prisons are so crowded, some have been returned to these jails to serve their sentences.
"The police are not used to this," she said. "These places have become repositories of criminals, and there is no time to process all of them as quickly."
Not surprisingly, she said, making it through this experience required family in the outside — to bring food and other necessities — and allies on the inside. Some police officers charge people money when they come to bring food twice a day, she said. Those visits also allow relatives to bring an inmate's infant.
At the same time, the mixing of people awaiting trial with convicted criminals worries local advocates, Ms. Arévalo Gosen said.
"These people will come out worse, not better," she said. "They are not going to feel reformed or forgiven by society."
Local and international human rights groups have decried the conditions these women have been subjected to, noting that the country's prisons have a long history of deplorable conditions. But Ms. Arévalo Gosen said there was often little popular sympathy in a society where crime and violence have spun out of control.
"Who cares about people in jail?" she said. "People say they are the worst of society, the ones who stain our society, who want to kill and rob us. But if this situation does not improve and judicial system isn't fixed, these people will all come out worse."
RELATED ISSUES