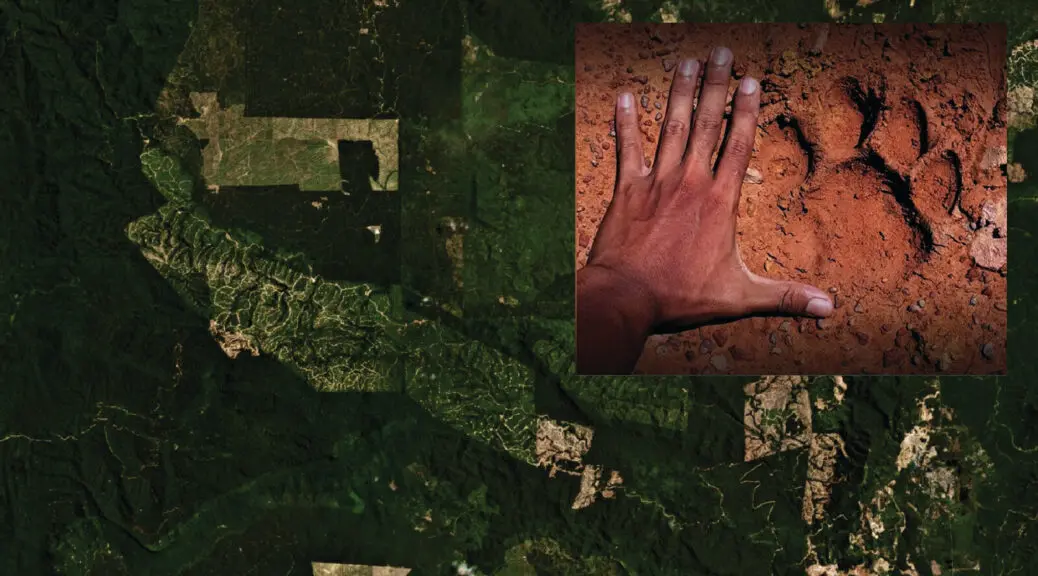 Another tiger and elephant habitat in Pahang has been approved to be turned into an oil palm plantation. But if the developer and state government wish to spare the forest, there are profitable alternatives. Part 2 of 3.
This story is produced in collaboration with the Pulitzer Center's Rainforest Investigations Network.
---
A PROPOSED 8,498 ha oil palm project in Pahang occupies a key location in Peninsular Malaysia's wildlife habitats and forest landscape. The project site sits in the centre of the Chini-Bera forest complex, according to the Master Plan for Ecological Linkages Central Forest Spine (2022).
That complex connects the Greater Taman Negara forest complex in the north with the Endau-Rompin Sedili forest complex in the south. The Central Forest Spine (CFS) Masterplan aims to establish wildlife corridors called "linkages" between these complexes that would allow animals like tigers to move and breed across the landscape.
Despite the ecological value of the forests, the Pahang government has been removing them. In 2019, it leased a parcel of 8,498 ha in the Bukit Ibam forest reserve to plantation company YP Olio Sdn Bhd. Only a year later did the government excise that site.
The Pahang government has effectively carved out the heart of the Chini-Bera forest complex for oil palm. The government's actions ran against its publicised commitment to save tiger habitats.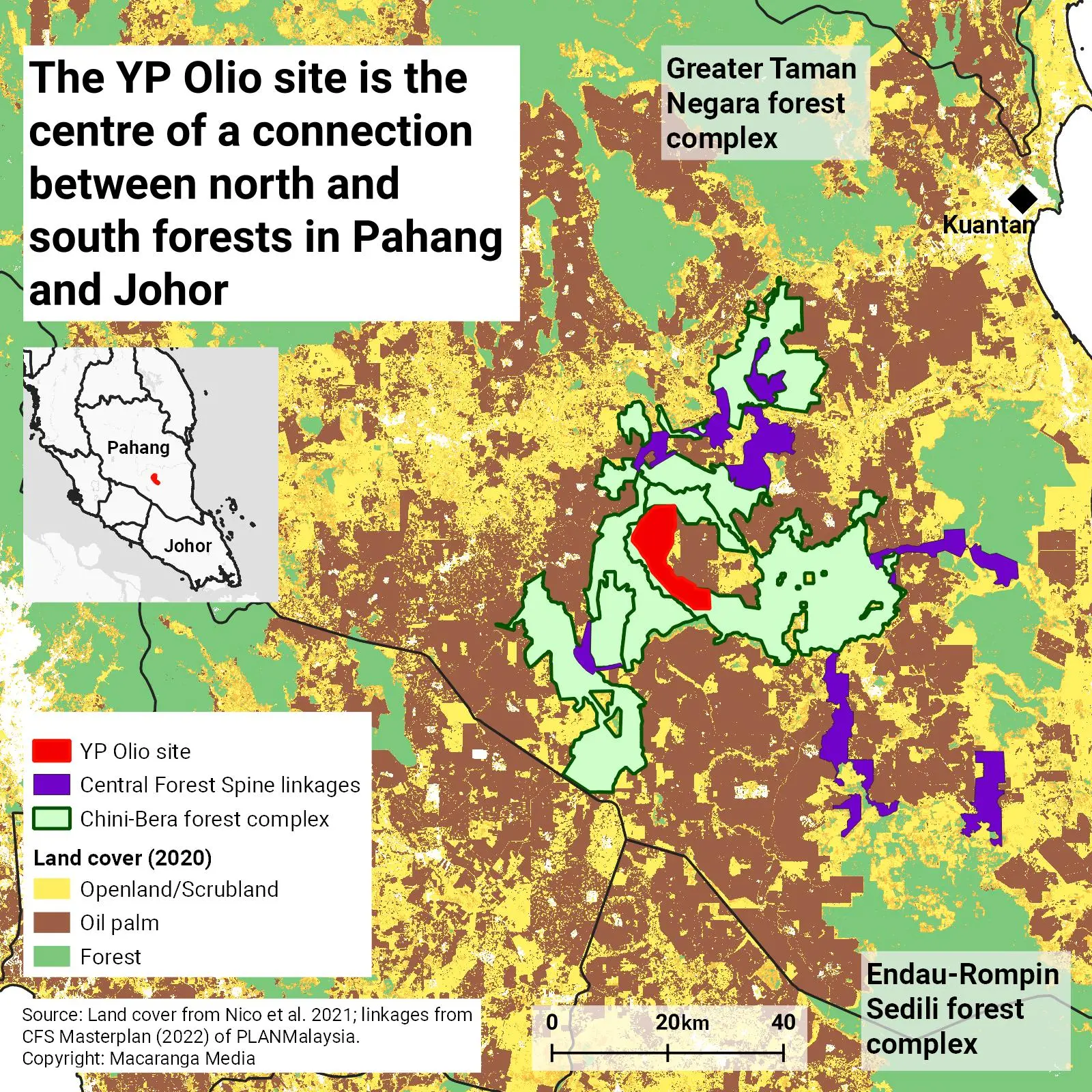 Christine Fletcher, a forestry consultant of almost two decades, says the YP Olio project "is a classic example of the lack of awareness by decision makers and agencies on the CFS Masterplan."
She says the linkages support the main forest complexes that harbour endangered and iconic species. "[The] Bukit Ibam forest reserve is more important to protect than the corridors."
---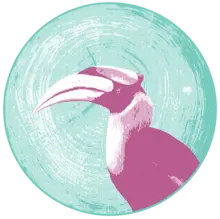 Whistleblowers and others in possession of sensitive information of public concern can now securely and confidentially share tips, documents, and data with the Pulitzer Center's Rainforest Investigations Network (RIN), its editors, and journalists.
---
Surin Suksuwan, a forestry consultant and a member of the IUCN World Commission on Protected Areas, agrees. "If the forest blocks themselves are fragmented, what use are the links?"
And such drastic landscape change can drive to local extinction the species that cannot adapt, says Badrul Azhar, a conservation biologist from Universiti Putra Malaysia. Monoculture plantations create a simplified ecosystem "which is almost certainly hostile to most of native wildlife."
Reviewers rejected project
The project's potential impact alarmed some reviewers of YP Olio's first environmental impact assessment (EIA) report in 2021. A revised version was approved on 21 September 2022.
For one, the Malaysian Nature Society (MNS) commented that the project would hinder wildlife movement and render the wildlife corridors useless.
Another reviewer, the Department of Wildlife and National Parks Peninsular Malaysia (PERHILITAN) in Pahang commented that the project would cause a "huge and irreversible impact on biodiversity conservation and wildlife habitats".
Both MNS and PERHILITAN rejected the project in their review.
Images by Macaranga Media. Malaysia, 2022.
Images by Macaranga Media. Malaysia, 2022.
Conflict with elephants and tigers
Nonetheless, the EIA consultants said in the report that YP Olio would "strictly follow the proposed mitigation measures in the EIA report to prevent wildlife conflict".
Wildlife conflict in the area is already on the rise, allegedly due to the ongoing clearing of hundreds of hectares of forests east of YP Olio's site.
Up to 50 elephants roam the forests around YP Olio's site, according to PERHILITAN. Macaranga learned that some elephants have been lingering in rubber estates instead of returning to forests.
Tigers worry the locals too. PERHILITAN recorded one tiger-human conflict in 2017. Locals told Macaranga they saw a tiger crossing a logging road in 2021 and found pawprints in the area in 2020 and 2022.
PERHILITAN did not respond to questions.
What of promises made?
That YP Olio's project will or already has hurt tigers is ironic because the company's directors and shareholders are associated with prominent tiger conservation efforts.
Tun Putera Yasir Ahmad Shah bin Mohamed Moiz owns 50% of the company (indirectly via Metallic Hallmark Sdn Bhd) and is a director. He is a cousin to Pahang's prince-regent, Tengku Hassanal Ibrahim Alam Shah, a known tiger conservationist.
Tengku Hassanal leads the NGO Save the Malayan Tiger and has pledged to make tiger rescue his "solemn duty". He has called upon the Pahang government to do more to protect core tiger habitats.
Experts estimate fewer than 150 wild tigers remain in Malaysia, with the largest numbers found in Pahang.
The Pahang Chief Minister has reportedly said his government would do its best to protect tiger habitats.
Thai interests
Another of YP Olio's directors is Khawar Ahmad Khan, who leads International Business Development at Thai energy company B.Grimm Power PCL. In October 2021, he replaced Felix Link, whose family owns B.Grimm.
B.Grimm prides itself on "doing business with compassion" and has partnered with WWF Thailand and WWF Singapore to protect tigers.
Tengku Hassanal, Tun Putera Yasir, and the Pahang Chief Minister did not respond to questions. Neither did Felix Link nor B.Grimm.
---
More links between B.Grimm and YP Olio

There are signs that B.Grimm may also be a major (indirect) shareholder of YP Olio through an offshore entity.

YP Olio's second largest shareholder is Ananda Limited with 29.9% holdings. Ananda Limited is an entity registered in the British Virgin Islands.

Another entity of the same name and the same registered address also owns a Singapore company called Alma Link Building Pte Ltd. That Singaporean company's directors include three members of the Link family who run and own B.Grimm.
---
Keep the forest and make money too
Conservationists call for the government and YP Olio to stop the logging.
Some suggest that YP Olio shift their oil palm planting to the abundant idle land available. Pahang itself had about 29,000 ha of idle land in 2019.
And there are "considerable abandoned rubber plantations that can be revitalised and converted for oil palm," says Fletcher. The MNS thinks YP Olio should "look into those (idle land) that need replanting. Not cutting pristine forests, because pristine forests need to be kept." By protecting natural forests, the state government would be helping to reduce the global biodiversity decline and climate crisis, says ecologist Badrul.
NGO Sahabat Alam Malaysia (SAM) points out that YP Olio could suffer business and reputation impacts if it continues clearing forests.
The NGO advises the company to invest in "community-based forest conservation and restoration" to help it "build long-term value today". One way is to invest in the Forest Conservation Certification scheme administered by the Ministry of Energy and Natural Resources.
At the same time, the Pahang government could also tap into international climate funds for conservation, says SAM. Within the United Nations Framework Convention on Climate Change, developing countries like Malaysia are entitled to financial resources to meet climate goals.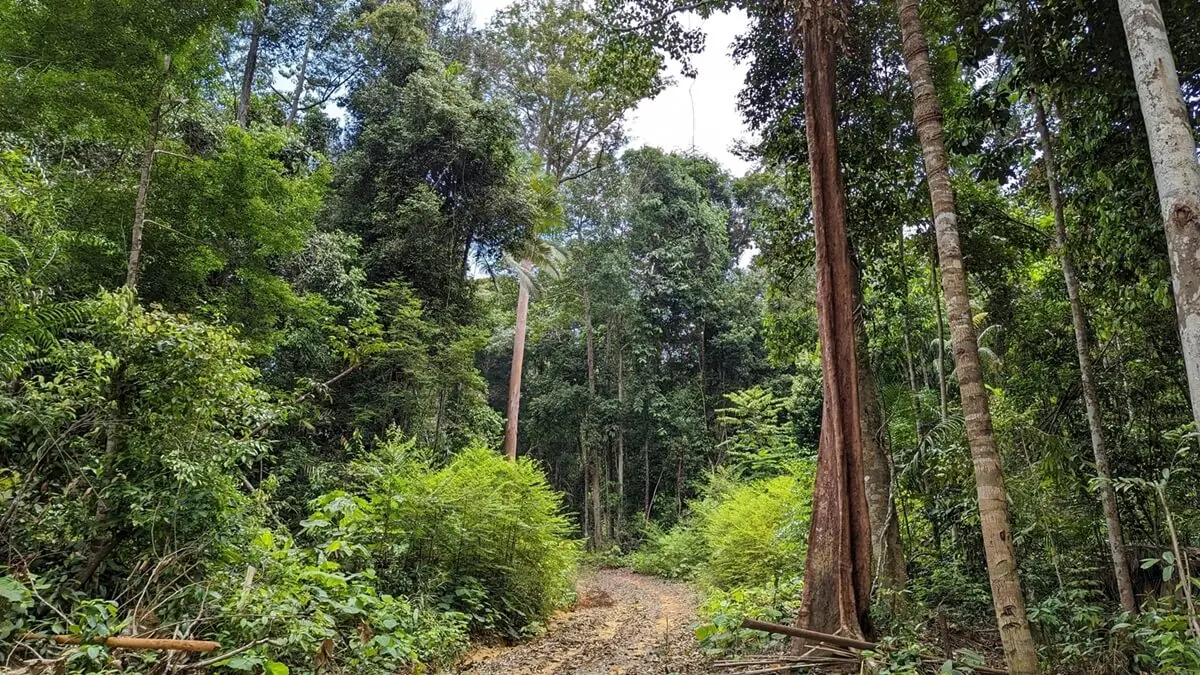 Decisions
YP Olio can expect stiff resistance from conservation outfits if it proceeds to clear the forest, says MNS. The NGO speaks of invoking the campaign that environmental groups ran in the 1970s to stop logging in the Endau-Rompin forest. "We are adamant that we will take a firm stance."
Having stopped its logging for more than a year, YP Olio now has the official approval to proceed. But much has changed during this hiatus. Malaysia has set up a National Tiger Conservation Task Force to reverse tiger decline, and the MSPO standards have been tightened to curb forest loss.
YP Olio will now have to decide if it wants to change with the times.
Edited by SL Wong
RELATED ISSUES
RELATED INITIATIVES