RIN is the premier network of investigative journalists dedicated to uncovering the root causes and main actors behind industrial-scale deforestation in the Amazon, the Congo Basin, and Southeast Asia. 
All the information received will be reviewed by our team of editors at the Pulitzer Center, who will find the right partners in our network to follow up with the tips. The network is composed of leading local journalists and global media outlets, including The New York Times, El Pais, Bloomberg, and NBC News. 
By opening up secure pathways for submitting documents, leads and tips, we aim to shed light on environmental crimes, legal loopholes, and corrupt practices that threaten the world's three largest rainforests.  
Our commitment is to do our utmost to protect and guarantee the confidentiality of our sources. 
These are the methods you can use to share information with us: 
Using SecureDrop
To communicate with us via Secure Drop there are a few steps to follow:
Download The Tor Browser for your operating system here.
Once downloaded navigate to our secure drop Onion URL.
You will be prompted with a welcome screen to either submit your content or check your messages. If submitting for the first time please note down your SecureDrop secret alias. SecureDrop assigns secret code names or aliases to persons using the tool to protect your identity and to log back into your submission page to see if there has been any correspondence from a Rainforest Network journalist. Without your secret code name/alias, you will not be able to log in and see if there has been a reply to your submission.
Using Signal
RIN has a dedicated Signal number that will only be used to review information shared by the public with us: +55 (11) 94214-3178.
Using Encrypted Email
You can also send us an encrypted email to the following address: leaks@pulitzercenter.org
Our public PGP key can be found here.
If you use Proton as a means of secure communication, you can also write us directly: pulitzercenter@proton.me

Our fingerprint to find us is: b051b6acfa89044927772fc22fbda2ba8a00066c
Using Post Mail
If you wish to avoid using any digital means, you can also send us your information to:
1779 Massachusetts Avenue NW, Suite 615
Washington, DC 20036
With attention to: Rainforest Investigations Network (RIN)
Why this is important
Some of the most important stories of  the past decades were done with the collaboration of brave people who decided to denounce wrongdoing by sharing sensitive information of public interest with investigative journalists. 
In our current climate emergency, we believe that the Rainforest Investigations Network can provide a crucial venue to unveil environmental crimes and their impact on local and global communities.
What happens after you share information with RIN
All information received by RIN will be reviewed internally by network editors at the Pulitzer Center. This will allow us to identify who among the network members are best positioned to verify, validate and, if merited, report out the leads shared with us. 
The RIN team is made of editors, researchers, and data analysts with vast experience in cross-border investigative collaborations related to money flows, corporate and government wrongdoing, and environmental crimes. The Pulitzer Center's executive editor, Marina Walker Guevara, co-led some of the International Consortium of Investigative Journalists' (ICIJ) most consequential investigations, including the Panama Papers and the Paradise Papers. 
What is SecureDrop?
SecureDrop is an open-source whistleblower submission system news organizations can install to safely and anonymously receive documents and tips from sources. News organizations worldwide utilize this tool to connect with individuals and groups who wish to share data and documents.
SecureDrop removes third party access to minimize your digital footprint and reduce metadata collected on users. SecureDrop runs on the Tor browser. Tor browser encrypts your data three times to erase your digital trail while using the browser.
Finally, SecureDrop works with the Tails OS to completely delete any trace on our machines once we shut them down.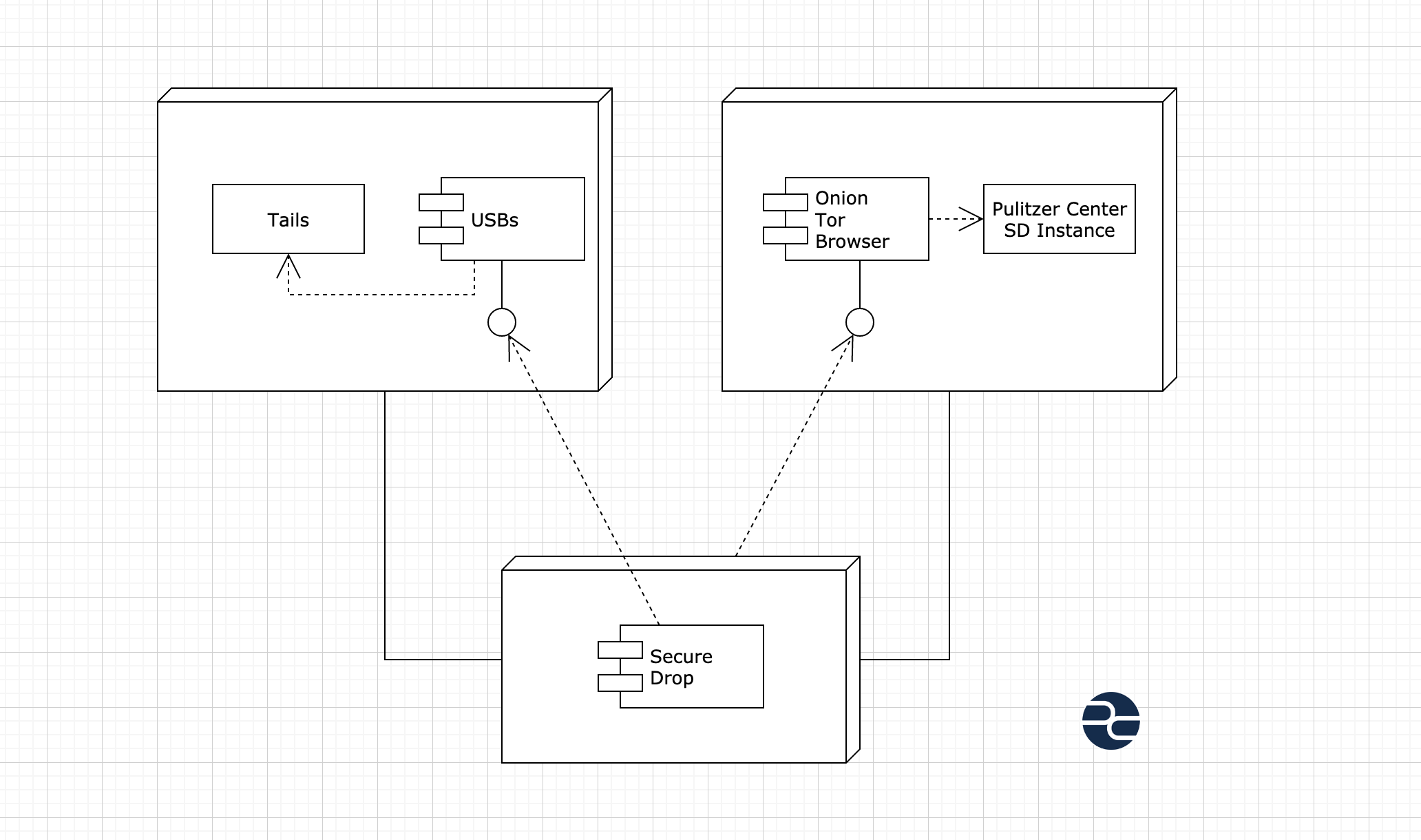 To read more about SecureDrop, please click here.  
To read more about Tor, please click here.