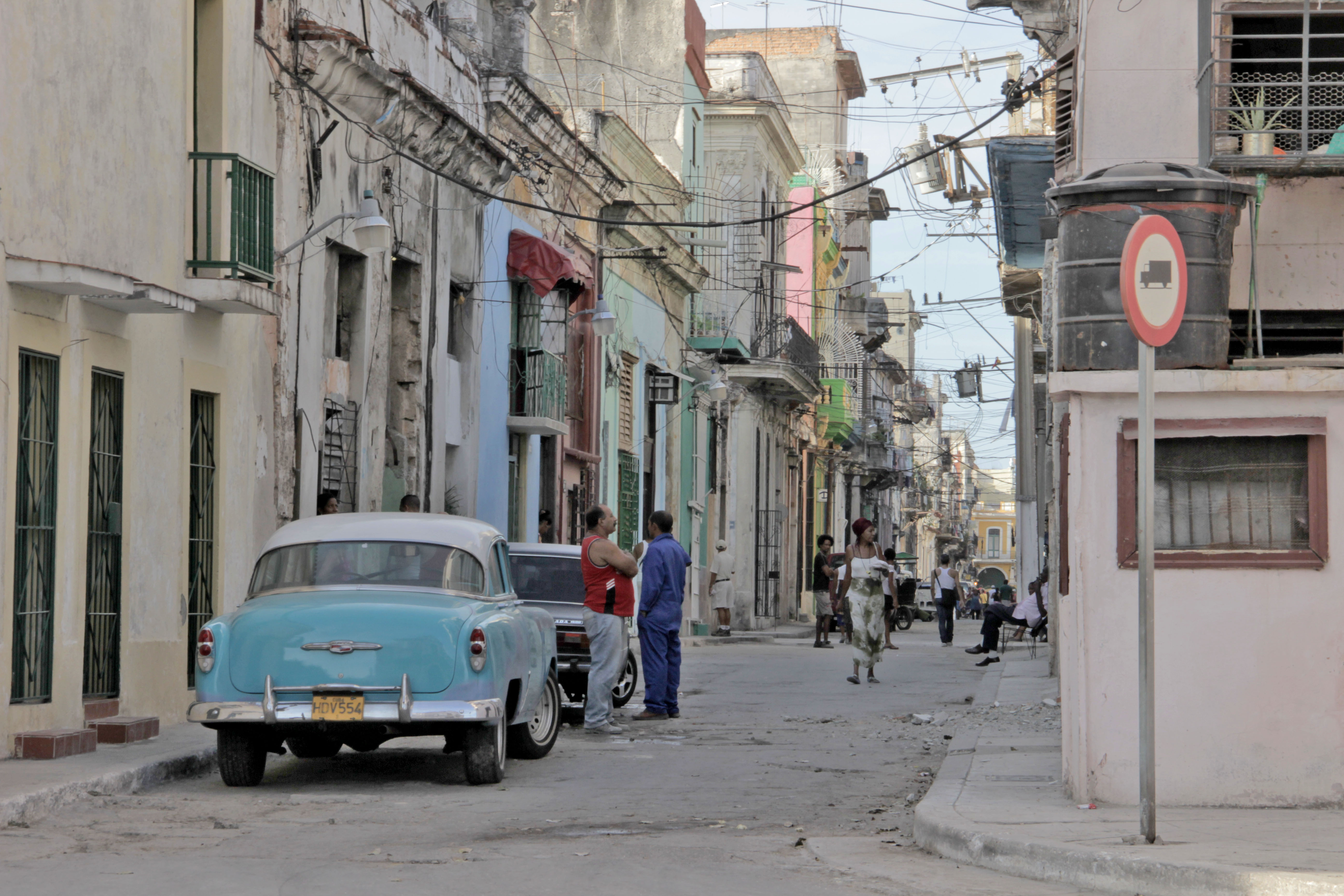 It's difficult to feel lonely in Cuba. Everywhere you go, especially if you're wearing the look and dead giveaway backpack of a "gringo" tourist, people shout "Buenas días!" "Hello lady, you want to look at this?" they cry to women.

I stopped and bought a few figurines for friends back home from a woman at a small table covered with typical Cuban tourist souvenirs – wooden dancers, beaded necklaces and butterfly magnets. After I paid her, the woman said something to me and grabbed my elbows in the traditional Cuban greeting for a friend or acquaintance, putting her soft cheek against mine and making two short quick kissing sounds. And just like that, I felt the Cuban people embrace me.

Cubans never seem to be in a hurry. Along the sea wall that separates Havana's outer road from the Atlantic, hundreds of people stand around, leaning languidly along the tan stones, chatting with friends or just watching cars go by. At the same time, deeper in the city, an old woman in a faded flower hat smokes a cigar as she sits on the stoop of a home with a crumbling door frame. A man naps in the seat of the worn out pedicab he uses to shuttle tourists around.

Cubans are used to waiting. Most of their lives, it seems, are spent waiting for one thing or another. They wait in line at state stores to trade in their vouchers for food rations. They wait for permission from the government to leave the country to visit their family or friends or just to take a vacation (although this wait is now much shorter, thanks to new policies that were implemented in January). They wait years for permission to move to a new home or apartment, something very scarce, especially in Havana.

Those owning cars wait outside tourist hotels and attractions to offer taxi rides.

"Classic car? Classic car?" they'd ask enthusiastically, proud of the antique cars most tourists find a novelty.

If I'd politely but firmly say "No, gracias," two or three times they'd smile, nod and just go back to leaning on the hoods, watching and yet again, waiting.

One night, on one of Havana's most popular streets, people lined the fences of what looked like a park with a large arcade. When we tried to enter, a security guard stopped us and told us it was for Cubanos only and that tourists were to go over to the left. What was this mysterious place? When we got to our designated area, we saw it was simply an ice cream parlor. I learned later that tourists aren't even permitted in the main building because tourists are charged more and because they're simply not accustomed to waiting in incredibly long lines for something that seems as ordinary as ice cream.

But ice cream isn't ordinary, as it is in the United States or other Western countries. It's a delicacy, a treat only for special occasions when you've managed to save a few extra pesos for a night out. Anything other than basic necessities is a treat, something only the tourists can afford. At the baseball park of the Industriales, one of the most popular teams in all of Cuba, a baseball costs an entire month's salary for a well-paid Cuban, said our tour guide, Maria, who asked that I not use her real name. Aside from tips given by clients, she earns the equivalent of about $13 a month at her primary job, as a tour guide for a government agency. Even with the tips, it's not enough to easily afford luxuries such as going out to a restaurant, so she also works as a private English teacher.

She still lives in an apartment with her parents even though she's an adult; her nails are impeccably manicured and she sports a fairly recent cell phone that rings with the tune of a popular American hip-hop artist. Maria, like most Cubans we met, is just living her life, not lamenting the lack of fashion boutiques or a Starbucks on every block. She is loud and sassy and intensely proud to be Cuban.

If Maria longs for a different life, she does it in the privacy of her own home. Not a single Cuban we met on our trip seemed to want to complain about the state of their lives. They would ask us if we liked Havana and would offer to have us come for dinner or stay in their homes the next time we came to the country.

Maybe that's all a show for the outsiders, but maybe not. Maybe it's genuine joy at living a simple life in an aging city where national pride runs in every vein and pulsates from every crack in the pavement, rev of an engine and note of the salsa music that can often be heard floating through the air.

But no matter how it's described, there's no arguing that there's something special about that Cuban spirit in its strength, its tolerance and its inherent grace, something I learned in the embrace of a woman with long black hair streaked with gray and a table full of beaded necklaces and butterfly magnets.
RELATED ISSUES