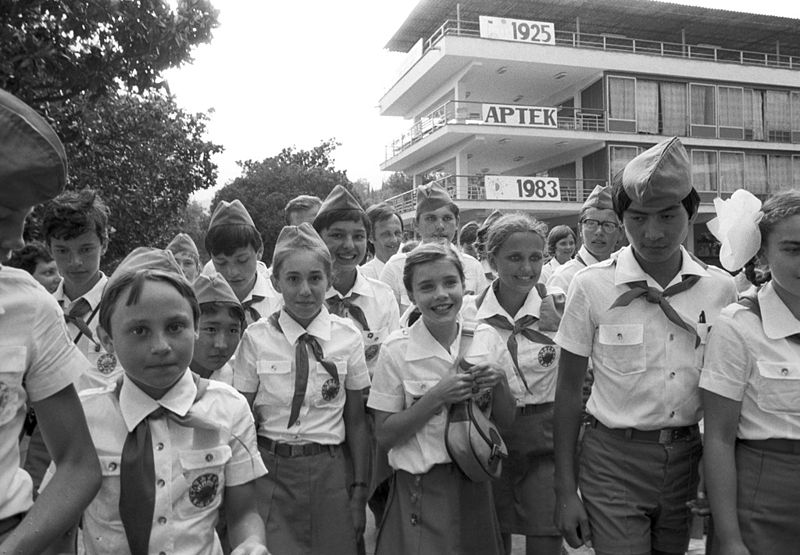 Under Lenin's gaze and a Black Sea sun, teenagers in sailor uniforms practise semaphore, thrusting red flags towards the sky with poker­straight arms. Below, teams of rowers power small dinghies over a glittering bay.
This summer, 45,000 children from 57 countries will visit the Artek centre on this five­mile stretch of pebbled coastline near Yalta. For three weeks, they will live the collective lifestyle that was once considered the model for young communists, sleeping in dorms and eating meals in huge canteens while wearing colour­coded uniforms. President Assad's three children have done at least one stint here, in 2017; testament to his close relationship with President Putin — and to the camp's revival since Russia annexed Crimea from Ukraine in 2014.
Moscow has poured 13 billion roubles (£160 million) into Artek. The accommodation blocks have been refurbished and expanded. Film production suites, auditoriums, and music studios have been installed alongside the 11m­high Lenin statue and murals depicting happy workers that were placed here when this was the biggest of the Young Pioneers camps. Now, as then, the camp also welcomes foreign children but with Crimea having been placed under US and EU sanctions since annexation, Artek's broader appeal is limited. Applications are open to all, but 95 per cent of places are funded by the Russian government.
For children who enjoy the kind of conformist ethic that Artek enforces it is the ultimate summer adventure, albeit with politics hovering in the background. There are no statues of Mr. Putin but you can buy t-­shirts printed with his image, depicted in Soviet modernist style, in the souvenir kiosks.
"All my friends think it is so cool that I have come here," says Anastasia, 15, who won her place in a competition she entered at the Russian Saturday school she attends back home in Scotland. "I'm meeting new people from different countries, and finding out about their traditions."
First opened in 1925 as a huddle of tents around a flagpole and a campfire, Artek in its heyday hosted almost 30,000 of the USSR's brightest and best connected children every year. Yuri Gagarin visited seven times. Fidel Castro was here, and Mikhail Gorbachev.
The collapse of the Soviet Union in 1991 brought hard times. The Crimean peninsula was part of Ukraine, and although the local government continued to run Artek as a summer camp its buildings became dilapidated and its 218 hectares of parkland overgrown. With communism out of vogue it was turned into a business venture, with hefty prices. Allegations of child abuse tarnished its image.
By 2014, water was leaking through ceilings and there were gaps in the tiled murals, but the renovations since have been extensive. Soviet­era busts of Artek alumni who died fighting for the USSR in the Second World War have been brought out of the basements and erected on a path overlooking the sea.
Many of the Ukrainian staff deserted the camp in 2014 as it was taken under Russian control, setting up a new Artek in the town of Bukovel in the Carpathian mountains. They have been replaced in Crimea by a team who are slowly recreating the old Artek atmosphere, right down to the ice cream in the canteen that has been made to taste just as it did in Soviet times.
"When people who came here as children in the 1960s visit us today, they recognise the songs that we sing, " says Tatjana, a camp worker who has stayed at Artek for 30 years, through Soviet, Ukrainian and now Russian administration. "They are the same songs about friendship, sun and the sea."
RELATED ISSUES
RELATED INITIATIVES