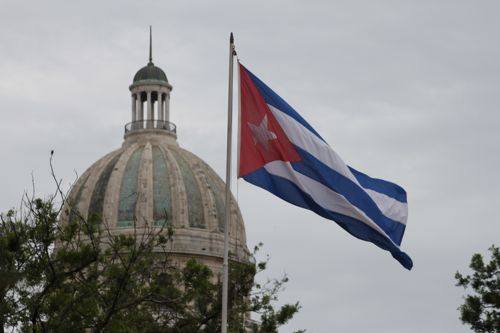 Cuban authorities arrested American Alan Gross in early December at Havana's Jose Martí International Airport. Since then, the 60-year-old has been held in a Cuban jail. Though Gross hasn't been formally charged, government officials suspect he was in the country as an American spy. On Dec. 21, President Raul Castro accused Gross of distributing sophisticated satellite communication gear.

A U.S. State Department spokesman denied Gross' affiliation with any American intelligence agency saying the gear was meant to help a "peaceful, non-dissident civic group - a religious and cultural group recognized by the Cuban government - improve its ability to communicate with its members across the island and overseas." According to American officials, Gross was working for Development Alternatives Inc., a private company that had an $8.6 million Agency for International Development (USAID) contract to carry out work in Cuba.

While early accounts indicated Gross' work involved the island's Jewish community, Adela Dworin, vice president of Patronato Hebreo Cubano, Cuba's largest Jewish organization, said she does not know Gross. News that he was working with a Jewish group "was a surprise and very worrying for us," she said. Dworin wouldn't be alive if Cuba had not accepted her parents as refugees after they escaped the Holocaust, she explained. "We are grateful to this country," she said, going on to clarify that the Patronato Hebrero Cubano is not a political group "We feel very Cuban. We have always tried to stay outside politics."

She continued, "We are interested in Jewish culture. What interest would we have in espionage or improving our access to the Internet? Why? I don't think any Jewish organization in the country is mixed up in that." Dworin, based in Havana, reported that the Island's Jewish community is small, about 1,500. It's likely Gross entered Cuba as a tourist, she claimed, and while it's possible she met him, she doesn't remember it. "From October to May, we get hundreds and hundreds of Jewish religious visitors. If you put him here in front of me, I may know who he is."

Dworin did not hear that Gross was working with any Jews in Havana but couldn't rule out that he met with Jews outside the city, and is waiting to hear details of the government investigation before jumping to conclusions. "He must have come with some visiting group," she said. "Beyond that, I don't know. We don't know anything."

While Dworin wishes Gross had not involved Cuba's Jewish community in the uproar over his arrest, she added that she feels sympathy for his family. "It must be terrible for him," she said. "I am very surprised that his family has not tried to visit him. His wife is Jewish. She would be very well received by us." Judy Gross has asked for her husband's "safe and speedy return," joining a call for his release by Secretary of State Hillary Clinton.

A senior Cuban official who spoke on condition of anonymity voiced concern that Gross is part of a quasi-covert plan to undermine the socialist government. In the 1960s or '70s, the CIA would have carried out such a mission, he said, but today, the U.S. government hires private contractors for the job. He believes the U.S. goal - forcing the Castro brothers from power - remains the same. "What changes is the nature, the form, not the content. It goes from being undercover activity by the CIA to semi-public activity of private contractors. But some of this is done by ex-CIA agents. You can't think that the CIA has cut its connection to the operatives."

Following the money trail proves difficult, as it is passed from the U.S. government to private contractors, subcontractors and finally to Cuban dissidents, explained Jesus Arboleya, a Cuban journalist who has written books about U.S. efforts to topple the socialist government. It changes hands so many times that "it's a form of money laundering," he said. Arboleya added that some hardline Cuban-American foes of the Castro regime oppose normal relations because they would lose millions of dollars in government contracts. These hardliners hope to create chaos in Cuba, constructing a power vacuum that they and their "paid dissidents" can fill. "Those groups have no credibility. Cuba's political debate is going on within the Revolution. The internal Cuban debate doesn't have anything to do with the dissidence."