Editor's note: This report includes graphic images that may be upsetting to some readers.
Iryna Havryliuk was one of thousands of Ukrainians who fled Bucha in early March, after Russian forces occupied a northern suburb of Kyiv. Her husband, Sergey, a forty-seven-year-old private security guard, decided to stay. The couple owned two dogs and six cats, which Sergey refused to abandon. Joining throngs of displaced civilians, Havryliuk crossed the icy currents of the Irpin River on a treacherous walkway composed of pallets and scrap lumber—which had been constructed beneath a bridge destroyed by an air strike. She eventually made it to Zakarpattia, in western Ukraine. After the Russians sabotaged Bucha's power plant and began confiscating people's phones, she lost contact with Sergey. For a month, as battles raged north of Kyiv, Havryliuk hoped and waited. On Sunday, Russian forces retreated from the area, and Havryliuk received news that Sergey was dead. On Monday, she went home.
She found her husband supine in their back yard, beside a wood pile. I'd arrived there a few minutes earlier, with a photographer. Sergey wore a sheepskin-and-leather jacket; a T-shirt was draped over his face. Havryliuk's brother, Roman, lay a few feet away. So did a third man, whom she didn't know. All three had been shot in the head. When Havryliuk lifted the T-shirt over Sergey's face, she found that a bullet had pierced his right eye, leaving a gaping hole. She said nothing, but quickly put back the T-shirt. Leaving the yard, she said matter-of-factly, to a friend who'd accompanied her, "My hands are trembling."
---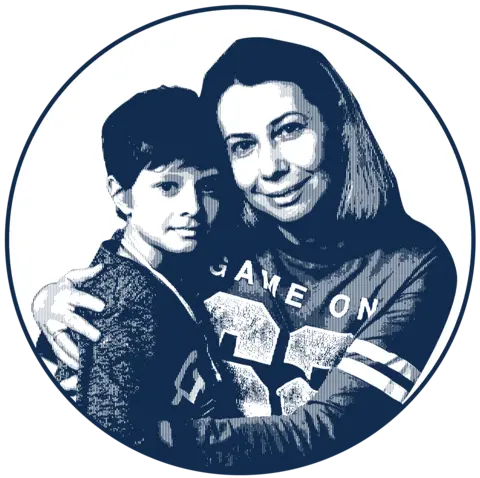 As a nonprofit journalism organization, we depend on your support to fund coverage of global conflicts. Help us continue funding the hard costs of in-depth coverage of the Ukraine invasion—including travel, hostile environment safety training, and the increased security expenses that arise from reporting in war zones.
---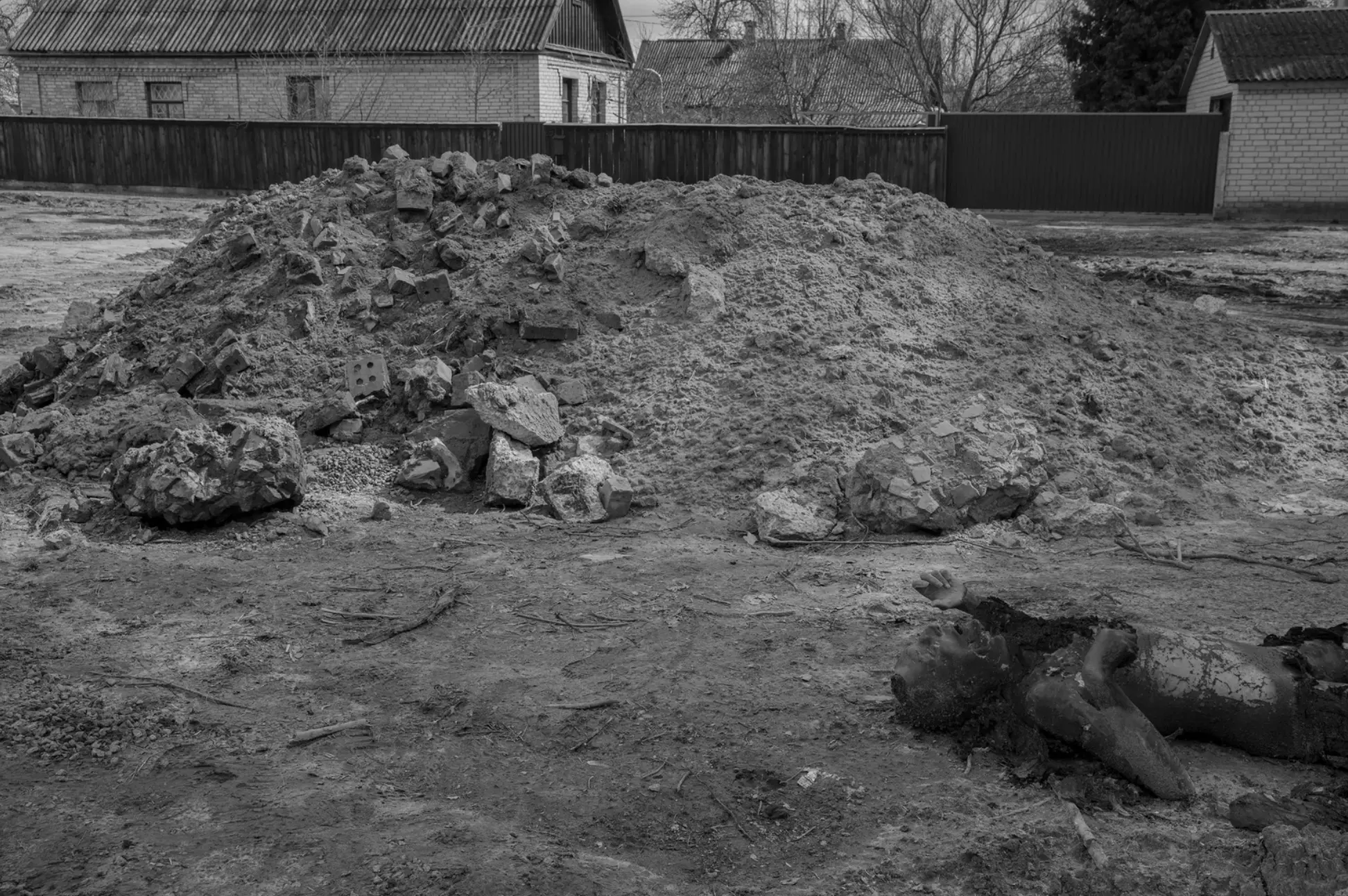 One of the couple's two dogs, a pit bull named Valik, had also been shot dead; his body lay in a wheelbarrow beside the front door. Artillery had damaged the house, and Havryliuk would later discover their second dog crushed beneath a heap of rubble. The cats were gone. When Havryliuk went inside to salvage what she could of her and Sergey's things, she discovered that Russian soldiers had stolen her jewelry and perfume, and some of her bras and underwear. While Havryliuk was sifting through her looted living room, a woman with dyed purple hair and a tattered down vest arrived and embraced her. Her name was Nadejda Cherednichenko, and she lived a block away. She said that her son, a twenty-seven-year-old electrician named Volodymyr, had been detained by Russian soldiers in early March. When Cherednichenko went to their commander to petition for his release, the commander told her that Volodymyr was no longer in Bucha. After three weeks, Cherednichenko approached two soldiers outside her house. "I said to them, 'I'm asking you as a mother,' " she told Havryliuk. " 'Is my son alive?' " One of the soldiers responded, "You don't have a son anymore."
On the thirty-first of March, a neighbor brought Cherednichenko to a basement where Volodymyr had been found dead. He'd been shot through the ear and was difficult to recognize. All five fingers on his left hand had been wrenched backward.
Havryliuk listened in silence as Cherednichenko recounted all this, occasionally nodding. Although she had no words for her friend, her own loss seemed to have made her someone in whom Cherednichenko could confide.
Cherednichenko later showed me where on her property she had buried Volodymyr. It is traditional for Ukrainians to place some of the deceased's preferred food on a grave, but during the occupation the residents of Bucha barely had enough sustenance to survive. Volodymyr had loved caffeine, and Cherednichenko had found a small packet of instant coffee to leave on the otherwise unmarked mound of dirt.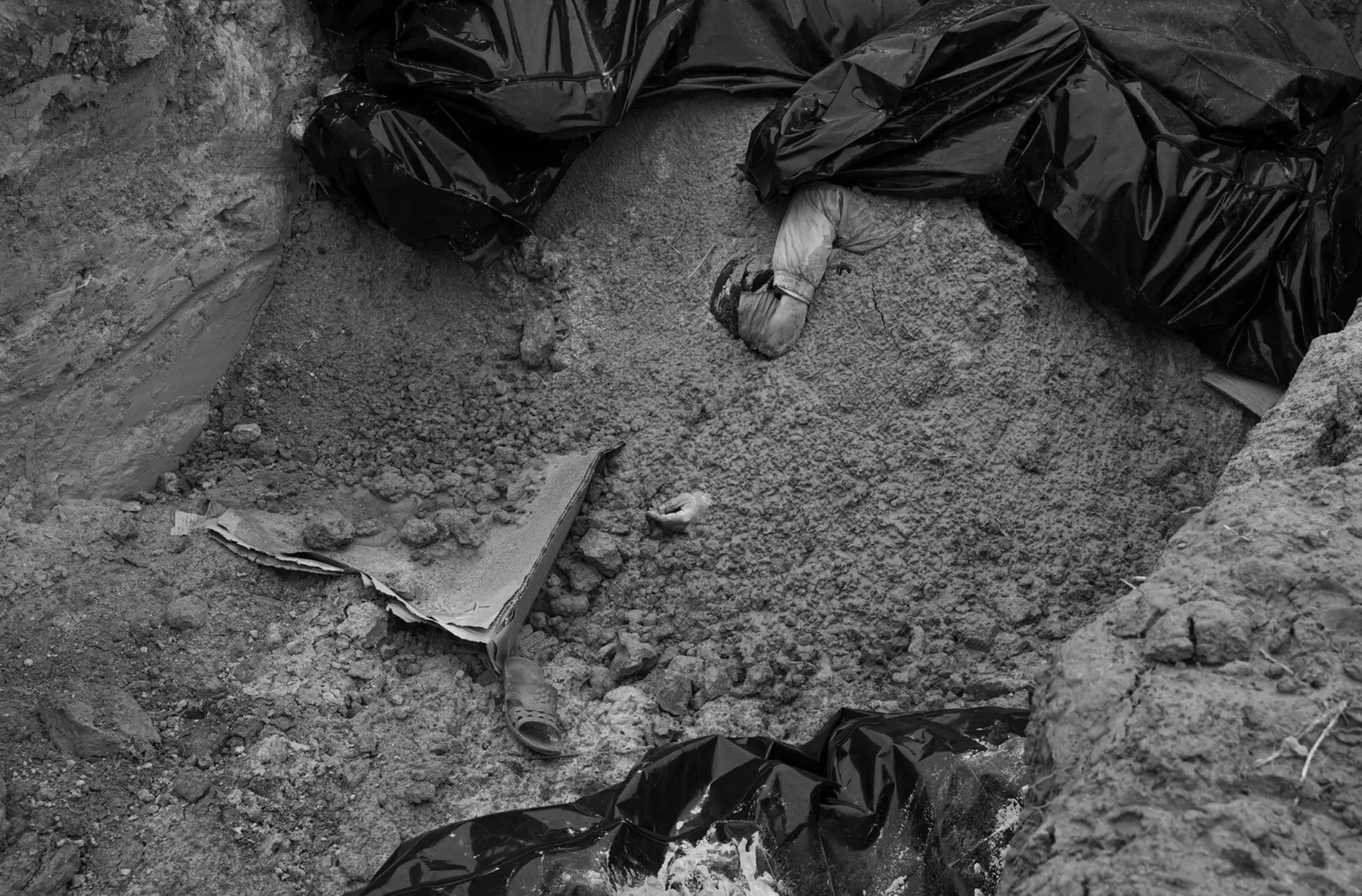 A few houses down from Havryliuk's place, two brothers had also been executed. Yuri and Victor had been in their sixties, and had lived in adjacent houses. Everyone in the neighborhood had referred to them as Uncle Yuri and Uncle Victor. While the Russians had been in Bucha, Yuri had worn a white cloth around his sleeve, to signal his neutrality, and had baked bread to help feed residents who'd stayed behind. No one knew why he and Victor had been murdered. Their bodies had been dumped in a nearby culvert, and were tangled together and half buried under debris that had washed down during recent rains. While I was talking to people who had known the brothers, a Ukrainian soldier approached us to say that he'd found something in the basement of a yellow house facing the culvert. It turned out to be the crumpled body of a rail-thin teen-ager. He, too, had been shot in the head. So had an overweight, middle-aged man in civilian clothes, a hundred feet or so up the road. Near his temple, dark blood pooled on the ground.
On the far side of a stretch of railroad tracks, two elderly women had been killed in their house. One lay in the doorway, another in the kitchen. Both were bundled in heavy winter coats. Neighbors said that they had been sisters, both in their seventies. Their small house was filled with hardcover books, and they did not own a television; it was impossible not to imagine their quiet, literary life together before it was annihilated. In the only bedroom, two narrow mattresses were pushed together and covered by a single blanket.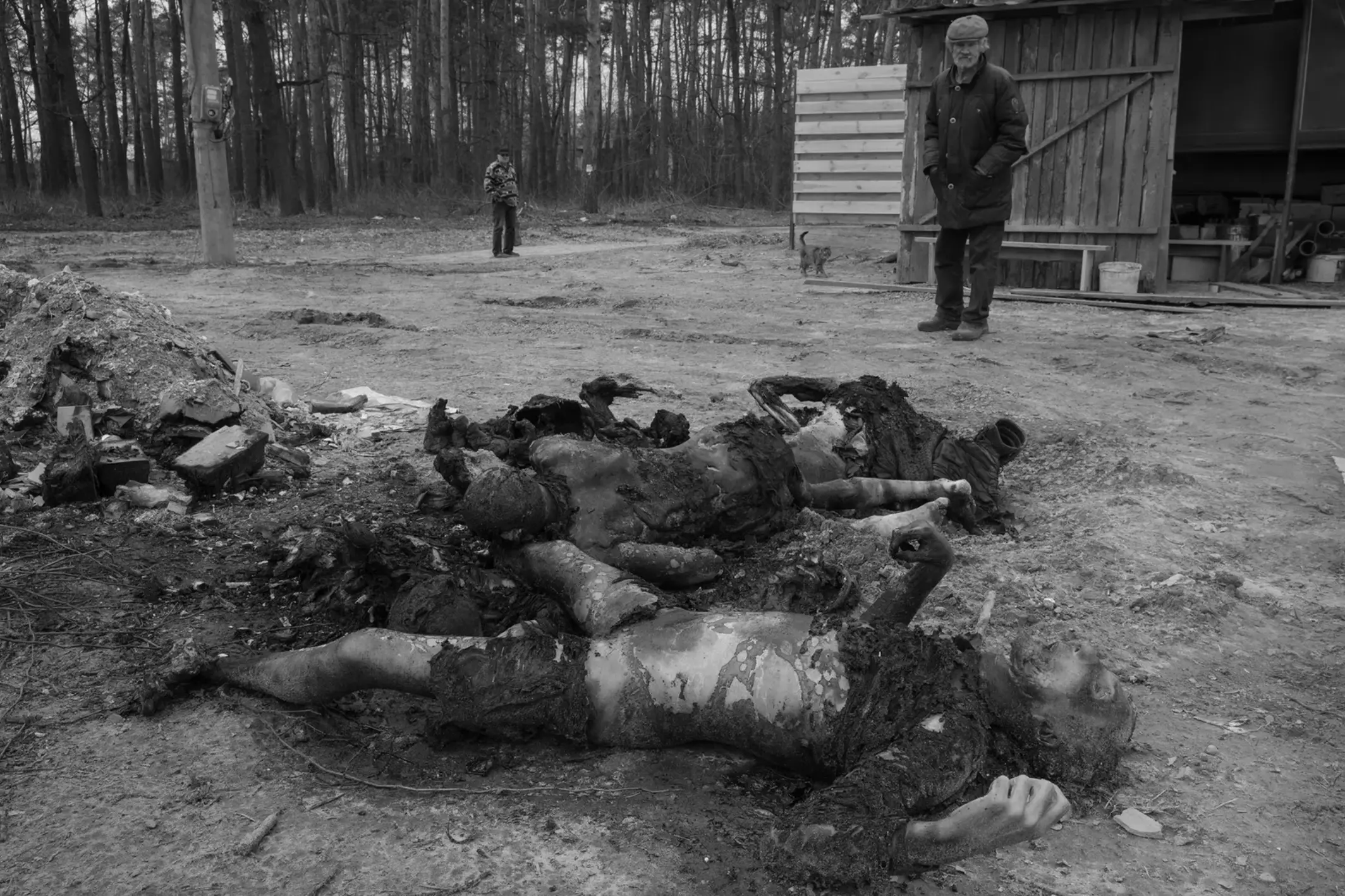 At the end of Havryliuk's street, a number of corpses had been severely burned beside a garbage pile. It was hard to say how many there were—charred legs and torsos were severed and scattered—but one victim appeared to be a woman, another a child or an adolescent. Orphaned cats and dogs sniffed around the parts. Several people reported that Russians had brought the bodies on a tank, dumped them, and lit them on fire.
Everyone I spoke with noted that, as soon as the Russians had arrived in Bucha, they had ransacked homes and supermarkets for alcohol. At almost every location where someone had been killed, I saw numerous empty bottles of vodka, whiskey, wine, or beer.
When I returned to the garbage pile the next day, police had cordoned off the mutilated corpses with tape, placing small yellow markers with numbers amid the carnage. The markers indicated that there were six bodies. A white van was parked outside Havryliuk's house. On the dusty rear doors, someone had traced "200"—a military code for fatalities. I encountered a team of four volunteers who, throughout the occupation, had been collecting the remains of locals killed by Russian soldiers. At first, the team had delivered the bodies to the local morgue, but soon there was no room. On March 10th, the Russians had allowed Bucha residents to dig a mass grave behind a Ukrainian Orthodox church. When that filled up as well—with sixty-seven people, according to the priest—a second pit was excavated, and then another. The third pit remained open and heaped with corpses.
"A lot of them had been tortured," one of the volunteers, Sergey Matiuk, said. He wore a colorful windbreaker and a pin emblazoned with the Bucha town crest above the words "i love my city," in Ukrainian. In a sheath on his hip was an antique-looking knife with a jewel-embedded handle; he'd taken it from a former Russian Army position. "A trophy," he said, withdrawing the curved blade. The relentless fighting in Bucha had hindered Matiuk and his team from conducting their work, and he told me that, since the Russian retreat, they had picked up about three hundred corpses. He estimated that at least a hundred had had their hands tied behind their back. When I asked him where in town he'd encountered such cases, he replied, "Everywhere."
Havryliuk had returned to her house. While Matiuk and his colleagues lifted her husband, brother, and the third man into bags and zipped them closed, she looked down at her palms and muttered, "Everything is dirty."
The van was already half full with other bodies, and Matiuk had to climb into the back in order to haul Sergey and Roman onto the top of the pile. Then the team continued up the street, to the yellow house, and carried out the teen-ager from the basement. It was getting late. They needed to bring the victims to a local cemetery, where they would add them to a stack of dozens of bodies awaiting transport to Kyiv; medical professionals there would try to identify the victims, using DNA samples. Though the volunteers were all large, sturdy men—Matiuk had been a professional soccer player in Ukraine—they were out of breath, sweaty, and visibly exhausted. After some discussion, they decided to come back another day for Yuri, Victor, and the middle-aged man lying in the road.
Before getting into the van and driving away, one of the volunteers raised his fist to the few assembled neighbors and shouted, "Slava Ukraini!"
"Slava Ukraini!" the neighbors echoed. They yelled it with all the force they had. Still, they sounded more benumbed than victorious.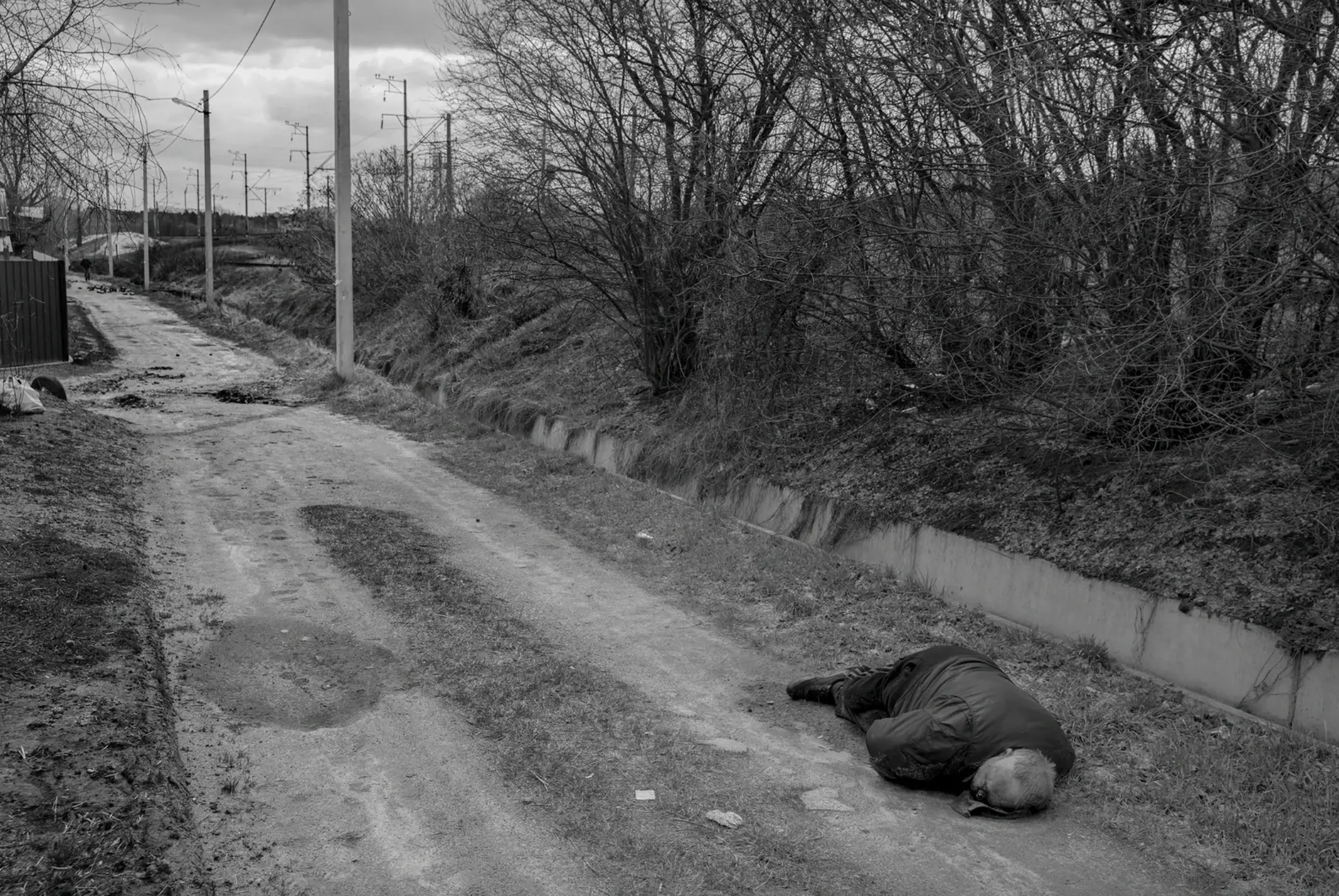 RELATED ISSUES

Issue
Conflict and Peace Building
Conflict and Peace Building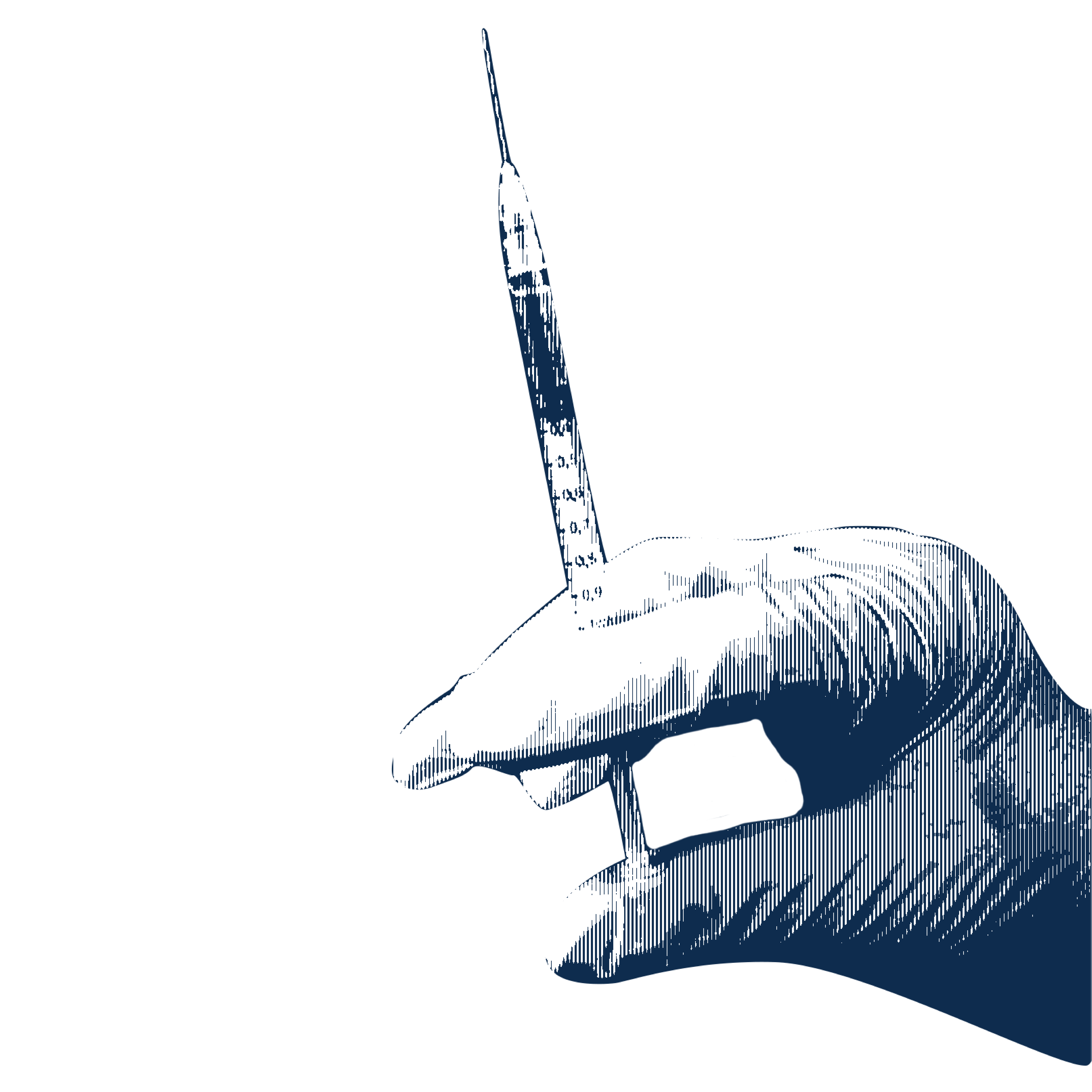 Health
RELATED INITIATIVES