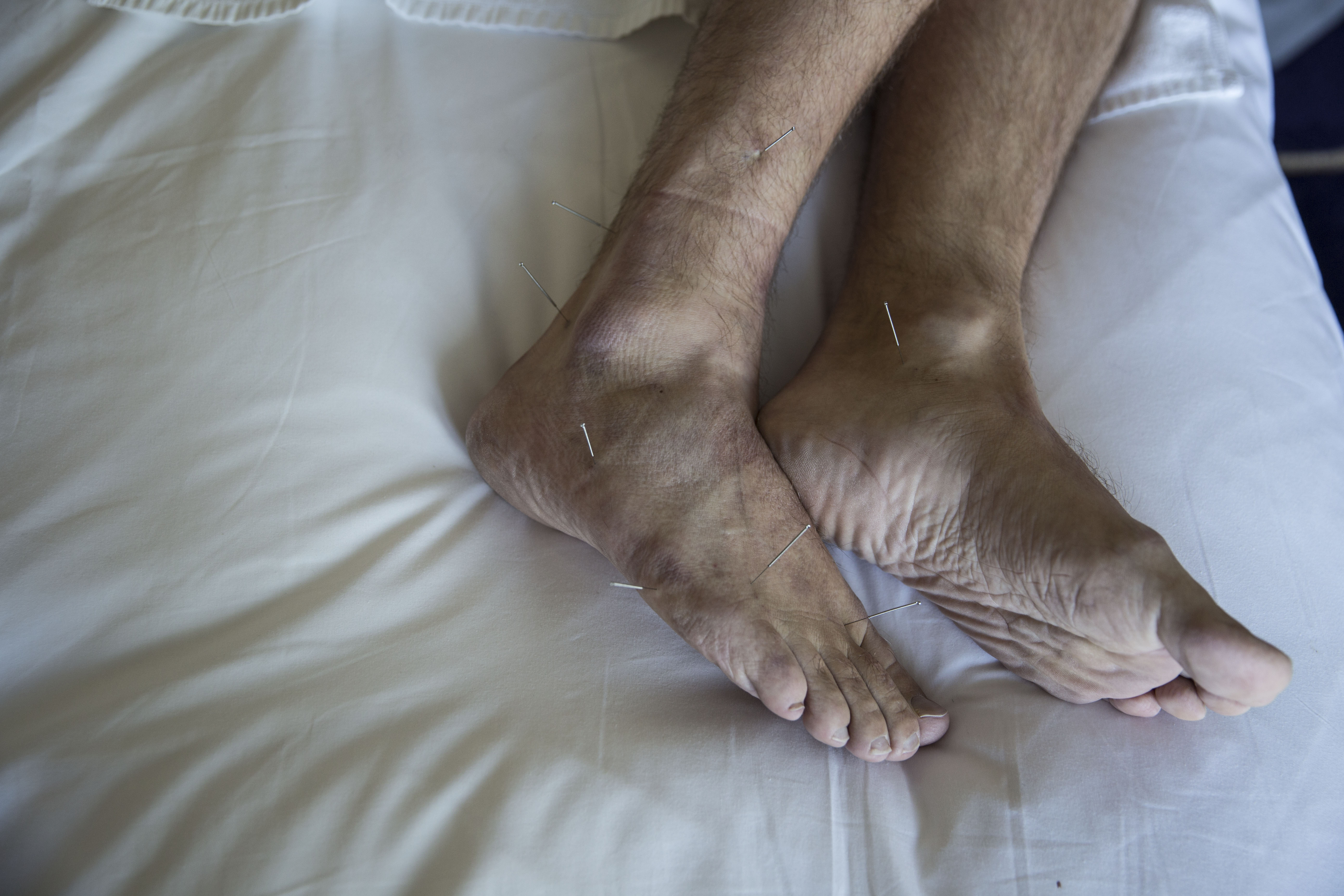 Sixth in a series examining Iowa's growing connection and influence with China. Read the project at "Iowa in the Heart of China."
TIANJIN, China — Dr. Shulin Zhang swept into the hotel room at the posh St. Regis.
A slender and tidy man of 71, he set down his medical bag, put on his eyeglasses and turned his attention to his patient.
Tom Simons lay on his left side, his head propped on a pillow as he squeezed an orange foam ball in his left hand. Family photos sat nearby on the nightstand — the smiling faces of his wife, Mindie, and their children, Jackson, Maddie and Will — as well as a copy of the inspirational book "The Power of Faith When Tragedy Strikes."
Simons, 45, suffered a stroke in January 2015. Ever since he has struggled to regain much of his normal muscle movement and, most frustratingly, his speech.
"A groan was the only thing he could get out at the time," said Dr. Michael Slattery, Simons' family physician in Carroll, Iowa.
INTERACTIVE MAP: See the many places Iowa culture influences Chinese culture
WATCH: Follow our journey through China on our new Facebook Watch page
Simons traveled here in July for three months of intensive treatment at this boutique clinic for Chinese acupuncture and physical therapy. A nurse from Iowa, Ruth Lycke, established it as her headquarters for TCM (Traditional Chinese Medicine) Restoration.
More than 500 Americans — many of them stroke victims like Simons, and about one-third of them Iowans — have flocked here in recent years.
It's a corner of the global phenomenon known as "medical tourism" that in this case has an Iowan at the center of efforts to more profoundly intertwine the medicine and cultures of East and West.
Zhang, who spends most of his day at a local hospital, uses an array of acupuncture needles, some as long as 3½ inches.
With graceful and almost unceasing movement he sticks in one needle after another with swift precision. And each time he pierces a needle deep into Simons' tissue he gives it a subtle twist.
The doctor may treat 80 or more patients in a single day, including the handful at this clinic.
"A lot of people will think, well, it's voodoo," Lycke said. "You're sticking needles in a doll and it's voodoo."
Simons' doctor's recommendation to his patient when asked about seeking acupuncture treatment in China: "Why not?"
"I'm very open-minded to different forms of therapy," Slattery said.
Acupuncture, he added, seems to be very dependent on the practitioner — "the more skill, the more honed in," the better the results.
Even various American studies have shown acupuncture to be effective pain management for a significant portion of patients.
Simons, in the wake of his stroke, suffered from aphasia. He understood what others were saying but could not form his own words.
By October 2015 he felt trapped enough in his own head and body, in a fog of medication and depression, that he told his wife that he no longer wanted to live.
He and Mindie, high school sweethearts, grew up and still live in Carroll, where Simons is vice president at the family's Feld Fire business that sells firefighting equipment.
When the couple sits down for an interview, they finish each other sentences, sometimes deliberately as Mindie prods her husband to struggle through the aphasia.
"What did you have?" Mindie said. "You had a …"
"Stroke, stroke," Simons said. "Yes, yes, yep, yep. And then, um, you know what, it's frustrating. And fogginess. But China is good. China is good. Yes."






'They all feel like a bee sting'
Like the vast majority of Lycke's patients, Simons ended up in Tianjin through word of mouth.
Mindie heard about the clinic through her cousin, who had a friend of a friend who had been a patient.
Jan Mickelson, one of the Midwest airwaves' most popular conservative radio pundits who until this year broadcast on WHO-AM 1040, sought treatment in spring 2016 to recover from his own stroke.
He traveled to Tianjin in a wheelchair and returned walking with a cane. He knew Lycke from interviewing her on his show.
This month Mickelson said that he has found a Chinese acupuncturist in Iowa to seek more treatment on top of his ongoing physical therapy.
John Pederson, 60, a lobbyist at the Iowa Legislature, suffered a stroke in March and sought a regimen in Tianjin of 30 needles daily for 90 days. He met Simons and other fellow patients.
"They all feel like a bee sting," Pederson said of the procedure. "I don't care if it's the end of your finger or the side of your neck or your toes."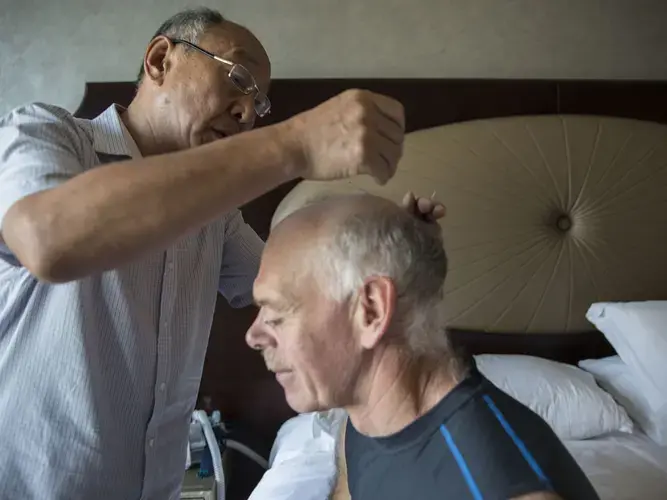 Immediately after finishing with Simons, Zhang shuffled down the hall to a nearby room to treat another Iowan, Jim Detweiler.
The 58-year-old farmer from Williamsburg heard about the program from his dentist. Detweiler was diagnosed in 1994 with CIPD, chronic inflammatory demyelinating polyneuropathy.
His immune system attacks the myelin that coats his nerves, short-circuiting signals that control muscle movement. As Detweiler's body aged and weakened, he lost most feeling in his lower legs and his hands.
"Sometimes it would be hard to grab a glass and get it up to drink," he said.
Zhang pierces Detweiler with two sets of needles: 20 minutes on his front side (including a straight line of needles down the center of his belly), then another 20 minutes on his back.
Occasionally a needle will send a jolt through his body that the farmer compares to "grabbing hold of the old electric fencer and hanging on."
"That's not a lot of fun," he said, "but I look at it as I'll do anything to get the kind of results I'm getting here. I don't care what it takes."
'I was existing. I wasn't living.'
Tianjin, a seaport of more than 15 million people, is a key commercial gateway that leads northwest to Beijing.
Before he was president of the United States, native Iowan Herbert Hoover lived here as a newlywed with his wife, Lou, during the Boxer Rebellion, and helped defend the city.
The floor-to-ceiling windows of Simons' room overlook downtown and the Haihe River. Post-it notes cover much of the glass, each note with a word scrawled on it (a person's name, a day of the week, a conjunction) as a visual aid to help with his speech therapy.
Simons and Mindie were compelled to make the trip in part because they knew Lycke herself had followed the same path, making the pilgrimage to Tianjin to heal after a stroke.
Lycke and her husband, Steve, were an Air Force couple who moved back to Marshalltown to raise their three children.
She was at a school athletic banquet in 2001 when she collapsed from a stroke that nearly killed her.
Still miserable more than two years later, a foreign-exchange student who bunked with the family convinced Lycke to explore five months of Chinese acupuncture in Tianjin.
"I was existing," Lycke said. "I wasn't living. And there's a big difference between existing and living."
Years later, Lycke regained the ability to manipulate a pen well enough to write. And her regimen of pharmaceuticals has been reduced to a blood pressure pill every few days.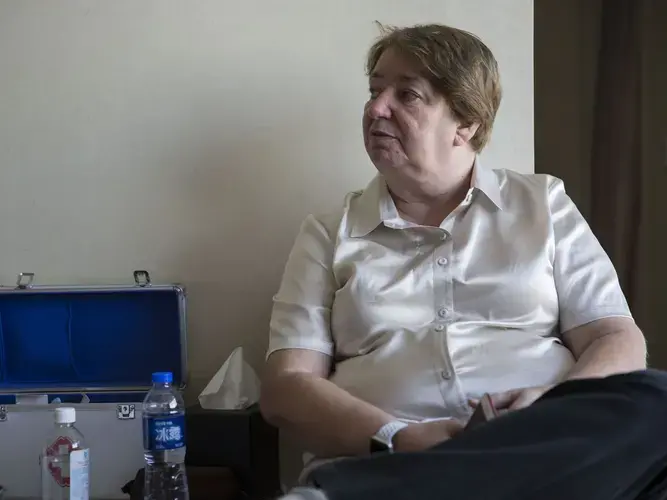 She has become an evangelist for what she sees as the ideal of traditional Chinese medicine, in which the body is stimulated to heal itself.
Jay Heaverlo, an acupuncturist in Des Moines who travels regularly to China for his training, explains acupuncture as "creating a very specific injury to the body" at points within the nervous system to trigger specific results.
"They understand the micro-systems within the macro-systems within the body," Heaverlo said. "That's the gem of Chinese medicine."
Lycke's patients in Tianjin also receive massage, electric stimulation and traditional Chinese herbal medicine.
A Chinese woman, Jiahui "Vivian" Zuo, 27, who met Lycke as her interpreter when she was in high school, has become Lycke's partner in the joint venture.
While the treatment is not cheap, about $30,000, similar daily programs in America could cost hundreds of thousands of dollars. Insurance rarely covers any of the cost.
The Simonses raised about $27,000, Mindie said, through the generosity of local friends and organizations.
Acupuncture needles, from Nixon to now
Lycke's clinic is the latest step in a long trend.
America became more curious about Chinese acupuncture in 1971, the year that President Richard Nixon visited China. A writer for the New York Times covering the trip wrote about his experience with acupuncture after an emergency appendectomy.
Iowa Gov. Bob Ray in May 1974 encountered American doctors in his hotel in Shanghai who were there to study acupuncture.
Today, there are more than 34,000 acupuncturists in the U.S. The industry continues to make inroads and also sees itself as perhaps making additional gains as a safer alternative to pain management in the wake of the opioid epidemic.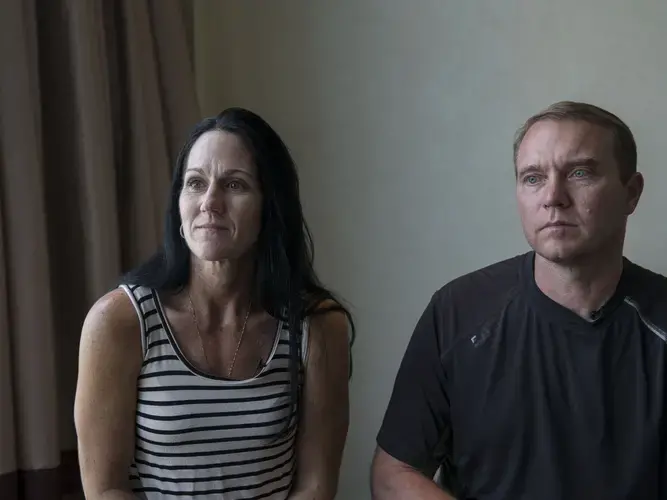 Slattery was impressed with Simons' progress when he examined his patient the week after he returned from China.
For now, Simons remains on Western medication to combat blood pressure, seizures and clotting.
Simons looks forward to fishing again next year. Detweiler would like to regain the agility to climb back in the saddle and ride his horse.
Lycke and Zuo next year are hiring two more Chinese doctors to treat patients.
"Years ago, we followed the Greeks instead of the Chinese, and we've got the result we have," Lycke said. "I'm not saying that there's necessarily a loss, or that we've lost our way. I'm saying there are other things we can implement and make us better."
The nurse has imagined building a "brain park" that melds the medicine, ancient wisdom and modern technology of East and West. She would like to see the same integrative approach made more accessible in the U.S.
"I'm a great believer that we have more to offer together than we do apart," she said.
RELATED ISSUES