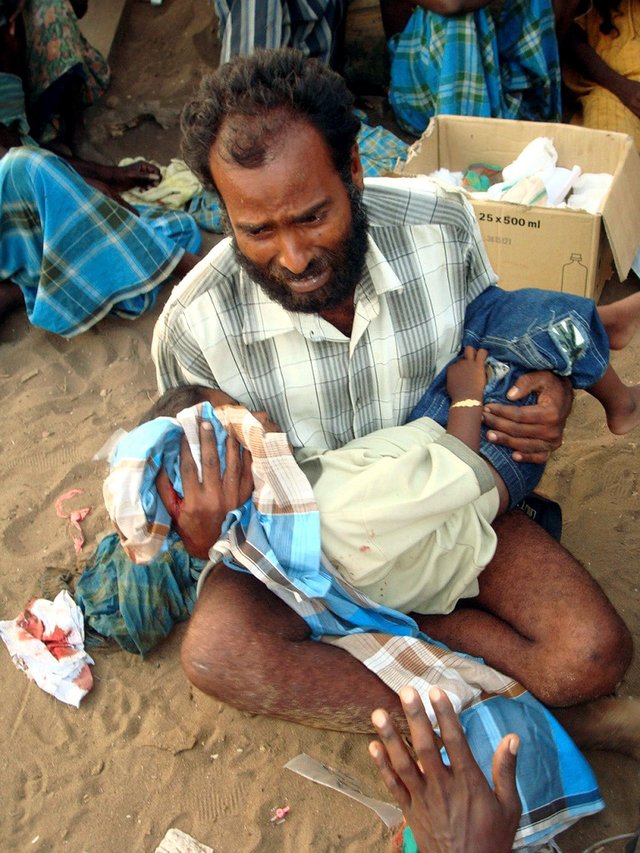 COLOMBO, Sri Lanka -- Hundreds more civilians have died in fighting in Sri Lanka's north, where 50,000 noncombatants remain trapped in the crossfire between government forces and Tamil Tiger rebels as a quarter-century-old struggle enters its endgame.

A government doctor, V. Shanmugarajah, told the Associated Press on Sunday that artillery fire killed at least 378 civilians and wounded more than 1,100. He called it the bloodiest day he had seen and said many more civilians probably were killed but were buried where they fell.

A military spokesman, Brig. Udaya Nanayakkara, told the AP that no shelling was taking place and that the army was using only small arms.

However, Dr. Shanmugarajah said he saw shells flying and that some had fallen close to his hospital.

Two weeks ago, the Sri Lankan government promised to stop firing heavy weapons into the strip of territory in the northeast where the army has bottled up the remnants of the Liberation Tigers of Tamil Eelam (LTTE).

The rebel group has been fighting for 25 years for self-government of the country's ethnic-minority Tamils, but has lost control of all but a 2.4-mile-long sliver of land slightly bigger than New York City's Central Park.

The LTTE has been accused of using civilians as human shields and preventing them from fleeing the war zone until last month.

The United Nations estimates that nearly 6,500 civilians have died this year as government forces press to finish off the Tamil Tigers. More than 110,000 civilians who escaped into internment camps are also fighting to survive.

"The shelters are already at 400 percent capacity," said an aid worker from the eastern town of Trincomalee, where more than 150,000 internally displaced people are now located. The worker asked not to be named to avoid government retribution.

Increasing reports say hundreds of critically injured refugees have been moved into crowded hospitals with inadequate staff and supplies. Tens of thousands of others are suffering from shortages of water, food and space.

The U.N. Office for the Coordination of Humanitarian Affairs reported April 27 that "camps in Vavuniya are reportedly holding 18 persons per tent [normally fit for a family of five] with limited water supplies."

According to the international humanitarian organization Doctors Without Borders, thousands of war-wounded civilians have overwhelmed the Vavuniya Hospital, which has a maximum capacity of 400.

"Instead of having one person per bed, you have two; it's just like one huge bed across the ward," said mental health officer Karen Stewart, who is working with Doctors Without Borders. "Then there's a whole other layer on the ground. We have people under every bed, so that's double capacity. You also have a lot of people who are outside in the walkways, lying on mats."

The Sri Lankan military screens civilians who escape the war zone for weapons before busing them to Vavuniya, where they are assigned to camps and further screening is conducted to weed out LTTE combatants.

Rajiva Wijesinghe, the secretary to the Ministry of Disaster Management and Human Rights, said the problems of the displaced civilians were being solved. "In particular, resettlement can move forward more smoothly when there is no threat from a potentially resurgent LTTE," he said.

However, the sheer volume of those fleeing the conflict appears to have overwhelmed the government.

"So many people are suffering, they can't get out from the buses," said a local resident, who requested anonymity. "There is no water, no food. It's like living in a prison."

Swollen, chaotic camps lack sufficient food and sanitation. One aid worker based in the north said two children were trampled during the distribution of biscuits and water last week. There have been several instances of riots and protests in the camps because of the shortages.

In spite of the severe lack of water, another humanitarian worker said, mobile water-distribution tanks have been held up at a military checkpoint outside of Vavuniya, along with water pipes needed by UNICEF to deliver it.

The government says it is leery of working with nongovernmental organizations, or NGOs, because of instances where agency vehicles and food supplies have wound up in the hands of the Tamil Tigers.

Furthermore, the billions of dollars in aid that flooded the country after the 2004 tsunami has made the government skeptical of international NGOs, which they view as profiteering.

"We have plenty of capable national NGOs, which were cast aside during the tsunami," Mr. Wijesinghe said. "We expect donors and the U.N. to work towards capacity-building of Sri Lankans, too, and avoid the massive overheads that a cascading company of international wage earners precipitate."

In September, the government requested all U.N. and international NGOs to evacuate the area where civilians are now trapped, saying it could no longer guarantee their safety.

Hostilities between the government and the agencies have increased as the conflict has escalated. In February, for example, a mob threw rocks at the headquarters of the International Committee of the Red Cross (ICRC) in the capital, Colombo, after the government publicly accused the organization of ordering 35,000 body bags into the country, thereby creating hysteria about the war.

According to the ICRC, it had placed a routine order for 2,000 body bags in January to be sent to the front lines.

This fraught relationship has compounded the difficulty of coordinating and implementing the massive humanitarian relief effort now under way.

"The government is saying, 'Now we want your help,' " said a Colombo-based humanitarian worker who requested anonymity. "But they still aren't facilitating it. People are now dying in Vavuniya due to lack of access to water, food, and medical attention. It is literally a life-and-death situation on both sides of the front lines."