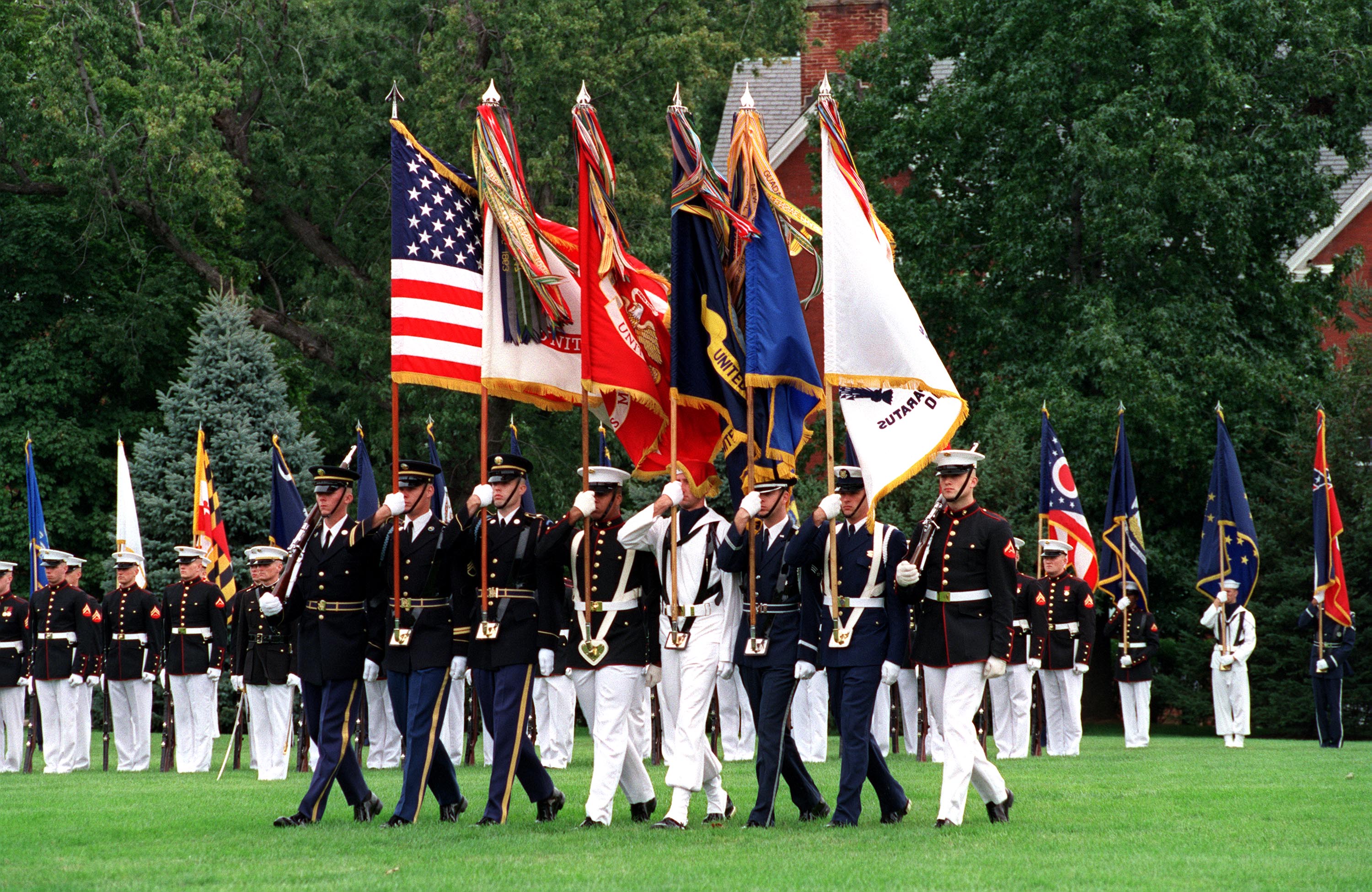 When Murad first came to the United States for school, he never dreamed he would end up as a soldier in the military. But he was inspired by the people he met during his time as a foreign student, he said, and formed a deep emotional connection to the United States. (He asked to be identified by his first name only to protect family abroad from government backlash.) So when he heard about a new citizenship-for-service program in the military, he signed up immediately.

After renouncing his foreign citizenship and excelling through the grueling weeks of basic training, Murad became a soldier in the United States Army. Through the Army, he met his wife and was trained in the skills he now uses in his private sector job. Although he is no longer on active duty, he continues to serve in the Army National Guard. His younger brother is now following in his footsteps.

To this day, Murad believes enlisting was one of the best decisions he ever made. "Not just because I became a citizen, but for experience itself and the people I met," he said. "It was hard at times, but ultimately the most honorable service." He believes the program is an unprecedented opportunity for immigrants like himself to give back to United States.

But with increased concern about insider threats within the Department of Defense and growing anti-immigration rhetoric across the country, the program that Murad completed for his citizenship faces an uncertain future. Many Pentagon officials hail the program as a necessity to increase the diversity of skills considered vital to the national interest. Recent immigrants vastly improve the military's linguistic power and provide a native cultural understanding nearly impossible to replicate through training and education. But opponents of the program say that the value of program is overshadowed by allowing potentially dangerous individuals access to military information.

For now, the program only exists under a 2002 Executive Order by the Bush administration, meaning if the executive order is rescinded, the program would end instantly. With many presidential candidates promising to remove all standing executive orders, the program faces even more uncertainty.

According to Margaret Stock, the immigration attorney and former Army officer who proposed the program, that kind of looming threat is not good for a long-term recruiting program. It's also not great for the American taxpayer.

The overwhelming majority of immigrants going through the program have at least a baccalaureate degree. Naomi Verdugo, former head of the program, explained it this way: "American taxpayers subsidize state schools, and it would be nice if our country could directly benefit from educating foreign students. After their military service, if they find employment, we can reap the rewards of that education."

***

The program is called Military Accessions Vital to the National Interest, or MAVNI, as the idea stemmed from the 9/11 terrorist attacks. In the weeks following the attacks, intelligence officers translated previously intercepted messages. The information could have prevented the attacks, but due to a shortage of interpreters, it was not translated in time. Thus, special language skills, particularly in languages spoken in areas the United States considers a security threat, were deemed vital to the national interest.

Eight years later, the United States military finalized a new plan to add immigrants to its ranks by offering expedited citizenship in exchange for service. Initial controversy around the program was rampant, even within the Pentagon. Years into the war on terror, many people were concerned about allowing foreigners access to military secrets. Proponents justified the plan by arguing that the military desperately needed specific language skills in uniform to reduce its reliance on contract interpreters.

At its inception, there was an annual cap of 6,000 immigrants who could join, and of that number, few were accepted into the reserves. The total cap has been gradually increasing. In October 2015, the Pentagon quietly removed the ratio that previously limited the number of immigrants who could enlist in the reserves. Reserve enlistees still receive their citizenship, in the same way as active duty enlistees. More often than not, highly skilled immigrants with a career in the private sector would rather join the reserves. Thus, the number of reserve enlistments has skyrocketed.

Linden St. Clair, assistant deputy for Army recruiting, explained the decision. "Increasing the number of immigrant enlistments was intended to help meet the Army Reserve mission and infuse highly qualified soldiers with native speaking fluency in critical foreign languages into the military."

By the numbers, close to two-thirds of enlisted immigrants are from Asian Pacific countries. Others are from Eastern and Western Europe, Africa, and South America. Most eligible enlistees are in the United States on student visas and hold multiple higher level degrees. The broad reach has even brought in individuals with medical degrees and counseling certifications, areas in which the military is perennially short-handed.

***

Meanwhile, the Army has begun cracking down on what they call "insider threats," or people already in uniform with intent to harm their fellow soldiers or purposely jeopardize military secrets. Evaluating threats goes beyond the citizenship program, but the focus on enlisting immigrants is acute. Colonel Monti Zimmerman was the insider threat mitigation officer for the Army until he retired early this spring. He was responsible for decreasing security vulnerabilities within the immigrant recruiting program.

"Any individual brought into the system must be value-added," he explains. "The value of the program is that it brings cultural and linguistic capabilities into the United States military that it may not otherwise be able to capitalize on. However, we do have to ensure that those people are not a threat to the United States."

To protect itself against the perceived vulnerability posed by recent immigrants in the ranks, the Army has levied stringent requirements on potential immigrant enlistees. In addition to qualifying exams that require immigrants to score higher than the average citizen, the Department of Homeland Security conducts comprehensive background investigations on every individual. Usually reserved for federal employees requiring top secret clearances, immigrant enlistees must pass the investigation and even then are not eligible for a clearance of any type. Further, the clearance takes upwards of nine months to complete. To date the failure rate is below five percent, less than average for the military.

These background checks are an expensive process for the taxpayer. It is also, according to a Pentagon official who wished to remain anonymous, "xenophobic and excessive. Immigrants are being screened harder and more rigorously than our own American-born citizens applying for a secret clearance. They are under ridiculous scrutiny."

During the final stages of the enlistment process, individuals from certain countries are examined more closely. This is not an official stance of the military, but it is considered a justified precaution, Pentagon sources say.

Pentagon insiders say that lengthy background checks for immigrants in the military are considered a necessary evil to reduce insider threat. However, in the time it takes the Department of Homeland Security to complete that background check, immigrants can lose their legal visa status, jeopardizing their ability to qualify for enlistment at all. Repeated delays can be catastrophic and wreak havoc in their personal lives, says Margaret Stock.

Staff Sergeant Matthew Reardon, a recruiter in Maryland, ran into that issue with a recent enlistee.

"His shipment [to start Army basic training] was delayed due to a pending background check, but he had already quit his job, he had his bills all set," Reardon says. "He budgeted money exactly up until his first Army paycheck, so the delay was imaginably stressful. I was able to go out and speak to his boss to get his job back, but it's hard because there is not much I can do at my level to tell him it'll be okay."

Particularly for enlistees on student visas, signing a work contract with the Army is a violation of their visa agreement, technically putting them in illegal immigration status even though they are not paid until they start their training. The contract must be signed before the background check can begin, and waiting the intervening months can become complicated.

Stock says that "from the minute legal immigrants sign their enlistment contract, they can have trouble. They can't travel internationally to visit family before basic training because they can't get a new student visa, as they are no longer a student. By the time they get to basic training, they are having problems with their immigration status where they can't do things like get a driver's license, or rent a car, or lease an apartment. Their family members can fall out of [legal] status and risk deportation; all kinds of crazy stuff starts happening."

Stock drafted an expansion bill for the program to circumvent these problems by granting green card status while the extensive background checks clear. The bill also includes a provision to remove all skills requirements from the program. It would ultimately make the program permanent, removing the dependence on executive orders. House and Senate subcommittees are now examining the bill, but it is unlikely to be put to a vote before the summer recess.

The proposed bill is controversial within the Pentagon as well, but when Zimmerman first heard about it, his initial reaction was positive. "The green card provision would be incredibly positive for the individual. If immigrants going through the process got delayed and fell out of status, they wind up in a non-legal situation which makes them removable from the United States simply by accident or bureaucratic delays. I am fully supportive of ensuring people could not fall out of status." However, removing the skills requirement is a different story.

"I would not be excited to lose the special conditions we need. The whole point of the program is for mission essential skills we can't get anywhere else. To make this just another broad-based accession program would serve no purpose to the US government. It would significantly increase the cost to the taxpayer because the background check requirements are more rigorous than the regular enlistees. I am leery of that being helpful to the purposes of the Army."

***

The military vigorously screens its enlisted immigrants, yet natural born soldiers are more frequently the perpetrators of violent actions against the national interest.

U.S. Army Private Naser Abdo, a natural born citizen from Gardland, Texas, was arrested in 2011 for an alleged bombing plot against his military base. According to various media outlets, materials and jihadist propaganda were found in his hotel room.

Four non-commissioned officers at Fort Stewart were charged in 2012 for their alleged plot with the FEAR militia. Their goal was to seize the base, set explosives in parks around Savannah, and assassinate President Obama.

Others would point to Chelsea Manning's leak of classified information to Wikileaks that compromised the location of military weapons in 2010, or Sergeant Bergdahl walking off of his post and the subsequent search that left other soldiers dead in 2014.

Major Nidal Hasan, the army psychiatrist who fatally shot 13 people at Fort Hood, was a natural born citizen. Stock says that it wasn't until after Fort Hood that the background investigations were imposed.

"President Obama's political appointees determined after the incident that immigrants were a threat [to] the military, even though the guy wasn't an immigrant," she says.

Of the people Nidal Hasan fatally shot, three of them were recently naturalized citizens through this program.

***

Individual anecdotes of immigrants who have gone through the program are profound.

A soldier from Eastern Europe who asked that his name not be disclosed, was profoundly affected by his time during training. "The military does a really good job of training and transforming you from being a civilian to a solider; instilling those army values of loyalty, duty, respect, and selfless service. To me, the training formed my view of the Army and in a larger sense, the country."

Some soldiers reported discrimination from their peers, overhearing whispered conversations questioning their motives. This is especially true for enlistees joining the reserves.

However some soldiers report just the opposite. Specialist Abhinav Goel said his skill set resulted in something akin to positive discrimination. "They really value the idea that I am a specialist and have a degree. They expect me to be more disciplined, more efficient. I have more responsibility as a specialist, and they have more respect for me."

For soldiers like Rachel Azoulay, the program changed her life. In the end, she says, it wasn't really about citizenship. "Citizenship was a nice reward at the end of basic training, but really seeing that I was part of a team of Americans was, well… a dream come true."