Part of a series examining Iowa's growing connection and influence with China. Read the project at "Iowa in the Heart of China." 
As President Donald Trump departs China, having dined in the Forbidden City and tried to wrangle North Korean nukes, another U.S. delegation arrives this weekend for negotiations far less dire.
Iowa State Fair officials have been invited to help teach China how to produce an authentically American celebration of agriculture, rural life and fried food. 
An annual event such as the State Fair with a mere 1 million people might seem rather modest in a vast country with a population of 1.4 billion.
But representatives from the city of Chengdu in the southwestern Chinese province of Sichuan have expressed serious interest.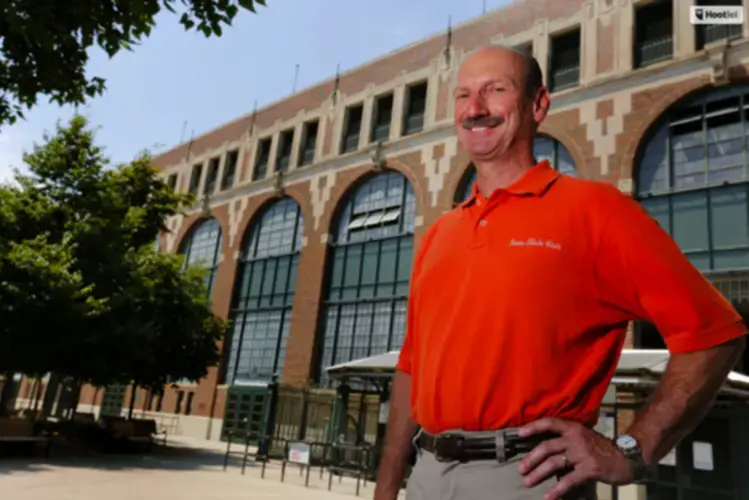 "They have been wanting to put on an event like a fair, a Western fair for quite some time," said Gary Slater, the fair's CEO. 
Slater flies to China on Friday with two of his board members, Gary McConnell from Bloomfield and John Harms, the board president from Monticello. 
The board members are paying their own way, Slater said, while most of his expense has been covered by Chengdu. 
A Chengdu delegation already visited Iowa twice this year, attending both a fair board meeting in March and the fair itself in August.
While at the fair they sat around a conference table with Slater and his colleagues to pepper them with questions. They even explored the nooks and crannies of the Swine Barn. 
"They took off their coats and ties and were driving two pigs up and down the alleyways," Slater said. "They were just ecstatic." 
Slater will speak to a conference crowd of about 600 Chinese in Chengdu, a popular tourist city of 14 million that is famous for its panda research center.
He plans to explain how the State Fair's "emphasis is on youth and ag education and things like that." 
This is far from Slater's first foray as a fair ambassador.  
He previously visited the Gimje Horizon Festival in South Korea that also celebrates agricultural history, albeit with a heavier helping of rice. 
And when he was chairman of the International Association of Fairs, he traveled to Australia and Zambia, in southern Africa.
But this is the first time Slater has been involved in inspiring any sort of similar fair in China, where his former board member and governor, Terry Branstad, now serves as U.S. ambassador in Beijing.
"This is just kind of the tip of the iceberg," Slater said
RELATED ISSUES