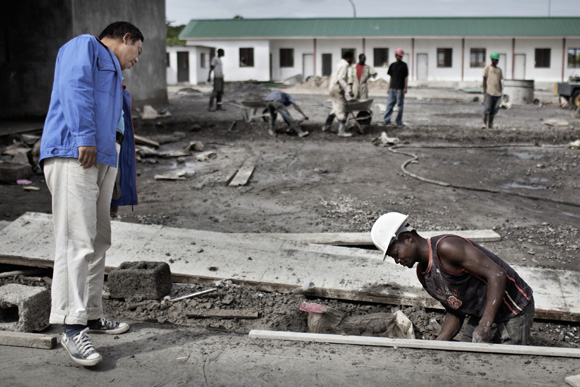 It happened in Zambia like it could happen elsewhere in Africa. Chinese investors made deals with the government to mine its natural resources, filling federal coffers with billions of dollars. Chinese immigrants moved into cities and rural towns. They started construction companies; opened copper, coal, and gem mines; and built hotels and restaurants, all providing new jobs. They set up schools and hospitals. But then instances of corruption, labor abuse, and criminal coverups began to set the relationship between the Chinese and the Africans aflame.
The Chinese have managed to accomplish at least one impressive thing in Africa—they have made everyone else uncomfortable. The Americans are uneasy, worried about (and perhaps jealous of) China's rapid and profitable investments throughout the continent, and the developmental assistance that it has started to provide in some areas. Europeans have only to look at trade figures: the share of Africa's exports that China receives has shot from one to fifteen per cent over the past decade, while the European Union's share fell from thirty-six to twenty-three per cent. China is now Africa's largest trading partner.
Some Africans have become resentful, though, unhappy with unbalanced relationships in which China has taken proprietorship of African natural resources using Chinese labor and equipment without transferring skills and technology. "China takes our primary goods and sells us manufactured ones. This was also the essence of colonialism," Lamido Sanusi, the governor of the Central Bank of Nigeria, wrote in the Financial Times earlier this year.
The threat (whether real or imagined) of a looming Chinese imperialist presence in Africa has given way to what has been called "resource nationalism," in which countries aim to take control of the exploitation of their natural resources. But this idea potentially fails to address the fact that the Chinese in Africa are people, and not just part of a faceless imperialist mass. I've spoken to Chinese investors in Zambia who appear to genuinely want to not just make money but integrate into Zambian communities and run responsible companies. One complained about how immoral businessmen ruin the efforts of others who want to pay fair wages and keep their workers safe.
In Zambia, a copper-rich country in southern Africa and the beneficiary of the continent's third-highest level of Chinese investment, persistent unemployment and poverty have left Zambians wondering where exactly the fruits of their government's lucrative deals with the Chinese have gone. President Michael Sata won election in 2011 partly thanks to anti-Chinese sentiment (he likened work at Chinese mines to slave labor and said he would deport any abusive investors), but immediately forged close ties with Chinese leaders. Still, his government has tried, at least on the surface, to even its playing field with China by launching criminal proceedings against former government officials who made corrupt deals with the Chinese, and by reforming the way foreign investors have to do business in Zambia. It is likely that the country will be only the first of many to do so.
"The people of Zambia have been complaining," the country's finance ministry said last month, "about lack of reliable and accurate information on the resources that are generated in the country or which come from foreign sources, to develop Zambia." Under a new law, the Bank of Zambia will create an "electronic reporting and monitoring system" tasked with overseeing the collection of royalties and taxes from foreign investors. Those same investors—who, the legislation notes, are benefiting from numerous business incentives—are now required to open and keep active taxable foreign-currency bank accounts. If they export their goods, as the Chinese owners of copper, coal, and gemstone mines do, they must deposit their profits in Zambia within two months of the date the goods are shipped abroad. The ministry added, "This is the way to go for a country that is so richly endowed with resources but whose capacity to unroll development to higher echelons has been hampered by poor transparency and accountability practices."
Chinese owners of copper mines in Zambia regularly violate the rights of their employees by not providing adequate protective gear and insuring safe working conditions, according to a Human Rights Watch report. When Zambian employees of the Chinese-owned Collum Coal Mine protested these poor conditions three years ago, their Chinese managers, who said they feared for their lives, fired gunshots at the miners, injuring thirteen of them. After Chinese business interests put pressure on the then-government in Lusaka, the director of public prosecutions suddenly dropped its criminal case against the managers. Last year, renewed protests at Collum led to hundreds of miners pushing a mine trolley into a Chinese manager. They killed him, and injured two other Chinese supervisors.
In the murky aftermath of the violence, the current government finally wrested control of the mine from the Chinese brothers who ran it and promised never to let such incidents happen again, partially resulting in this new legislation. Zambia, along with all of its copper and gems, had been especially attractive to China because it had let investors take their profits abroad. That policy has become too expensive, both financially and politically. (Tax avoidance by foreign investors is reportedly costing Zambia close to two billion dollars a year.)
"There will be a big fight with the mines," Mooya Lumamba, Zambia's director of mines, told me in May. The government has had battles with the mines before. Despite fears of scaring off investors, leaders, then recently elected, doubled the mine royalty rate nearly two years ago. Investors, including the Chinese, stuck around and even increased their direct inflows. This time, Lumamba didn't seem worried.
RELATED ISSUES