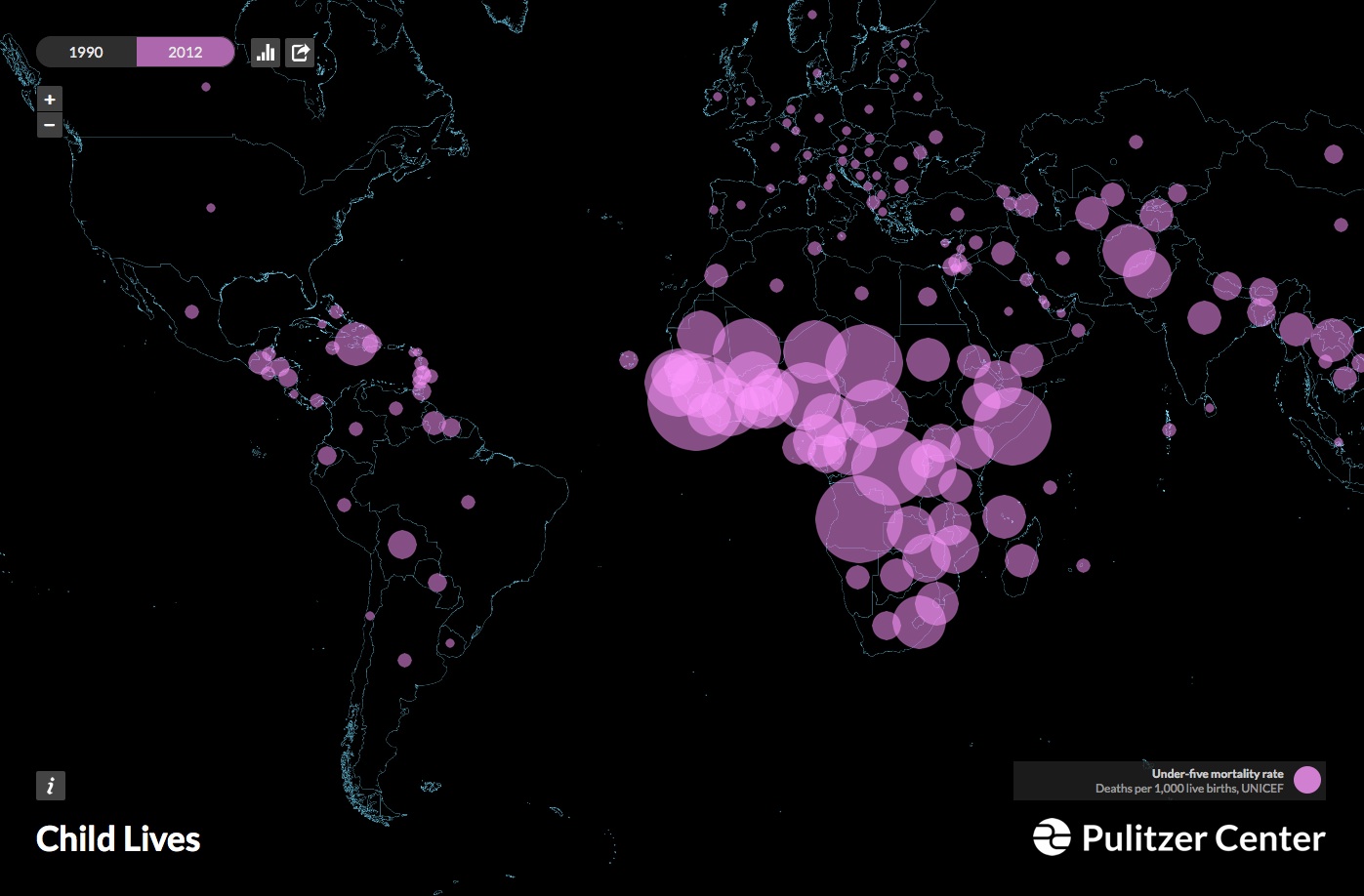 It's the nature of journalism to focus on what's wrong and in a world that's full of violence and suffering there's no shortage of subjects. A new Pulitzer Center interactive map spotlights instead a remarkable success, and one that has gone under-reported — the extraordinary decline in the rate of child mortality.
Health and development initiatives, public and private investment, and the rising tide of economic growth have together made possible improvements in maternal healthcare and treating malnutrition and preventable, communicable diseases. The result, according to UNICEF: Ninety million lives saved since 1990 alone.
Yet while innovative programs at the local and national level have made significant progress, over those same years another 216 million children died. Few developing countries are on target to meet Millennium Development Goals to reduce child mortality. One in ten children in sub-Saharan Africa still die before reaching their fifth birthday, making the region account for nearly half of the world's under-five deaths.
"Child Lives" is a Pulitzer Center interactive map that uses UNICEF data to focus on the successes, as well as the challenges that remain, in reducing child mortality. This easily embeddable map features a responsive user interface making it easy to explore on phones and tablets. A guided tour of the data provides a narrative user experience, but users are also free to explore independently. We welcome others, including news organizations, to share and make use of this resource.
"Child Lives" is the latest in a series of Pulitzer Center interactive data visualizations created by information designer Dan McCarey. "Roads Kill" is an in-depth exploration of highway fatalities, an often-ignored public health crisis rivaling HIV/AIDS, malaria and tuberculosis in many developing countries.
Upcoming events on childhood survival and health:
A coalition of over 100 organizations has organized a series of events on June 25-26, 2014 to celebrate and urge continued U.S. leadership to support children's health globally. Visit 5thbdayandbeyond for more information on the campaign.
Global Citizen and the World Childhood Foundation have partnered to organize the June 26, 2014 Thank You Festival to call for an end to preventable child deaths and extreme poverty.
On June 25, 2014, USAID Administrator Rajiv Shah will release a report and announce new action plans, funding and partnerships. See ActingOnTheCall for more information.
RELATED ISSUES

Food

Issue
Migration and Refugees
Migration and Refugees