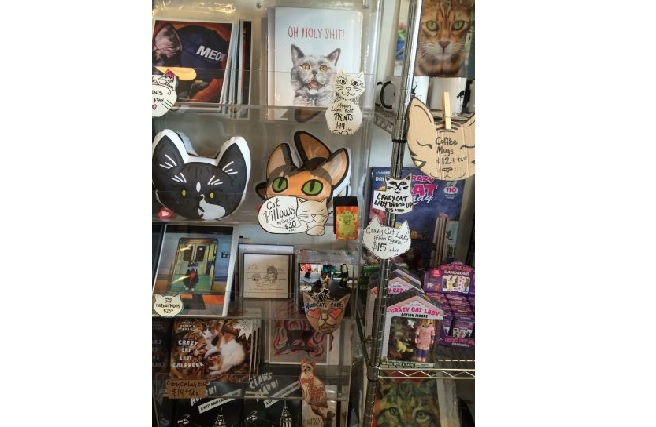 Walking through downtown Oakland, California, on a gray winter morning, it would be easy to mistake the shop on the corner of 29th and Broadway for a traditional cafe. Until, that is, a pair of bright eyes framed by a furry whiskered face peeks through the window. Then another, and then another. Look through the window, and the room is full of cats.

It turns out that these cats are the star attraction of Cat Town Cafe, which opened in October of 2014 as the first cat cafe in the U.S. shortly after Canada's Le Café des Chats. Several months later KitTea opened in San Francisco. Many others have sprung up across the country, from DC to New York City to San Diego to Denver. Many more are still in the startup process, like Meowtropolitan in Seattle and The Cafe Meow in Minneapolis.

Cat cafes, which are quickly becoming popular amongst animal lovers, operate like any other tea houses or coffee shops, but they also offer customers an interactive experience with their feline residents. Behind this fast­-moving trend is a longstanding ambition: to promote adoption while getting cats out of the shelter environment and into a temporary one in which they thrive.

Inside the cafe, several staff work behind a counter offering tea, coffee, and pastries, while a few customers wander around, examining all of the cats in the room. Except in this part of the cafe, the cats aren't real. There are larger­-than-­life paintings of cats, printed photographs of cats, buttons, magnets, and stickers of cats; T-shirts, sweatshirts, jewelry, pillows, calendars, mugs, and books featuring cats; countless cat toys and toys for cat people ­ even a Crazy Cat Lady action figure and accompanying paper doll kit and coloring book. A sign behind the counter reads "Litterboxes This Way."

The visitors, a little early for their reservation, pay for their coffee and wait for the all clear from the staff, enjoying the art in the meantime. As the cat clock above the door ticks towards 10:00, everyone lines up to sign a waiver, lather up with hand sanitizer, and finally pass through a set of double doors and a "Kitten XING" sign to enter the cat zone.

The customers drift into the room, which is an obstacle course of cat furniture: constructions filled with holes and steps and scratching posts and soft bedding. They take various creative forms. Some look like giant dollhouses, while one looks like a miniature taco truck. Cats of all colors move through the space. Some sleep, some walk with an aloof air and high tail, others bound up to curious humans and demand pets and playtime.

One girl sits on the floor and is instantly rewarded when a beautiful black cat--a photograph on the wall identifies her as Maru--makes a beeline for her lap and settles in, where she purrs and cuddles for the next half an hour. A young couple drags a string toy around the room, entertaining an energetic kitten, Buttercup, for the entire hour. Another man goes into the quiet zone, a place of retreat where humans are only allowed two at a time, and bonds with a shy black cat named Montgomery; the handsome fellow is adopted the next day.

In 2011, Ann Dunn, a dedicated volunteer at Oakland Animal Services (OAS, the local animal shelter), founded a foster-based network as a way to get cats out of the shelter and into friendly, safe homes. Her mission was "redefining what's possible for shy, senior, and other at­-risk cats who need a second chance outside of a shelter cage." She named the organization Cat Town. Since its conception, the cafe's predecessor has reduced the euthanasia rate for cats at OAS from 42 percent in 2011 to 7 percent today, an incredible change that means the shelter now has a lower euthanasia rate than some no-­kill shelters.

Still, she wanted to do more. "I became obsessed with trying to figure out how to remove the obstacles to getting cats out of the shelter alive – I could go on forever about that topic but the abbreviated version is that the shelter isn't the problem, it's much more complex than that," Ann explained passionately.

Meanwhile, Adam Myatt, future co-­founder of the cafe, was working on his Hoodcats project, earning his title as the Cat Man of West Oakland by photographing feral cats in the neighborhood and drawing attention to their overpopulation on social media. It wasn't long before the two founders, both part of the cat crowd, got to talking, and the idea of Cat Town Cafe was born.

They arranged to draw their cats directly from the Oakland Animal Services shelter, which would have an immediate impact on shelter population levels. Other cat cafes have partnered with foster-­based rescues, like KitTea Cafe and Wonder Cat Rescue. In both cases, the focus is on removing less "adoptable" cats from the stressful shelter environment to quiet, open spaces where they can adjust to the presence of humans and, with time, come out of their shells, showing their true colors as sweet, playful, and friendly cats ready for a new home.

Organizations like foster networks and cat cafes are crucial for these sensitive and sometimes traumatized cats, who are faced with either euthanasia or prolonged misery depending on the kind of shelter they're taken to. No-­kill shelters won't euthanize an animal unless they are sick or injured beyond hope of recovery or are so aggressive that they pose a danger to humans and other animals. However, this means that if the shelter is full, they have no choice but to turn away animals in need; it also means that "unadoptable" animals might remain in the shelter for months or even years.

Other shelters are designed to euthanize unadoptable animals to make room for new arrivals. As Cat Town's website explains, "If cats can't be adopted from the shelter, and rescue groups won't take them, there is no alternative for the shelter but to euthanize them." Animal lovers are often vehemently against "kill shelters," but a solution isn't simple.

"That complexity is partly because of legal requirements for animal shelters, which vary between states and even counties, and partly because of underfunding and understaffing. But more often than not, the staff and volunteers at the shelters are, on their own, powerless to combat the system and instead focus on doing the most good and saving the animals they can save as best they can." Cat cafes are a creative way to work outside the system, helping save cats and improve shelters regardless of their euthanasia policies.

Around the same time as Cat Town's conception, Courtney Hatt was laying down the groundwork to start her own cat cafe, KitTea, in San Francisco, just on the other side of the bay. A few years earlier, Lady Dinah's Cat Emporium in London had received significant international media attention upon its opening because it managed to raise more than £100,000 through its crowdfunding campaign. When the news reached cat advocates in North America, a new possibility for solving the shelter problem suddenly became tangible.

In light of Lady Dinah's success, Cat Town's goal was to raise $50,000 on Indiegogo, and they managed around $40,000. Hatt set the same goal and raised $60,000. KitTea was able to get off the ground in part thanks to a partnership with the PetCo Foundation, an organization whose goal includes "funding adoption programs, spay/neuter services, pet cancer research, service and therapy animals, and numerous other lifesaving initiatives."

As the trend of cat cafes in the U.S. continues, it's clear that each cat cafe is unique. Cat Town, after all, isn't just a cafe; it also serves the function of a cat­-themed art gallery and gift shop. The cafe area showcases larger­-than-life paintings of cats by local artist Megan Lynn Kott and Adam Myatt's Hoodcats photographs, while the Cat Zone is decorated with an incredible street art mural commissioned from Fuming Guerilla Productions (curators of indoor and outdoor art installations in the Bay Area) featuring famous cats, from Grumpy Cat and Lil' Bub to My Neighbor Totoro's cat bus, taking over the Oakland cityscape.

KitTea went for a more soothing look: all white walls, bright lighting, and warm wooden cat­-friendly furniture (or rather, human­friendly cat furniture). But both cafes offer extra services, like cat yoga and movie nights, innovatively allowing the space to draw the local community in and help generate the revenue necessary for keeping operations running smoothly.

Adam Myatt from Cat Town estimates that only a third of customers are actually there looking to adopt; the rest are there to enjoy the company of cats for any number of reasons. The first staff member to be hired at KitTea described how difficult it can be to find apartments in San Francisco that allow cats, driving many cat lovers to seek feline affection elsewhere.

Opening a cat cafe is easier said than done; it can take years of planning--it took KitTea two and a half years, and Cat Town nearly as long. Part of the process was finding funds via sponsors and crowdfunding, but part of it was working around health code restrictions against having cats and food in the same space.

The founders feared that this would cause a stir of anti­-cat ­cafe sentiment, or at least general anxiety about health risks, but with the food prepared in a room separated from the cat zone by two doors and delivered by staff who don't travel in between, neither customers nor health code inspectors have voiced any significant complaints or concerns, save for one incident reported in the New York Post. Soho's Little Lions cafe was closed by the city health department, only to reopen successfully some time later.

Some negative reactions come from people who aren't familiar with the cat cafe's mission. Adam Myatt recalled hearing a conversation between two people passing by on the street as he set out the sign, angrily commenting on how wrong it is to keep cats on display for human entertainment when there are so many cats in need of good homes.

"Why do they make judgments before they actually know what they're talking about?" he asked, frustrated.­ Cat Town's mission is all about the cats, not the people. There's even a quiet space in the back where cats can go and sleep in peace if they're not feeling social, and the most shy and afraid cats, if they don't adjust, are moved into foster homes where they can improve at their own pace and get the individual attention they need. The Cat Town team even brings in local cat behaviorists.

"We really just lucked out in finding Feline Minds," Ann Dunn reminisces. "It was started by two women who have tons of experience working in shelters, and they were really excited by our mission… We mainly reach out to them when a foster or adopter has behavioral questions we can't answer. They are especially great when there are cats who don't get along. They assess the situation and provide very detailed plans for making improvements (which are about understanding the complex needs of cats, changing the environment, and/or the behavior of humans!)."

Still, it's clear that adoption­-based cat cafes need to be explicit about their mission, since most of their Japanese predecessors are focused on catering to the desires of the human customers, sometimes even including purebred cats instead of rescues or shelter cats. Barbara King, contributor to the NPR blog 13.7: Cosmos & Culture, Chancellor Professor of Anthropology at the College of William and Mary, and scholar on animal emotion and cognition, expressed concern that even if their goal is to help cats, the customers could have a completely different mindset.

"There is the whole issue of commodities, of animals made to experience such transient relationships," she explains. While the cat cafes may ultimately reduce shelter euthanasia rates and find difficult ­to ­adopt cats good homes, there are bound to be customers who pay to enter the cafe and expect the cats to entertain, and may be disappointed if the cats don't live up to that expectation, not understanding that the space is first and foremost a haven for the cats.

Myatt also mentioned that some customers expect the room to be overflowing with cats. When they started out with only nine, people wanted more; but the reality is that bringing that many cats into a space that can only comfortably fit so many, even though cats are naturally social and live in colonies, can be very stressful for cats and humans alike.

Although Cat Town, KitTea, and other cat cafes have their customers sign a waiver and have clear signs about cat behavior and cat interaction do's and don'ts, there are always going to be a few cat ­clueless people trying to pick up cats that don't like to be held or pet them in places they don't want to be touched. At Cat Town, regular volunteers sit with the customers in the cat zone to help prevent conflict, and there's always a staff member in the room at KitTea for the same reason.

Animal advocacy groups are wary to cast their vote one way or another so early in the story--Cat Town Cafe, after all, has barely been open a year --but are, on the whole, optimistic about their potential in keeping cats out of shelters and reducing euthanasia rates.

Katie Lisnik, Director of Cat Protection and Policy at the Humane Society of the United States, says that cat cafes are a great way to get adoptable cats out in the public eye; unlike dogs, she points out, who can be walked with Adopt Me! vests in public spaces, cats aren't very portable, and it can be hard to draw people into shelters, which no matter how clean and friendl ­ will never attract people who can't stand the constant echo of barking dogs and crying cats, the lingering smells, and the sight of sad faces behind cages. Lisnik also points out that cat cafes are an excellent opportunity to teach people about cat behavior and the appropriate way to interact with them; with expert staff and volunteers on hand, potential adopters who don't have any cat sense can learn in a safe environment what's best for their future feline companion.

Erin Robinson with Alley Cat Allies, an organization dedicated to the protection and humane treatment of cats,­ specifically feral cats,­ adds that even if cat cafes get off to a wobbly start in figuring out the best cat-­human relationship, they're significantly better than the shelters most of the cats come from, and they're a great platform for supporting initiatives like trap-­neuter­-return and other community efforts to help keep the feral cat population out of shelters.

Lisnik suggested that the time is especially ripe for cat cafes because of the entrepreneurial business trend spurred by crowdfunding tools like Kickstarter and Indiegogo, and the combination of creativity, passion, and opportunity continues to inspire new twists in that trend: already there is a projected dog cafe in Los Angeles, and Cincinatti's planned Catmosphere hopes to serve wine instead of tea and coffee.