The air was thick with humidity coming off the lake. It smelled like warm, brackish water and hot tar road. A droning hum of summertime bugs radiated from the thick oak and magnolia trees in the yards on either side of the pile of debris I was standing in. Nostalgia punched me in the gut.
After a full day of interviews with the Calcasieu Parish Mosquito Control team, I needed to make one more stop before returning to my temporary base of operations in New Orleans. 
Since I was a child, I have spent almost every summer in Louisiana at a house on a street that didn't have a name 20 years ago. I've only ever missed my chance to lie in the sun, play in the lake, and gorge myself on redfish and blue crab for two reasons: COVID-19 and hurricanes. This year it's because of both.
I obviously skipped the 2020 gathering, terrified of flying during the pandemic. But this summer felt different. I stopped wearing a mask at the gym. And at work. I invited friends over to my house. I went to a bar!
Midsummer I started paying attention to the Delta variant. I sent 'don't worry!' texts to friends and family with links to articles encouraging us to stay masked in highly concentrated areas and to follow local guidelines, but that, otherwise, we were fine. 
Throughout the pandemic, I received regular updates from the Boston Globe about current COVID-19 infections and deaths. Then vaccinations were added to the subject line. The infection numbers started going down. Then, the emails stopped coming altogether.
In July, the emails started again. 
Local medical sources and infectious disease specialists began to cancel their scheduled interviews with me. There's not even time for a Zoom interview, they told me. The numbers are too high. They're at capacity. Others jumped at the chance to talk about anything other than COVID-19.
"I'd be happy (ecstatic) to talk to you about mosquito-borne viruses (it's not COVID!!!)," one researcher wrote in an email. 
I hesitantly continued with my travel plans. This fellowship was my first opportunity as a novice journalist to report on the ground after turning my 10" x 15" bedroom into a TV studio, newsroom, and home gym last fall. I continued with my reporting and travel plans as normal, all the while anxiety nipping at the back of my brain.
I was the first of my immediate family to have the chance to catch a glimpse of our house in vivo since Hurricane Laura hit last August. Before then, we studied Google Earth. The images only showed the house and wharf from above, making it difficult to assess the damage. While we could tell parts of the roof were clearly missing, a strange rectangle floating in the lake indicated this was a particularly powerful storm. A coffin, likely resurrected from the muddy earth by flood waters across the lake in Hackberry, bobbed around our emaciated wharf, trapped by the current.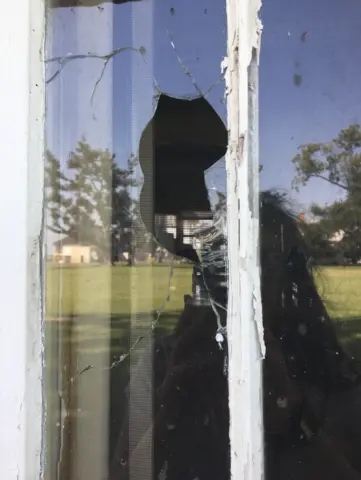 As I walked up to the house, I was nervous to peek through the broken and patched windows. In previous years, cousins had been surprised by shotgun-clad second cousins for visiting when it wasn't their turn on the calendar. And I knew someone was here—there were chips on the dining table and a truck in the yard. I crouched to examine a "tee frog," speckled black like the mud, hopping around my feet. (The frogs are so named because they are petite and because, as any young Cajun will tell you, if you catch them, they will tee-tee in your hands). When I stood up, a man in a green shirt with cigarette burnt holes was looking at me cautiously. With distinct Cajun cheekbones and a wide nose, I immediately recognized him as a member of the family. 
"I'm a Hilton!" I beamed, a smile waving a metaphorical white flag. 
"Who are you?" he asked, eyebrows still tented.
"I'm Daphne. I'm Suzie's daughter." 
His inquisitive forward hunch turned into a back-bending belly laugh.
"You were this tall last I saw you!" he said, indicating with his hand only about three feet off the back porch. "Come inside. Let me show you what I've been doing."
Doug Savoy's whirlwind tour started in the kitchen, cut through the house, past the front yard, and across the tar road to the edge of the lake. Outstretched before us were about 500 feet of wooden planks in various stages of life, ripped from their sockets by the 140 mph winds that accompanied Hurricane Laura. Rusted bolts and other debris piled up on either side of us. 
"Are you brave?" he asked.
Savoy looked at me with a couyon, 'hey-watch-this' smile and a twinkle in his eyes. I gave him an eager little nod. The surprisingly nimble 65-year-old started bounding down the loose beams laid on top of the skeleton of the wharf. I tried to keep my balance as I cautiously followed him out onto Lake Calcasieu, now unsure of how brave I actually was.
He pointed to different beams, pilings, and stringers building the vertebrae of the wharf. He showed me places where boards broke under his feet during the repairs and dunked him and his still-running chainsaw into the muddy waters. It had been a struggle for him to find wood and construction workers to rebuild the wharf due to the pandemic and the timing of crawfish season. So, the recently retired salesman had been rebuilding by himself. 
The house on the corner of Miguel Street in Big Lake, Louisiana, is used jointly by our families and has been owned by some piecemeal amalgam of our larger family for more than 100 years. Savoy's grandfather, my great-grandfather, bought the property in 1905 from a doctor who moved to the lake in hopes the humid sea air would aid his wife's tuberculosis. Since then, our fish camp (not nice enough to be "a lake house") has been hosting family reunions, wedding receptions, and Thanksgivings. Beds line the walls inside the house, including the coveted "swingin' bed"—a wooden platform topped with a mattress attached by iron rods to the ceiling that swings front to back—a novel innovation built for the doctor's sick wife. All-in-all there must be more than 150 people who will sleep in the house in a year. But right now, Doug is the one fixing it up. 
"I got about $20,000 of lumber coming tomorrow," he said, pointing to the spot in the dewy grass where the lumber haul will go. After months of battling to get supplies, finally some progress can be made.
We got some respite from the sticky heat in the kitchen rocking chairs directly in the blast of the window air conditioning unit. My uncle Joseph Savoy joined us. His dog, Dawn, bounced and darted around our feet, too excited to let us pet her. 
As we chatted, I realized it had been exactly one year since Hurricane Laura hit southwest Louisiana: August 20, 2020. In the last year, not much of Calcasieu Parish has been fixed.
"It's been a slow road back, that's for sure," said Jill Hightower, lab specialist with Calcasieu Parish Mosquito Control. She estimated the parish was only about 60 percent recovered a year after the storm. 
"When we first came back it was just a struggle to get anything," Hightower said. "We were trying to make things work. And it was just a struggle. Slowly over time you see more things come back. It's been a long road, for sure. We're still definitely, definitely far from before. But we are here."
Back in the kitchen, Doug and Joe told me about the first hurricane that they remembered severely damaging the house, Hurricane Audrey, which struck in June 1957, the year Doug was born. Audrey devastated South Louisiana, flooding the entirety of Cameron parish, and was one of the deadliest cyclones in U.S. history, killing at least 416 people.
"Nearly 50 years later was Rita," Doug said. 
Nationwide, Americans know about the devastation that was brought on by Hurricane Katrina, which battered New Orleans. The damage in many parts of the city is still evident, even as I report more than 20 years later. But for southwest Louisiana, Rita, the hurricane that followed Katrina by only 18 days, wrought unimaginable devastation. 
When Rita hit in 2005, it was the first time I had ever been impacted by a hurricane. It was the first year I wasn't able to spend a summer in the Big Lake house. As the first major hurricane in 50 years, it was the first time many people in Calcasieu Parish ever evacuated the city. During the storm, winds reached 177 mph. Almost 120 people died as a result of the high winds and resultant flooding. The damage was estimated at about $18.5 billion, according to the National Hurricane Center.
"I've lived down here my whole life," Hightower said. "Growing up, I don't remember evacuating one time, ever. The first time we evacuated was for Hurricane Rita in 2005. And before then, I mean, we've had some [storms], where we would go without power for a little while, but we never had to leave or anything. It was just one of those things."
Then, almost exactly three years later, came Hurricane Ike in September 2008, costing U.S. coastal and inland areas $30 billion in damage, the seventh most costly hurricane on record. 
I showed my uncles pictures on my phone of how Hurricane Harvey, which hit Houston in 2017, hollowed out my grandmother's house. We watched amateur videos of men paddling past the second story windows in her neighborhood. Much like Katrina, the storm did not cause the damage directly, and her house would have been spared had the city not decided to lift the levies in Buffalo Bayou, the river that runs through the park behind where her house used to be. 
Since then, there has been a deluge of storms on the Gulf Coast. Hurricane Laura hit in August 2020. A month later, Hurricane Delta landed in October. Then came Hurricane Zeta, only 14 days later. 
As we talked in the kitchen in Big Lake, Hurricane Henri was slated to hit my apartment in Boston. New Englanders prepared for lost power and food shortages. Boston was spared, but two people were killed directly by the storm, and dozens more died across the country. 
Herff Jones, executive director of Iberia Parish Mosquito Abatement, pointed out that hurricanes seem to follow me around the country. He suggested that, for their sake, maybe I should stay in Louisiana. 
I left New Orleans days before Ida hit. That same week, New Orleans confirmed its first West Nile case of the season.
RELATED ISSUES