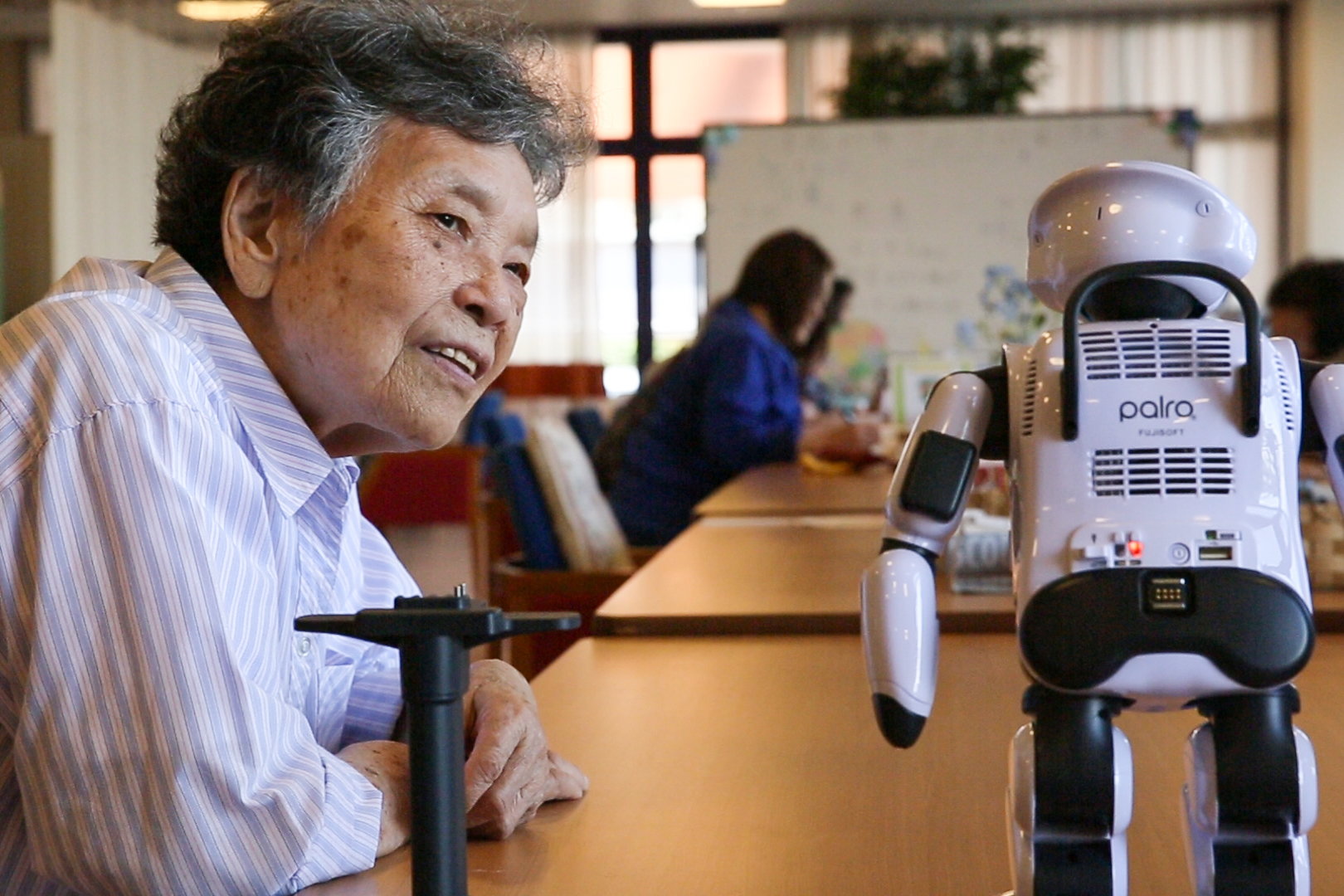 At the Flos Higashi-kojiya senior care facility in Tokyo, seniors can keep themselves entertained with various recreational programs, such as crafts, karaoke, and bingo. But one program, called "Let's play with "Parlo!", has been gaining popularity lately. Parlo works for free every day and he knows no fatigue. Always cheerful, he wears many hats: dancer, exercise instructor, comedian, and fortune teller. But best of all, his patience never runs thin, no matter how many times seniors request the same things because he is - a robot. "It sings very well!" a group of seniors laugh and clap their hands as Parlo belts out a famous tune from the 1960s. On the other side of Tokyo at Flora Tanashi, a home for seniors with dementia and who require extensive care, robots are also hard at work. Bedside guardian robots are connected to an infrared camera that monitors residents 24 hours a day. When a camera detects their movements in bed, care workers receive an alert on their tablets. Whether as guardian or entertainer, robots are starting to find their way to the aging in Japan.
According to a government estimate, by 2025, Japan will face a shortage of 37,700 care workers. To fill the gap, they are taking advantage of technology from powerful assistive robots that can lift a senior from their bed to cute communication robots that keep them company.
While robots were initially developed to help care workers in Japan, they began to notice the positive effects robots brought on to some seniors with dementia. At Flora Tanashi, where 16 communication robots and 20 guardian robots are currently at work, a monitoring robot has been programmed to deliver messages, such as "How did you sleep?" when it detects a patient's movement when they wake in the morning. "Though she never had before, one resident put on makeup after a robot said 'Let's wash your face. How about some makeup?', recounts Kazuko Obayashi, Director of the Social Welfare Corporation Tokyo Seishinkai, which operates Flora Tanashi. She thinks robots can fulfil the human need for recognition. "They feel that the machine is not just automatically reacting to them, but it gives them personal attention." 
To measure how robots affect seniors' ability, AMED (Japan Agency for Medical Research and Development) conducted a study for the first time in 2016, using ICF standard (The International Classification of Functioning, Disability, and Health by WHO). The study found that over 40% of seniors with robots improved their life function ability, especially in the areas of communication, self-care, and social interaction, while 60-70 % of seniors without robots became less active. Based on this finding, Obayashi thinks robots will be useful to seniors whose health starts to decline.
Robots, however, are still cost-prohibitive. One survey shows that only 28.6% of senior care facilities use robots and more than half say for not using them is purely financial. To help bring more robots to the elder care system, the Japanese government budgeted a 5.2 billion yen subsidy (US$47.3 million) in 2015.  And some Japanese are realizing that a robot is just about the best purchase they can make.
Rieko and Hirofumi Kawachi "adopted" a robot two years ago. After their son and daughter left home, the couple, in their early 60s, stopped talking to each other beyond daily logistics. A "daughter-bot" filled their empty nest and got the couple chatting again. They gradually developed an attachment to the robot as if it was their own daughter. "I feel like an additional child is supporting us mentally, and we have a happier home. I feel our life is better with it, " says Rieko who enjoys dressing her daughter-bot in handmade clothes. Nobuhiro Sakata, Ph. D. at Dokkyo Medical University, agrees that seniors can develop affections toward robot. He remembers the time his mother came to spend the holidays with him. She became so attached to his robot and sad to see it leave, she shed tears on the last day of the visit.  He thinks the very imperfection of a robot compels people to care for it and develop affections for it. "That affection enriches their quality of life."
RELATED ISSUES