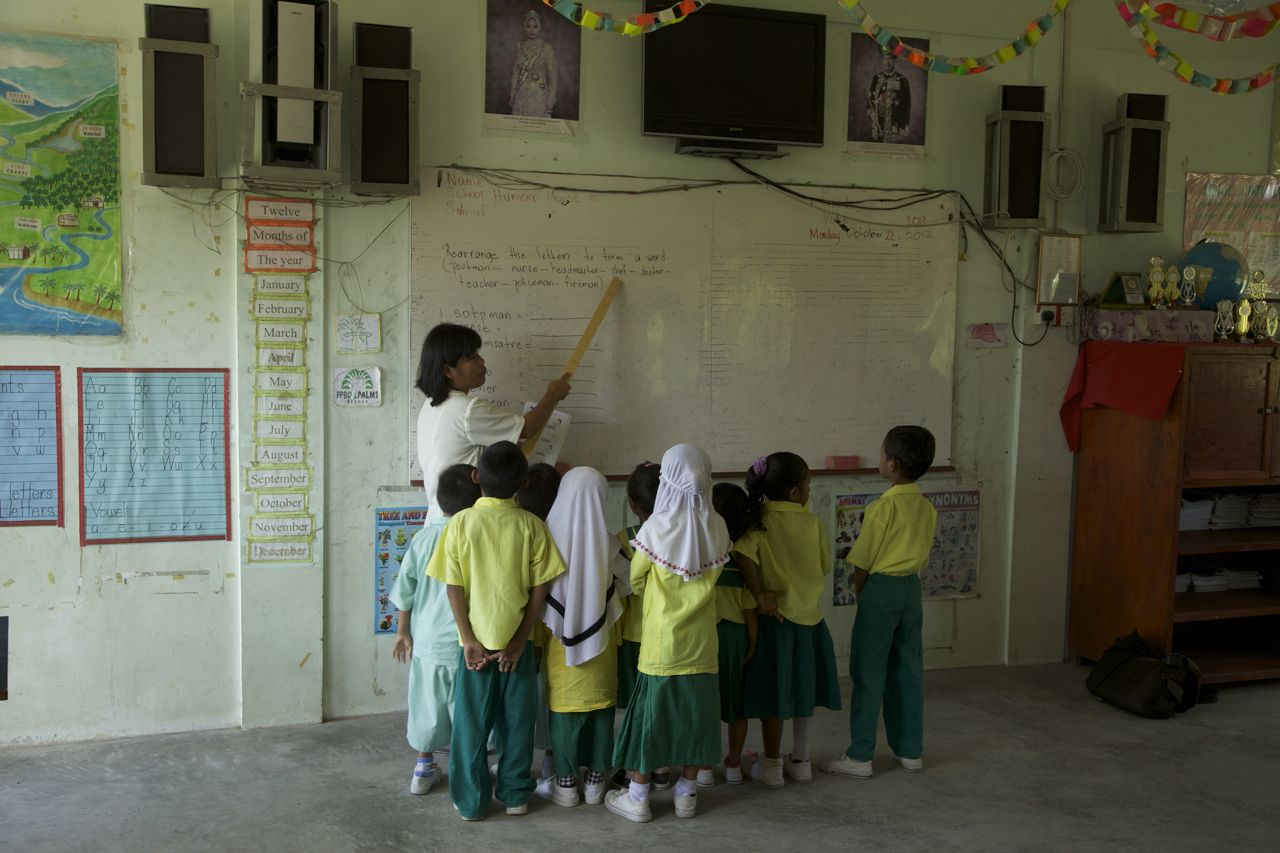 Torben Venning has stood out since he first arrived in eastern Malaysia's Sabah province more than two decades ago. Tall and sturdy-built, with a fair complexion that refuses to adapt to the equatorial sun, he has made a singular contribution to the remote oil palm farming region he has long called home.

With a shoestring budget, the wandering Dane and some friends opened a school in 1990 to educate about 70 plantation children. Born to migrant workers from Indonesia and the Philippines, they lacked legal documents and were ineligible to attend state schools, leaving them "quite invisible," says Venning. Since then, his organization, Humana Child Aid Society, has opened 128 "learning centers" (designated as such because they are not officially accredited) that offer instruction to more than 12,000 students with help from foreign donors, including the European Union.

"We came here as teachers and had no idea this was going to develop into the project it is today," he says.

It costs $13 a month per student to provide lessons in core primary subjects, along with a uniform, two meals and salary for teachers, some of whom are brought from the students' home countries. Not much by any standard. Yet all these years later Venning's group remains the only one of its kind. Despite Malaysia's heavy reliance on migrant labor to sustain its palm oil industry, the government does not fund education or health care services for migrant children, claiming it will lead to a flood of illegal migration. This is a red herring. But no politicians want to touch the issue and open themselves up to attack.

Ever the diplomat in a land not his own, Venning tiptoes around the question of whether it's the Malaysian government's responsibility to look after the children of its labor force. He prefers to shift the focus to the multinational companies that are picking up some of the slack, initially at Humana's behest, but more and more as a matter of policy.

On a searing hot October morning, Venning drove us out to what he described as a model of "corporate social responsibility." The pavement on the outskirts of Lahad Datu, eastern Borneo's boom town, gave way to a red dirt track that winded up steep switchbacks, causing his second-hand Toyota Land Cruiser to groan, before descending into an expanse of oil palm plantations where the thick canopy scarcely allowed any light through. A muddy river full of crocodiles ran along the left side of the road; to the right, solitary migrant workers scanned the tree line for palm nut clusters to cut down with long pole reapers.

Some 20 miles from town, we arrived at the gate of plantation owned by Wilmar International, one of Asia's largest agribusiness companies and a heavyweight in the palm oil industry. Manager Frederick Chok greeted us with some skepticism at one of four schools on the premises. Athletic fields and a mosque were a short walk away, as was a new series of concrete barracks where, we were told, veteran workers and their families were housed.

Inside the facility, the walls featured bilingual posters in Bahasa Indonesia and Malay and a flat-screen television with a satellite connection. Twenty-plus students, ages 5-15, were upbeat and engaged. Their teacher, a young Indonesian woman in a lavender headscarf, said she'd been surprised by the amenities available, much to Venning's delight. He capped the visit off by leading the group in an off-key rendition of his Humana theme song, which borrows heavily from a Donna Summer track. Even Chok mustered a smile.

Afterwards we had coffee on the veranda of the great house that overlooked the sprawling property, at 8,000 hectares the size of a small national park. Indeed, Wilmar had its own team of in-house ecologists and rangers to keep watch for poachers who prowl for elephants and rhinoceri known to inhabit the area. Chok said the company spends close to a $1 million every year to take care of migrant children, in large part because there's a competition to retain workers. According to government estimates, unpicked palm fruit due to a labor shortage amounts to annual losses of at least 3 billion ringgit ($986 million) in potential exports and tax revenue.

Chok added that the extra investment went beyond the company's bottom line, insisting it was the right thing to do. "The children are really lucky – the company is looking after them in every way. Other companies," he went on, "look like they're serious (about helping them), but they're not." (Wilmar is not without its critics. The Rainforest Action Network, a San Francisco-based environmental group, alleges the company's security forces have used violence and heavy machinery against villagers in Indonesia's Sumatra province – among other heavy-handed policies. The company rejects the claims.)

In Venning's view, larger companies were generally doing more to look after workers' children since the advent of the Roundtable on Sustainable Palm Oil, an industry stakeholders' group. Nowadays, he says, conditions are more acute on smaller plantations, especially those deep in the countryside where no learning centers exist. For all Venning's efforts, his organization and its partners take care of just a fraction of the 50,000 children estimated to be living on the country's farms. The Indonesian and Filipino governments, he noted, are doing more to assist with education at the secondary level. As for Malaysia, he really couldn't say.
RELATED ISSUES