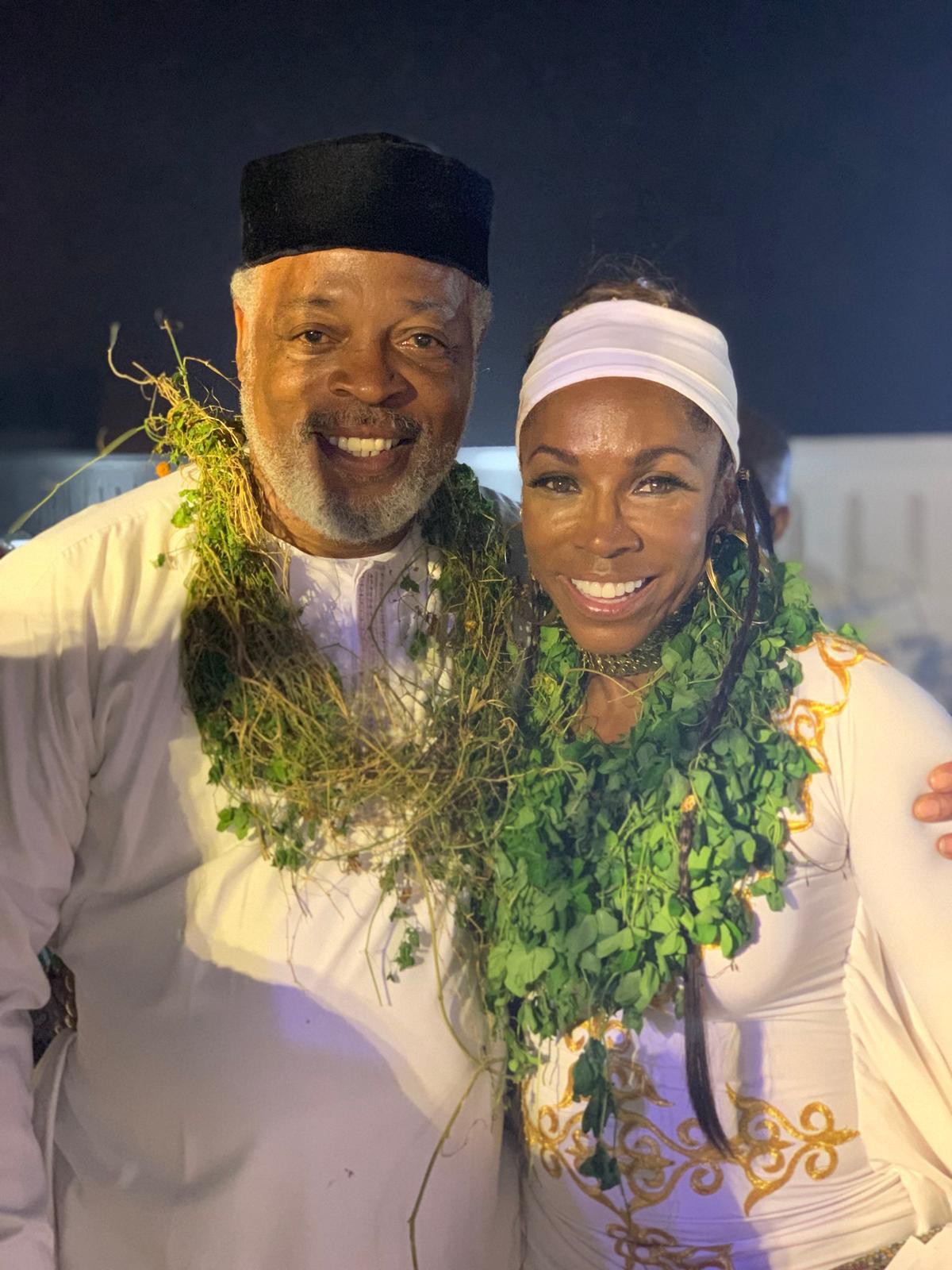 Mabel's Table sits at the edge of the Atlantic Ocean in Elmina, Ghana. In the distance is the Cape Coast Slave Castle, one of several dozens of slave dungeons in West Africa where captured Africans were kept before being exported to lands unknown. The slave castle represents Ghana's past. Businesses owned by Black Americans, like Mabel's Table, represent Ghana's future. There has been an increasing number of Black Americans moving to Ghana. They see it as a place of opportunity, free of the stress of living while Black in America.
Rabbi Kohain Halevi, owner of Mabel's Table Guesthouse and Restaurant, has lived in Ghana for 25 years.
"I was 33 years old in 1987 and I fell in love with Ghana," said Halevi, 65. "It took me seven years and 13 trips before I could finally move here to Ghana and make this my home."
A native of Mount Vernon, N.Y., Halevi received a degree in art education from Savannah State College in Georgia. He went on to attend the School of Visual Arts in New York and later became an ordained rabbi. For years Halevi worked as a muralist for the Council for the Arts of Westchester before helping to open an independent school with an African-centered curriculum.
He describes his first trip to Africa in 1987 as a pilgrimage.
"I wanted to touch base with the motherland. I wanted to feel Mother Africa. I wanted to feel my African brothers and sisters here on the continent," said Halevi.
He learned quickly that Africa is made up of many cultures and people. In Ghana there were different clans with their own languages, traditions and systems of doing things. But what surprised Halevi and his group of 16 travelers the most were the spirit and generosity of the African people they met on that first trip. The kindness overwhelmed him.
"We visited a family house. It was 10 or 11 o'clock at night. The whole family was woke up and they came out to greet [us]. They offered [us] water. There was the sense of humanity that with all the deprivation, with all of the exploitation, with all of the depression, that the African spirit was alive and the African humanity was alive. And that touched me," said Halevi. "That drew tears out of me, just out of nowhere. I mean, emotions overtook me and not only me, overtook our group in unscheduled times. We hadn't scheduled it. It wasn't in the slave dungeons. The dungeons have [their] own dynamic. But this is in a home. This is in a village. This is with seeing our people. I saw my grandmothers. I saw my aunts. I saw my uncles."
Halevi said he also saw himself.
"I felt whole. I found myself. I found my soul," he said. "I saw here the reinforcement of my African self and that was one of the most rewarding things that I found. And it was one of the unexpecting things that I found."
Halevi returned to the United States with a new respect for Africa and a longing to go back, this time to live permanently. His idea to live in Africa was cemented after the 1988 Democratic Convention where he says the Rev. Jesse Jackson was marginalized as a presidential candidate.
"I was disappointed in how he was treated," Halevi said. "After all these years of our investment in America, our protection of America, our building of America, America still was not sure about accepting us. I said in my mind that we need alternatives."
His alternative was Africa.
"After all these years of our investment in America, our protection of America, our building of America, America still was not sure about accepting us. I said in my mind that we need alternatives."
Halevi bought real estate in Africa and made preparations to move to the continent. It would take him 13 years. In his new home, he worked as a tour guide and real estate consultant to other Blacks who visited Ghana and were thinking about making the move as well.
Four years after moving to Africa, Halevi opened Mabel's Table in 1998. The restaurant is named after his Ghanaian wife, Mabel, who is a caterer. Mabel is from the Ewe clan in the Volta region of Ghana. The restaurant is a popular spot with American tourists — Samuel Jackson dined there this summer — because it not only serves African cuisine but also the comfort food of the American South, such as fried chicken, greens and potato salad.
After 25 years, Halevi has settled in Ghana quite nicely. He expanded his restaurant to include a guesthouse and is the executive director of the Panafest Foundation, which holds a yearly Pan-African festival.
"Africa is a beautiful place to live in and Africa still has maintained its sanity and humanity," said Halevi. "It's a place where elders are still respected. It's a place where young children will still greet you in the morning and say good morning, and bow themselves, and curtsy themselves. It's a place where we still have values that are worth appreciating and preserving."
NAACP co-founder and leading pan-Africanist W.E.B. DuBois understood the value of Africa. He described the continent as the "spiritual frontier of human kind."
Weary of the racism in America, DuBois moved to Ghana in 1961 at the invitation of Ghana's first Black president, Kwame Nkrumah. DuBois was working on the Encyclopedia of Africana when he died in 1963 on the eve of the March on Washington. He was 95.
DuBois' Ghanaian home is now a museum in Ghana's capital city of Accra — the W.E.B. DuBois Memorial Centre for Pan African Culture. The DuBois home includes the activist's books, copies of The Crisis magazine and his personal diary. Next to the home is a mausoleum with the tombs of DuBois and his wife, Shirley Graham DuBois. The Marcus Garvey Guest Center sits behind the home. The African-American Association of Ghana, an organization of American-born Blacks who have repatriated to Ghana, also holds its meetings at the DuBois Centre.
Annabelle McKenzie is a Black American who repatriated to Ghana last year while working in digital marketing for a media company in New York. Today McKenzie works as the manager of the country's Year of Return activities. She says her life is less stressful in Ghana.
"I eat healthier food. I sleep better," said McKenzie. "I've been able to live a better life here than I did in the States."
A native of Las Vegas, McKenzie received a bachelor's degree in computer information systems and marketing from Grambling State University, a historically Black college in Louisiana. She received a master's degree in integrated marketing from New York University and went on to work for a number of Fortune 500 companies. During that time, she traveled to several African countries including Tanzania, Nigeria and Angola.
McKenzie said most people are surprised by how developed Ghana is.
"There are huge homes here," McKenzie said. "There's a misconception that when you come here people are going to be walking around with tribal clothes on or that there are no modern buildings."
Since moving here, McKenzie has found a community of native Ghanaians and American-born Blacks. She's a member of Delta Sigma Theta sorority and says a number of her sorority sisters have moved to the country.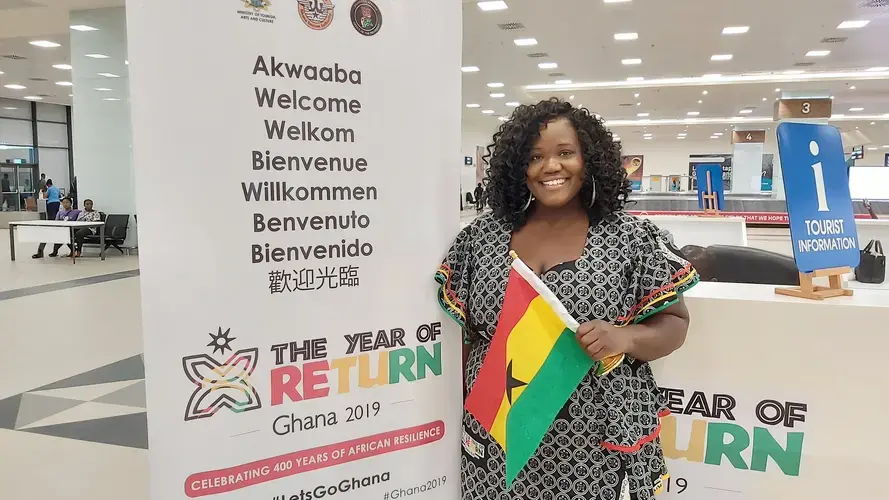 "I am used to being required to adjust who I am sometimes in situations because I'm in a room with mixed cultures. It can be that I'm the only Black person against White people. In Ghana, I don't have to do that. I don't have to deal with the microaggressions of working in an office where I'm the only Black person," said McKenzie, 37. "Here I am surrounded by all my people. I don't always have to prove myself. I'm not always trying to justify things."
McKenzie also points to the violence that happened in Charlottesville, Va., after President Donald Trump was elected in 2016, saying that more African Americans will move to Africa.
At first it felt strange to go to work where the CEO is Black, the manager is Black, the entry-level staff is Black," said McKenzie. "I was like 'Is this how it feels to be around all of your own people?' In the U.S., it's not something that you're used to at most corporations."
McKenzie says she considers herself a repatriate, not an expatriate. Repatriates, she explains, are people who believe they are returning to their ancestral home. An expatriate is in a country for a job and will eventually leave, she says.
"A repat is somebody that is moving to what they consider their motherland," said McKenzie. "There's a large expat community here [in Ghana], but they have a contract. They only came here because of work. They're not coming here for a spiritual journey. Repats, we're here to stay. West Africa is my home."
Brandon Rogers considers himself a repatriate. The Orlando, Fla., native moved to Ghana just two years after graduating from Florida A&M University in 2004. A six-week vacation turned into a permanent move.
"I took a short leave of absence for about six weeks from work," Rogers said. "Once I hit the ground, it was a done deal. I didn't look back."
Rogers, 38, says he lost about 40 pounds his first four months in Ghana because he was eating healthy food. It was a big change from living in America where he would work in a cubicle 80 to 90 hours a week and only eat restaurant food.
Rogers has been working as an architect in Ghana for the past 13 years. All the myths he had heard about Africa were shattered, he said. And like Halevi, Rogers experienced the kindness and generosity of the Ghanaian people who took him in and taught him about Ghanaian culture.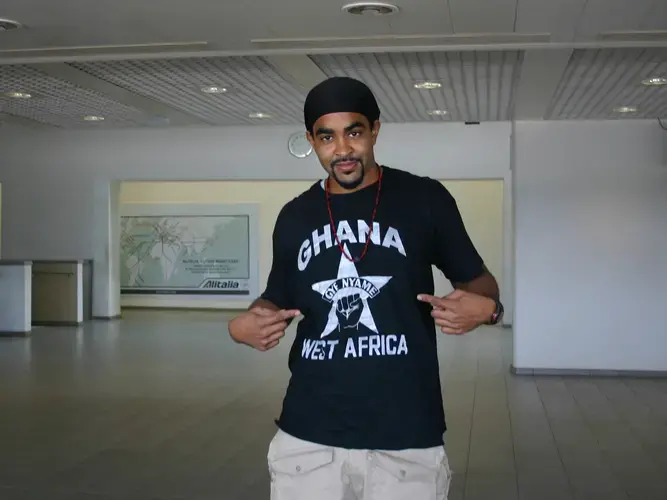 The architect builds homes in rural areas with a goal of creating housing for entire villages. Rogers says he's doing work that he wouldn't be able to do in the United States. It's something that's fulfilling and making an impact. He sees endless opportunity in Ghana.
And though he's not making the same amount of money he made in America, Rogers says he can't go back and sit in a cubicle.
"This is home. This is where my work and my passion and my purpose is," he said. "I'll never live in the States again at any length of time. There is no going back. I'm here forever."
"I'll never live in the States again at any length of time. There is no going back. I'm here forever."
Cordie Aziz moved to Ghana eight years ago after a stint in Washington, D.C., at the Department of Homeland Security. After the House of Representatives transitioned from Democrat to Republican, Aziz was without a job. She thought of moving to her father's homeland of Sierra Leone, but someone suggested Ghana. She went to check it out.
"I remember getting off the plane and instantly thinking 'This is home.' The longer I stayed in Ghana, the more I fell in love with the people … the culture," said Aziz. "I was actually only supposed to stay one week, I ended up staying three weeks in which I decided I was going to move to Ghana."
Aziz went back to the States, cashed out her 401(k), packed up her belongings and sold off what she could. Three months later she returned to Ghana permanently. Some folks in her immediate family weren't that thrilled with her decision to move to a whole new continent.
"I still think it's a foreign idea for [some] Black people that you can actually repatriate to another country, that you can live a successful and happy life, if not better than the one in the U.S.," said Aziz, a 2003 graduate of Jackson State University in Mississippi.
Aziz's nest egg allowed her the time to really get to know the country. She also met a few generous Ghanaians who taught her how to shop in the market and ride the tro-tro, Ghana's local bus system.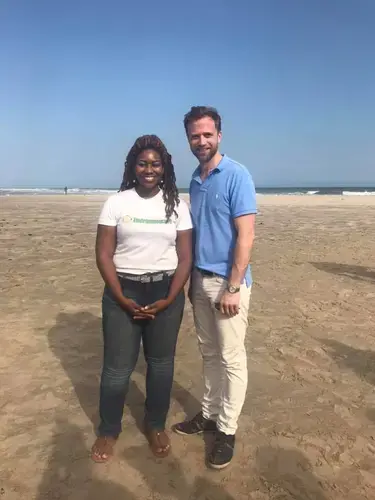 Since her arrival in 2011, Aziz has had several entrepreneurial ventures. She had a cell phone rental company and used her communications and marketing background to do some public relations work in the country.
In 2014, Aziz created Environment360, the first large-scale community recycling company in Ghana, an NGO that works to collect plastic and reduce litter.
"I realized that there was a demand for recycling programs in Ghana," said Aziz.
The organization has created recycling programs at public and private schools and churches. It has 13 employees and works with about 300 Ghanaian waste pickers in Accra and Kumasi. Its success has opened doors for Aziz, who has met Prince Charles and the Queen of Denmark.
"I definitely feel that if I was living in the U.S., these definitely wouldn't be opportunities that would've been available for me," said Aziz, 38.
The Year of Return has been good for Ghana because it has exposed African Americans to the country, said Aziz. She hopes there's an exchange of ideas — financial, intellectual and technological — between American-born Blacks and Africans.
"I feel like living in Ghana is freedom. I don't have to worry about cameras looking at me on every corner," said Aziz. "There really is something empowering about being in a place where everybody is Black. It's nice to be in an environment where you don't think about race. It's nice to be in the majority."
"I feel like living in Ghana is freedom. It's nice to be in an environment where you don't think about race."
But Ghana is not perfect.
The biggest challenge most Black Americans face when they move to the country is learning the local language. The health care system needs some improvement, specifically when it comes to emergency care, says McKenzie. There's also the lack of national stores. You're not just going to be able to get up and go to the corner store or walk into a Walmart, notes Rogers. There are no trips to Trader Joe's, Ross or TJ Maxx, McKenzie points out. Aziz says she misses Mexican food, Ruth's Chris Steak House and Red Lobster cheddar biscuits. For those craving American food, there is a Burger King and KFC in Accra, the capital city of Ghana.
And of course, starting over and rebuilding a life in a new country is no easy task.
"I think that people underestimate the emotional toll that it takes to move to another country," said Aziz.
Nevertheless, more and more Black Americans are seeing Ghana as an alternative place to live as they continue to feel marginalized in the United States. Living while Black has become more difficult. African Americans continue to experience disparities in the criminal justice system, education, health and economic inequality. The repatriates who live in Ghana hope the Year of Return has given Black Americans a glimpse of the opportunities that exist in the country. Some, like Halevi and Rogers, said they found their calling in the country. It's a place where they could be themselves, unapologetically Black.
"In America, we are made to try to think and be ashamed of the African part of ourselves, and always encouraged to assimilate to the European structure of character as the accepted character," said Halevi. "I found myself here. I found my center here. I think Africa can use what I have to offer and use my assistance. I also need Africa. It has something to give to me and I have something to give to it."
RELATED ISSUES

Issue
Migration and Refugees
Migration and Refugees

Racial Justice