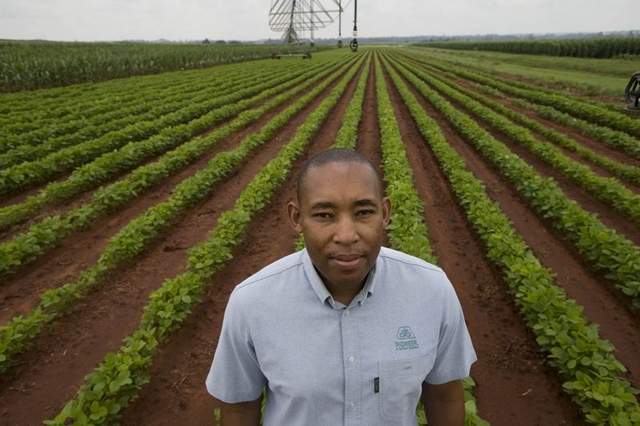 The bitter battle that seed giants Monsanto Co. and Pioneer Hi-Bred wage for the hearts and pocketbooks of farmers doesn't end in the United States. They're going at it in Africa, too.

The profit potential in Africa is limited. Production of corn, the two companies' signature food crop, is dominated in Africa by poor, smallholder farmers, who often till two or three acres at the most. There is little commercial-scale corn production outside of South Africa.

Still, there is public good will to be gained in Africa, if not a lot of money. Concerns grow about the impact of climate change and a growing population globally and in sub-Saharan Africa in particular.

St. Louis-based Monsanto and Pioneer, the Johnston-based unit of DuPont, are collaborating in a project called the Global Harvest Initiative, which promotes the use of technology to increase food production. Deere & Co. and grain processing giant Archer Daniels Midland Co. are the two other partners.

"It's a competitive industry. We compete vigorously. At the same time, we have the same goals," DuPont CEO Ellen Kullman said in an interview.

But on the ground, Pioneer and Monsanto are the same tough competitors as they are back in the United States, where they are engaged in legal battles over the rights to prize biotech traits.

For now, Monsanto would seem to have the edge.

Both companies are working to make corn more resistant to drought, but Monsanto is ahead in developing a genetically engineered version. Monsanto wants to have a royalty-free version of the crop, adapted to African cultivars, on the market by 2016.

Its commercial version is scheduled to reach the U.S. market in 2012.

To that end, Monsanto donated its technology, including the bacterium gene that increases drought tolerance, to a project funded by the Bill and Melinda Gates Foundation. The breeding and testing of the plants is being done in connection with the International Maize and Wheat Improvement Center, which is closely associated with the work of Nobel Peace Prize winner Norman Borlaug.

Monsanto also has another leg up on Pioneer with a product already popular in South Africa, technology that makes corn resistant to two insect pests that can ravage the crop in Africa. For now, the two companies have shared a Monsanto-developed technology, known as Mon 810, in South Africa, the only country in sub-Saharan Africa that has allowed commercial production of a food crop.

Monsanto hopes to commercialize this year a new version of its insect-resistance technology, called Mon 89034, that is supposed to provide corn better insect protection than the current technology. Mon 89034 produces two toxins, instead of just the one found in Mon 810.

Monsanto licensed Mon 810 to Pioneer but refused to share the new product. Pioneer doesn't have a rival product ready for the market.

Mon 89034 could be one of the first biotech food crops to be commercialized somewhere in sub-Saharan Africa outside South Africa. Monsanto applied to conduct field trials of the seeds in Kenya this year.

Employees of Pioneer, which operates a research farm near Delmas, a corn-growing region east of Johannesburg, seem to relish the underdog role. They scoff at Monsanto's claims to control more than 50 percent of the corn seed market in South Africa. They also express some skepticism and concern about Monsanto's drought-tolerant corn.

"The expectations from the farmer is that if you put this (Monsanto's bacterium) gene in the plant it will grow without water. And that's not going to happen," said Willem Engelbrecht, who manages Pioneer's South Africa business.

Pioneer in February announced a project for Africa modeled after Monsanto's drought-tolerance program. This one will use Pioneer's technology to make corn produce yields on less fertilizer, a trait known as nitrogen efficiency. Like the Monsanto project, it will be funded by Gates and the African research will be conducted by the International Maize and Wheat Improvement Center.

Kulani Machaba, who manages Pioneer's government registrations in South Africa, says the nitrogen-efficient seeds would benefit farmers, "especially small-scale" growers.

Meanwhile, the two companies continue to struggle for market share with conventional hybrid seeds, which can be found at farm suppliers, called agro-dealers, in rural towns of east Africa. The seeds are typically sold in 2-kilogram bags, enough to plant about one-quarter acre. The seeds are a pricey proposition for poor farmers at 380 Kenyan shillings, or about $5.

The two U.S. giants have another problem in common. When small-scale farmers do buy hybrid seeds, they frequently save some of the grain from their crop and use it for seed the following year, even though hybrid grain loses its high-yielding properties when used as seed.

The 7-Up agro-dealer in Machakos, Kenya, carries the Pioneer logo on its store sign. But salesman Timothy Mutua said in December, the end of the planting season, that he was sold out of Pioneer seed.

The local farmers "don't have maize to reseed," he said. "They buy hybrids more than last season."
RELATED ISSUES