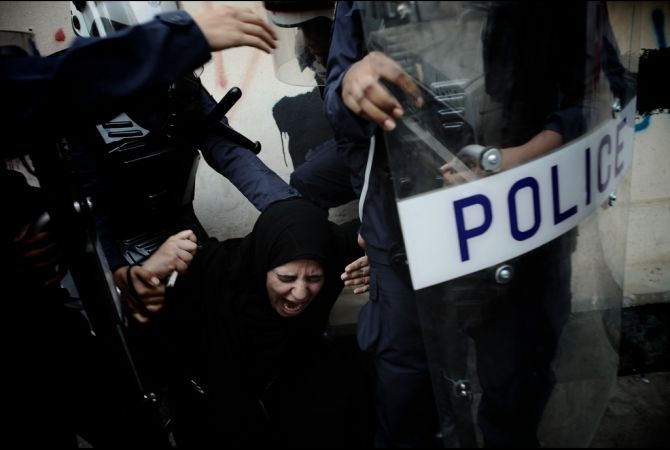 MANAMA, Bahrain — Farida Ghulam settled down on a brocaded couch in her home in an upscale district of Manama. She's a leader of the center-left Waad party. After pouring some strong, sweet tea, Ghulam explained how sectarian differences have begun to rip apart Bahraini life.

Bahrain's population of 1.2 million is about 70 percent Shiite Muslim and 30 percent Sunni. The ruling family of King Hamad bin Isa al Khalifa is Sunni, but for many years both groups coexisted.

But that began to change in February 2011 when, inspired by the Arab Spring uprising, tens of thousands of Bahrainis poured into the streets. The opposition initially included both Shiite and Sunni, united in their calls for democratic reform. But as the conflict dragged on, sectarian differences emerged.

Ghulam said that Sunnis know the government is a corrupt monarchy. But they fear a Shiite takeover even more. The government has convinced them, she said, that the Shiites are determined to create an Iranian-style religious state.

"They forgot [the Shiites] were neighbors," she said, "and denounced them for supporting the opposition. It's like McCarthyism in the US."

Government officials deny that they stoke the fires of sectarianism.

"We don't have an issue with what sect of Islam differs with the government," said Abdul Aziz Al Khalifa, a government spokesman and second cousin to the King. "The issue is when elements within the group turn to violence to express their views."

At the same time he noted that Shiites are beholden to their religious leaders, something he didn't assert about other religious groups. "It's very difficult for them [Shiites] to separate the directives of a religious cleric and the directives of a political movement."

"There are significant numbers who want to follow the state system that is present in Iran today," he continued. "There have been calls for an Islamic Republic in the past. I think under the surface, there are many more who believe in that form of government."

Historically, there have been ties between Shiites in Bahrain and Iran, which is just across the Gulf. The Al Wefaq Islamic Society, Bahrain's largest opposition group, gained inspiration from Iran's 1979 revolution against the Shah.

But Ali Salman, general secretary of Al Wefaq, doesn't consider the current Iranian government a model for Bahrain. Dressed in white clerical robes with a white turban, he offered Bahraini coffee and chocolates during a visit to his headquarters. Salman said Iran's system is far from perfect.

"My opinion is that more freedom would be better in Iran," he said. Al Wefaq leaders also support the popular uprising against Syria's regime, which puts them at odds with Iran's support for Syrian President Bashar al-Assad.

On social issues, Al Wefaq is far more centrist than either the Iranian government or conservative Sunni groups in Bahrain. For example, Salman said the government should not force women to wear the hijab, and he expressed no problem with the country's current policy of limited alcohol sales.

Nevertheless, the government demonizes the Shiite opposition as extremists.

Exhibit A is Muhazza Village on the outskirts of Manama. The poor, predominantly Shiite area has dusty streets and low-rise, concrete houses — a sharp contrast with Manama's glistening skyscrapers.

In late October, the government prohibited all anti-government demonstrations, but Muhazza regularly defies the ban. Residents have erected roadblocks made of palm tree trunks and concrete blocks in an effort to keep out the security forces.

At 3 a.m. one recent morning, police surrounded the apartment of Abdullah al Mizo, an electrician. He said masked men in civilian clothes pounded on the doors and windows, and eventually kicked in one door.

He said the men were from Bahrain's security services. "They called me a bastard," he recalled. "They said you are Shia and a terrorist." Al Mizo said he had not participated in demonstrations and argued that the regime is collectively punishing Shiites.

"I don't know why they raided my house," he said. "I think they did it to intimidate people. I am not a political activist but I will become one because of the regime's actions."

Under attack for being Shiite, Al Mizo in turn, distrusts Sunnis. He noted that the government has recruited mostly Sunni police from Pakistan, Syria and other Muslim countries. He says their religion teaches them to hate Shiites. Other activists claim the Sunni religion teaches fealty to the government in power, and that accounts for their support of the King.

Al Wefaq's Salman acknowledged the current state of Sunni-Shiite relations is "very complicated." Salman argued that the monarchy has used clever divide-and-rule tactics long before the February uprising last year.

"The government told us to hate the Sunnis," he said, "especially the Muslim Brotherhood and the Salafis," groups with sharply conservative views on politics and religion. "Meanwhile the government tells the secular opposition that Al Wefaq is hopelessly backward."

With each group distrusting the other, said Salman, "their only connection can be with the royal family."

Over the past six months, however, Salman has seen changes in the Sunni community. "They realize that the government lies," he said. They know "all the communities need a change."

"The only way for this small country to survive is to put aside Muslims and non-Muslims, Sunni and Shia, and come together as Bahrainis."

He admitted that, in the short run, it's an uphill battle.