Project December 4, 2012
Bahrain's Forgotten Uprising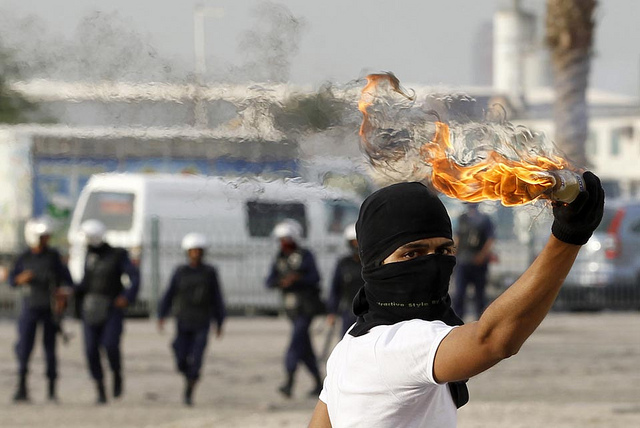 Early in 2011, major media in the US were filled with news of a popular uprising against Bahrain's monarchy. Front page stories described huge demonstrations, intervention by Saudi troops and harsh government crackdowns. Today Bahrain has almost disappeared from public awareness in the US.

While the opposition movement is weaker than one year ago, it is stronger than US media coverage might suggest. Recently, hundreds of demonstrators gathered in an unauthorized Manama rally that police broke up with tear gas. The government banned all demonstrations and imposed harsh sentences on political dissidents.

The Bahrain monarchy argues that it is maintaining law and order in the face of a foreign-inspired revolt. According to the government, the opposition is allied with Iran and Hezbollah, and poses a threat to the entire region.

Initially, opposition demonstrators included Sunni and Shia. But after the intervention of Saudi troops and the government crackdown on the Shia community, the battle has become increasingly sectarian. Regional powers are choosing sides in the struggle. The US has played a low-key role, in part, because of its desire to maintain the Navy's Fifth Fleet headquarters in Bahrain.

In a continuation of his Arab Spring reporting, foreign correspondent Reese Erlich will examine the complicated political, religious and economic elements of the Bahrain uprising. He interviews government leaders in their skyscrapers and workers in the relatively poor Shia villages outside the capital. Erlich explores the question: can the government and opposition reach a peaceful political solution?