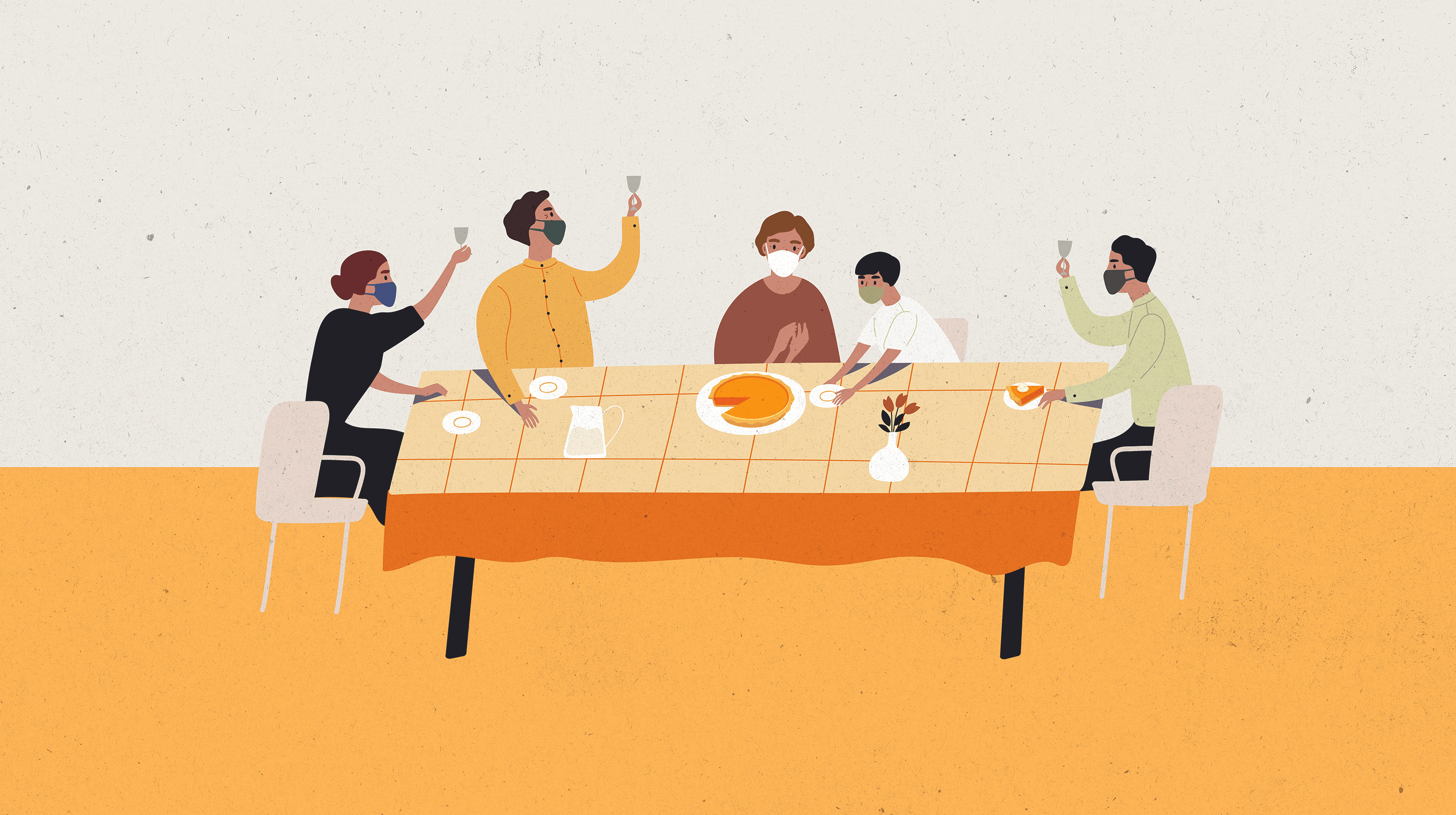 Click here to take the interactive quiz.
When we think about whether or not to put on a face mask, the choice is often influenced by our environment: Do I need a mask to keep me safe in this particular situation? What signal am I sending to others? 
Consistent masking has been proven again and again to be an effective way to contain Covid-19, and it's already saving lives. "We found the most important measure for reducing the risk of exposure to Covid-19 is to wear a mask," Matthew Callstrom, chair of the department of radiology at Mayo Clinic in Minnesota and a co-author of new research on masks, said in a statement Tuesday.
Thirty-seven states and Washington, DC, currently require individuals to wear masks in public based on this evidence, according to the AARP. Those mandates, along with public health guidance, seem to be having an effect: Two-thirds of Americans reported in October wearing masks when leaving their homes.
But in the eighth month of the pandemic — when the US is facing record-breaking daily case counts and hospitalizations and rapidly climbing daily deaths — too many still aren't getting the message to wear masks in crowded public spaces or in another potentially risky setting for infection: small gatherings with family and friends.
Vox asked people around the country how they were making decisions around wearing masks in a survey conducted in partnership with Data for Progress (DFP) between September and October. What do you think people might do in the following situations?
Between September 25 and October 25, 3,232 respondents across the US answered the Vox/DFP survey. The results show that people are a bit more likely to wear masks at indoor gatherings than outdoor ones. Group size is a stronger indicator: People in smaller groups are less likely to wear masks, regardless of being indoors or outdoors.
It's true that most early outbreaks of Covid-19 were associated with large groups of people in poorly ventilated, crowded indoor spaces, but health officials around the country have recently pointed to small gatherings as another major driver of the current nationwide surge in Covid-19 cases. (Some experts, however, have questioned states' claims that they have significant new data on this kind of transmission, which some local officials are using to justify keeping restaurants open.)
The governor of Ohio, Mike DeWine, for instance, noted significant community spread throughout the state mostly from households and social gatherings including weddings and funerals. It's been smaller gatherings after the big events, like football games or dinner parties, that have become superspreading events, Joe Kanter, the interim head of the state's Office of Public Health, said in a recent briefing. He warned that when people felt comfortable, they tended to let their guard down.
Amanda Latimore, the director of Center for Addiction Research and Effective Solutions at American Institutes for Research, said that people generally feel more at risk when the group is large, while smaller groups lower the perception of risk. "The size does matter, but there are other factors people should take into consideration," Latimore said. "You can talk to four people, and one of them just flew in from a high-risk area. That should be more of an influence on you wearing a mask than the number. But people often don't do that because of the psychological factor."
Concern about the risk of smaller gatherings is also why the Centers for Disease Control and Prevention has sounded an alarm about people traveling for the Thanksgiving and December holidays. More Americans will be gathering indoors, potentially unmasked, with groups of friends and family members they assume aren't infected.
Indeed, survey respondents overwhelmingly reported that they wore masks less frequently with friends and relatives than with a group of strangers.
But there's some strong evidence showing that many people are being infected by people they know in their own household. A study published in Nature traced 1,038 cases in Hong Kong between January and April. It found that transmission was the most likely to occur within households, followed by social gatherings and work settings. A number of contact-tracing studies from mainland China, Singapore, and some parts of the US identified similar transmission patterns: Sustained close contact — spending an extended period of time with family members and friends — drove most cases.
Mask mandates are in effect for most Americans in public places. Most states also extended mask mandates to work settings as they opened up based on CDC guidelines. Large social events, such as concerts and sports games, have been put on pause or been held at a reduced capacity with mask requirements to restrict virus transmission. But masking in small private group events has largely been left for individual interpretation.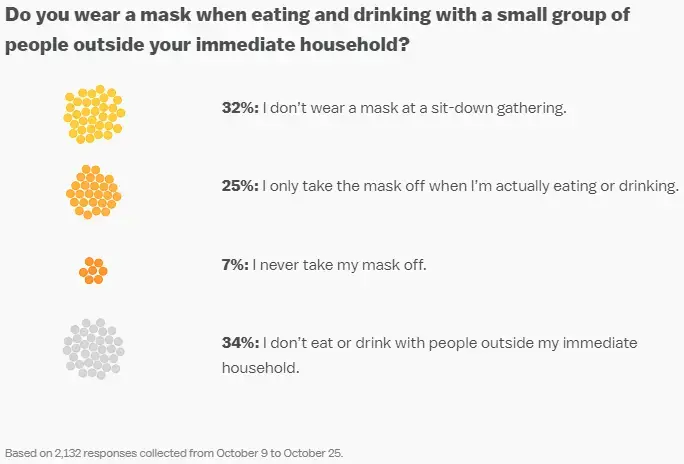 People had different opinions on when it was appropriate to take masks off while eating and drinking. Image courtesy of Vox.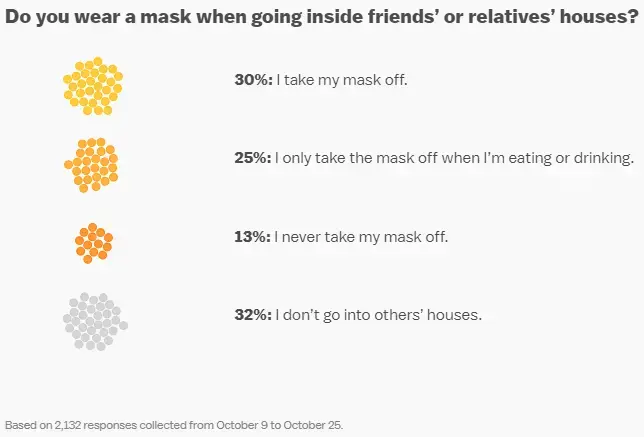 About 45 percent of respondents said they did not wear a mask while visiting others in their homes. Image courtesy of Vox.



House visits, family meals, and small exercise groups are among the situations in which guidelines around masking have been vague — if they existed at all.
As cases and hospitalizations have surged in November, some states have started issuing some clearer restrictions and guidelines around small group social gatherings. In Ohio, the latest governor's order requires guests to be seated when attending receptions, minimizing walking around, and no dancing. Gatherings in Iowa are now limited to eight people or fewer. The Michigan state government recommends limiting gatherings to include no more than two households if people have to get together for the holidays.
But the state orders do not — and cannot — regulate whether or how small private groups should get together, leaving the decision to mask and distance to the individual's interpretation.
The inconvenience of putting on and taking off masks while eating and drinking contributes to the lack of consensus, making onsite dining the riskiest among all social activities, according to a CDC study that surveyed patients who tested positive in July.
Resistance to wearing masks in public or private may also be psychological. A recent paper from the Harvard School of Public Health and the University of Calgary found that people were less likely to adhere to social distancing measures if they saw many people walking on the streets in their areas, and when they felt stressed being left alone. Absent guidelines, people can feel uncomfortable wearing a mask when people around them do not have masks on. They may also put masks down to feel closer to family and friends.
One way to navigate this uncertainty is to talk about it. Preeti Malani, the chief health officer at the University of Michigan and an infectious diseases doctor, encourages families and friend groups to have an open conversation about masks before gathering. "Talk about why you are wearing a mask and why you want them to wear a mask. If you set that as an expectation, it's not that weird. If everyone wears a mask, it does not feel that unusual," she said. "Instead of thinking of it as something that prevents your enjoyment or freedom, think of them as a way to keep your family members safe."
State and local health officials should also provide clearer and better information about private gatherings, rather than leaving nuanced decisions completely up to individuals, Latimore said.
For Thanksgiving, the CDC advises against all travel. But for those hosting or attending local family or friend gatherings, the CDC has a comprehensive guide, including preparing extra masks and requiring your guests to wear them if you're hosting. While Malani says only virtual gatherings are truly safe, she offered some advice for gathering in person this year: "eliminating food, and just getting together."
Eating with masks can be a hassle and a risk. Skipping a meal at least means one less choice to make this year on when to mask.
Lois Parshley contributed reporting.
---
COVID-19 Update: The connection between local and global issues–the Pulitzer Center's long standing mantra–has, sadly, never been more evident. We are uniquely positioned to serve the journalists, news media organizations, schools, and universities we partner with by continuing to advance our core mission: enabling great journalism and education about underreported and systemic issues that resonate now–and continue to have relevance in times ahead. We believe that this is a moment for decisive action. Learn more about the steps we are taking.