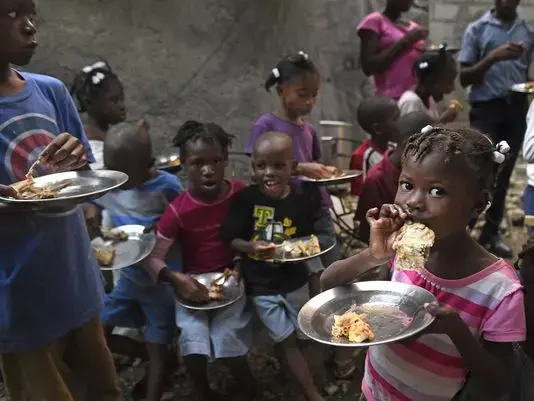 Children at an orphanage in Gressier, Haiti, eat chicken raised by KORE Foundation farmers. The chicken serves as a source of protein to combat malnutrition. Image by Larry McCormack. Haiti, 2016.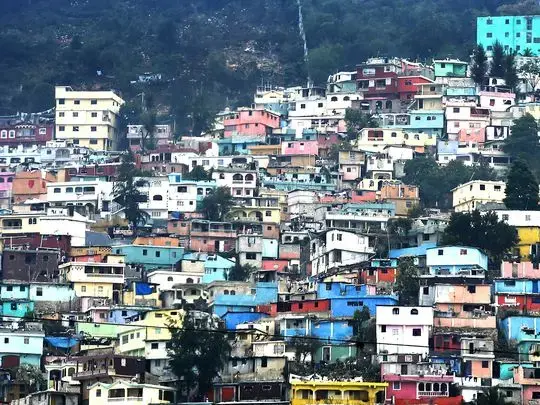 A bird's-eye view of colorful and crowded Port-au-Prince, Haiti. Image by Larry McCormack. Haiti, 2016.



The 2010 earthquake brought an international focus to Haiti's struggles, causing many to ask what can be done to help. Is there a meaningful way to contribute to a country in which the majority of the population lives in poverty? Is it writing a check, offering our labor, building a new organization or staying on the sidelines?
In 2015 we read about the Red Cross collecting millions in aid for Haiti with little results to show for it. We hear about the great work that mission trips and organizations on the ground do, but also questions surrounding their effectiveness.
In Nashville several local groups have acted on their concerns for those in Haiti. They have focused on health care, education, child care, nutrition, water quality and job development. Some organizations have been working in Haiti for more than a decade, while others formed more recently. They have seen firsthand the challenges of carrying out an initiative, the damage that well-intended aid can sometimes inflict and the positive impact of a carefully planned program.
They offer these takeaways:
Use short-term trips to supplement long-term partnerships.
Mission trips can be positive experiences for both the visitor and the host country when done right. The trips help fund long-term programs, bring new perspective to the traveler and especially when skilled volunteers — contractors, mechanics, doctors, nurses — are involved, they can pass on useful knowledge and offer needed skills.
LiveBeyond's Dr. David Vanderpool says visiting medical students offer expertise to local doctors in the organization's Thomazeau campus and work alongside them. Less helpful is when groups set up free clinics in the same area where local practices exist.
"They may have just put the local doctors out of business," Vanderpool said. "That is a tremendous hit to the local economy if they lose their local doctors."
The same goes for other professions, including construction. While Americans often come to erect or repair buildings, unemployed Haitians could take on those projects and earn an income for their families.
Tread carefully when it comes to orphan care.
Orphanages often become homes for children with living parents, who are hopeful their child will have more access to food and education there. To keep families together, Hands and Feet Project in Franklin began to accept children only through social services, and they try to be the last resort by helping struggling parents find resources they need.
"People should focus on job creation and family preservation as much as possible," said Mark Stuart, Hands and Feet co-founder.
Prioritize employment over gifts.
Building lasting initiatives that create jobs have a greater impact than donations. Consider supporting efforts underway that are focused on employment.
If a program can become sustainable and pay for itself with income it generates, it will be more successful and more lasting than if it is based entirely on donor support, according to KORE Foundation's Dennis Bratton. That way, if donations are cut off, the livelihood of individuals and their families is not at stake.
Some Nashville-area organizations operating in Haiti:
KORE Foundation: Located in Gressier and 10 other rural communities.
KORE supports 185 chicken farmers with coops, training and marketing resources, helping them become independent farmers after paying off a starting loan. Through $6.25 monthly sponsorships, KORE purchases chickens raised by KORE farmers to feed to children and reduce malnutrition.
Learn more at korefoundation.org
The Joseph School: Cabaret, Haiti.
The school opened in 2015 with 31 kindergarten students and five Haitian teachers with a focus on leadership. It will double in size with a new first grade this year, and work will begin this summer on a new facility.
Learn more at thejosephschool.org
LiveBeyond: Thomazeau, Haiti.
LiveBeyond's maternal health care program provides care, education and meals for 350 women. The organization employs 100 Haitians full-time and as many as 250 when construction projects are underway. LiveBeyond also supports a school for 250 children and a children's home, and it provides clean water to 200,000 people. The organization is building a new hospital and plans are underway for a new school.
Learn more at livebeyond.org
Hands and Feet Project: Grand Goave and Jacmel, Haiti.
Hands and Feet provides housing and care for 110 children at two children's villages. To help the teenagers being raised at the Hands and Feet homes and to create jobs and alleviate poverty, Hands and Feet operates its Haiti Made brand that employs about 35 Haitians.
Learn more at handsandfeetproject.org
Restore Haiti: Morne Oge and Port-au-Prince, Haiti.
Restore Haiti operates a sponsorship program that covers food and school costs for children, and the organization provides care at a medical clinic.
Learn more at restorehaiti.com
myLIFEspeaks: Neply, Haiti.
The organization includes a food program and health care for children, prenatal care and education for mothers, orphan care and prevention, physical therapy for children with disabilities and a school for 14 special needs kids. A second school is being built that will add a grade each year.
Learn more at myLIFEspeaks.com
RELATED ISSUES