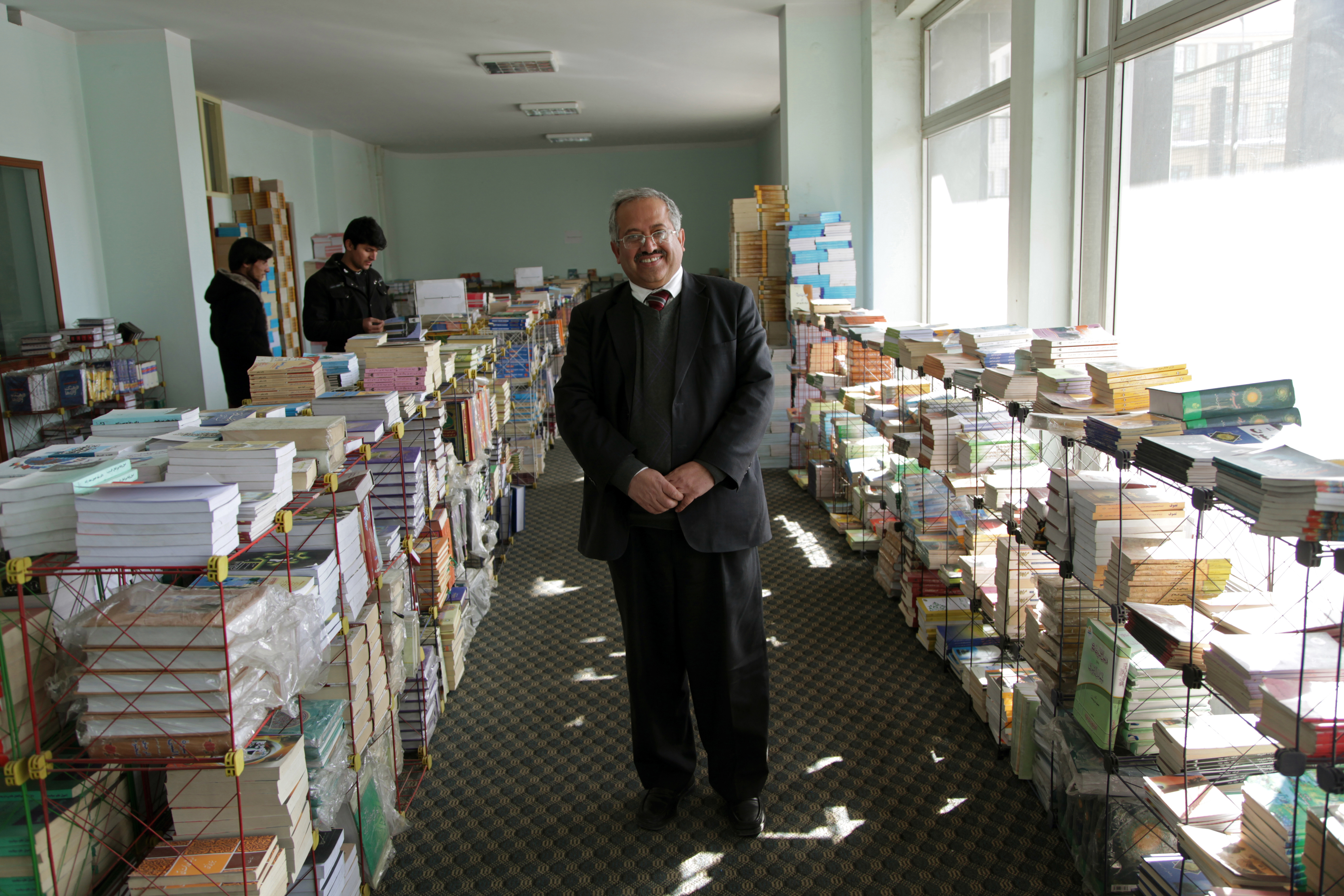 Najibullah Manalai is a poet and a businessman who aspires to become "the Afghan Murdoch." Late last year, he opened Book City, the nation's largest bookstore, which currently stocks 20,000 titles in Pashto, Dari, Arabic and several in English. The latter include "Black Beauty," "Hound of the Baskervilles," and a book that asserted that the Israeli intelligence agency, Mossad, blew up the World Trade Center towers. (Conspiracy theory abounds in Afghanistan; here, as in other Muslim countries, the common assumption is that al Qaeda did not attack the United States.)

Aside from stocking several questionable titles, Book City's larger endeavor is exciting and sound. "Our goal is to sell 100,000 books," Manalai said on a blustery afternoon just before spring arrived. Book City is located on what's known as the windiest corner of Kabul. In Afghanistan, Manalai said, there's a proverb: "The cold wind says if you want to find me, I will definitely be at Cinema Pamir." The second-floor complex sprawls right across from the country's most famous movie theater, Cinema Pamir, and is located at the foot of Kabul's TV Mountain.

Not long ago, Manalai gave two curious visitors a tour of Book City's vast complex. The bookshelves are plastic cubes one might find in a college dorm. The outdoor coffee house was closed until the snow melted. The art gallery, which was still empty, will allow Afghans easy access to their culture. There is even a waiting studio for Book Television, a kind of Charlie Rose approach to Afghan literature.

For the Internet café, Manalai purchased second-hand computers, where clients will be able to view e-books. Since transporting quality books to Afghanistan is nearly impossible, Manalai has pioneered an innovative solution, which is a significant part of the $50,000 investment he has already made in Book City.

Customers who want to read books that can't be obtained in Afghanistan can come to Book City and pay the store to order the e-book. This solves another basic infrastructural challenge. "People have no credit cards," he said. "So they have no way of making Internet purchases without the help of a third party."

Copyright means very little in Afghanistan, and the vast majority of books on the Afghan market now (although not at Book City) are pirated. They are simply copied illegally and resold without the author or publisher's permission. As an author, Manalai is highly concerned with ending this practice. He is attempting to introduce business ethics into the nascent book publishing industry in Afghanistan. "I will lose money on this business," he said. "But someone will come after me and see that this can work. A decade from now, we will have a publishing industry."

Books are also outrageously expensive, especially those printed in English. They are produced for the well-heeled visitors to Afghanistan: aid workers, journalists and entrepreneurs. For Westerners, the most popular Afghan bookstore remains the Shah Book Shop, which is owned by Shah Muhammad Rais and was made famous by the Norwegian author Åsne Seierstad in her 2003 non-fiction book, "The Bookseller of Kabul."

More than a decade after the Taliban's fall, Kabul is a busy, if unsustainable hub for a variety of businesses. Manalai, the former media advisor to the Finance Ministry, seeks to make books a viable business, especially for authors. He is concerned that Afghan authors don't get paid advances to write books, as they do in most other countries. Instead, the author pays the publishing house to print her work. The vast majority of Afghan literature is self-published. Not only does this make it impossible for writers to support themselves, it renders nearly all books vanity projects. And vanity projects don't tend to be very good quality.

To ensure that quality literature is available for a wide audience, Manalai recently published Afghanistan's first audio book, a collection of French short stories, which included those by Guy de Maupassant and Louis Aragon. Manalai translated the stories himself. He spent 30 years living in France and only returned in Afghanistan in 2006.

Audio books are the most viable solution to the fact that most Afghans cannot read. Of Afghanistan's 34 million people, only 28.1 percent are literate: 43 percent are men; and only 12 percent are women.

Manalai was particularly proud of a young woman employee named Arzon Behroz, 20. "She is the first female bookseller of Kabul," he said. Behroz liked the job best because she could read while she waited for customers. Sadly, Manalai added, she had plenty of time to read these days. "People say that none of this is going to work in Afghanistan," he said. "I want to prove them wrong."

After all, business was business.

"Some people sell guns," he said. "Some sell books."
RELATED ISSUES

Women

Issue
Conflict and Peace Building
Conflict and Peace Building