By Kayla Maame Sarpong Kessie
11th grade, SOS-Hermann Gmeiner International College, Ghana
With lines from "COVID's Darkest Effects: How the Pandemic May Fuel Child Trafficking in Ghana" by Kira Leadholm, a Pulitzer center reporting project
Fields of cassava stretch,
green, bountiful, not enough.
The scrape of the cutlass,
distantly a man's voice preaches.
The swelter of heat and the shelter of home lasts,
dark, sweet, promised,
the smoke curls out, the pot fire bright.
The anticipation of a meal burns brighter.
There are school bells ringing,
the taste of chalk, a distant memory.
The man's voice is closer.
No bags, only wishes.
The brush of a mother's hand is a small comfort.
Fear is a synonym for hope.
The man is an angel.
The starch of a uniform will become familiar again.
The sea stretches,
wet hands grasp lines,
blisters form - there is no shelter.
It's wont to swallow childhoods.
The death of fish and dreams,
pushing open it's horizons,
as the sea grows.
Master is a devil,
harsh, demanding, taking more,
more until they are drier than the fish laying on racks.
There is no promised food, no bells ringing.
No rest, only pain.
Young skin turns old,
the boats reflecting new age.
How long ago was the dryness of a mother's touch.
The days stretch,
the debt grows, the reward falters.
On the banks, they pray,
Dreams forgotten.
All that remains is salt
and the bitterness of a promise broken.
No saviour, only the sting of a cruel hand,
as mother's hands fade.
Children are not meant to forget hope.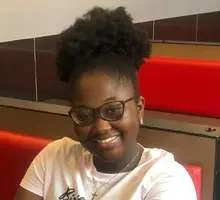 I am a U.S.-Ghanaian citizen attending SOS-Hermann Gmeiner International College in Accra, Ghana. I believe in advocating for a better understanding of neurodivergence and mental health through accessible and easily understandable writing. As a Ghanaian, I hope to shed light on social issues that may fall by the wayside in my country. I am enormously grateful to have been able to participate in this opportunity to focus the lens on problems that need to be addressed. I hope my piece is able to contribute to helping make Ghana a better place.
Read more winning entries from the 2021 Fighting Words Poetry Contest.