By Kiara Imani Adams
12th grade, Silverado High School, NV
With lines from "How the Rise of Social Justice in Athletics is Transforming the Identity of Black Athletes in America" by Eric Thompson Jr., a Pulitzer Center reporting project
The identity of the Black athlete in America.
Someone to be seen but not heard.
Someone to be booed for taking a stand against injustice,
but then applauded from the stands by people who view them as entertainment,
rather than a community that is hurting.
This continuum of anti-Blackness and the love of Blackness.
How can one burn a jersey for a Black man kneeling on the ground,
but will cheer when a Black man scores a touchdown?
How does one remain silent in times of violence,
but will use their voice to argue about statistics and accolades?
The recent rise in social activism in athletics is unlike anything the country has seen before.
Black athletes are tired.
Not from running or playing,
or lifting or dieting,
but from the constant reminder of their role in society.
Not as Black men and women, but entertainers.
To be put on the world's stage and given a platform,
to only talk about their sport, and not the world they live in.
Despite the risks of lost contracts or team sanctions, they are redefining the identity of the Black athlete in America.
To advocate for oneself as a Black athlete is to go against your oppressors.
Coach.
General Manager.
Commissioner.
Owners.
As a Black athlete speaking up for your life can result in a change of livelihood.
Black athletes are taking a stand for their rights and the rights of those that look like them.
The identity of the black athlete in America.
A man. A father. A brother. A husband. A son. A person who's voice matters.
A woman. A mother. A sister. A wife. A daughter. A person who's voice matters.
Black athletes are to be seen and heard, without one being reliant on the other.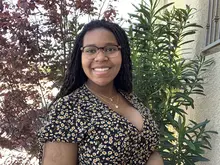 Kiara Adams is a graduating senior from Las Vegas who plans to attend the University of Arizona to double major in Journalism and Political Science. She was inspired to write this poem after seeing the events of the summer of 2020 and the protests that followed. Being an avid sports fan, she watched as her favorite players stood up for what they believed in and was inspired by their bravery. She wants to thank the Pulitzer Center for this honor and she hopes her poem will spark conversation in the role sports play in addressing the racial and socioeconomic disparities in the world today.
Read more winning entries from the 2021 Fighting Words Poetry Contest.