Life on the Streets of Chicago
By Rodin Samnang
Student in the 2018 Genesis Academy Summer Institute in Chicago
Mya Zamora contributed reporting to this story
Terry Roberts (57), a tall, well-built black man, sat on a wheel chair with his candy box beside him outside the Fourth Presbyterian Church. It's one of the three spots at which he locates himself.
Terry's story is about hope and positivity. Although cancer-ridden himself, Terry is the sole caregiver for his parents, mother (79) and father (81), who live in the south side of Chicago, which is a two-hour bus ride away. Terry once worked for the federal and state government where he would give money to unemployed people on behalf of the government. Terry was forced into retirement due to frequent hospital visits.
Terry was born with cancer but was left untreated by his parents due to lack of funds. At the age of 11, as part of the Boy Scouts, he led the young group on a camping trip. During their camp, they were caught in a snowstorm and Terry wanted to lead his group by being an example to others and stayed in the cold. He developed frostbite, which woke up his cancer.
From there on he got three tumors in his ankle, which spread to his knee. From age 11 to now he has had about 39 medical visits and has had his leg amputated thrice. At the time of his first surgery his wife left him and their children. He said, "My wife did not want to live with a man without a leg."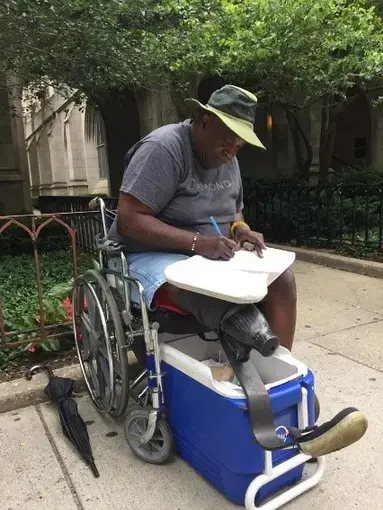 Terry began to piece his life together to provide good education to his children while he was helped by the church and caring people. Now his children are all grown up, and working for good companies.  Terry was homeless before, but now sits on the street for his income. He said, "Chicago has adopted me."  He spreads love and joy on the street of the city he loves. He said, "I love everything about the city, the history, people, architecture and the energy of the city." However, Terry has a grouse with the government. He said, "We have a president that doesn't care for the people and favors the rich." Interestingly, he doesn't beg for money, people that walked by gave him food and money, he gives back candies as a return favor. On an average day he makes $100, on a good day he makes $200 - $300. Terry also has a YouTube channel called "Julius Burchett" which talks about his life story and how he lives.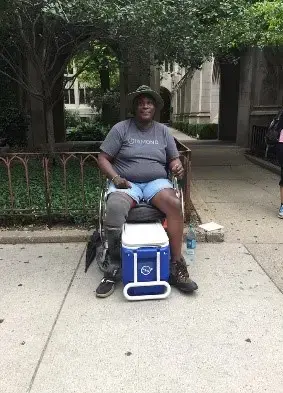 Terry is a very positive person who spreads love and happiness. His mother always told Him that "his mind was like a sponge and that he should absorb all he saw." Sadly, Terry recently developed a blood cancer and has decided to stop receiving treatment. He said, "God is taking care of me." Terry was once upset at God for redeveloping his cancer but has made amends and spreads his confidence and positivity. He said, "I am happy with my life, and it couldn't be better."