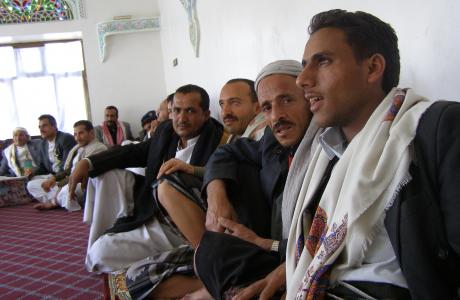 Chatham House, Thursday 20 November, 12:00-13:00

Please note that the meeting will be held on the record.

To mark the launch of her new Chatham House briefing paper, the Middle East Programme is pleased to welcome Ginny Hill for a roundtable meeting. Yemen: Fear of Failure examines the problems for policy-makers confronting the prospect of state failure in this strategically important Red Sea state. The paper is based on original research carried out over 16 months in Yemen. Ginny Hill is a freelance journalist and TV producer. She has reported from Yemen and the Horn of Africa for the BBC, the Economist, the Christian Science Monitor and Jane's Islamic Affairs Analysis. Her film on Somali refugees in Yemen was broadcast by Channel 4 News, CNN, al-Jazeera English and France 3.

Please note that this meeting is by invitation only and that prior registration is required for this event as places are limited. Please register in advance with Taban Shoresh, Middle East Programme: [email protected]. You will receive confirmation of your registration.
RELATED ISSUES