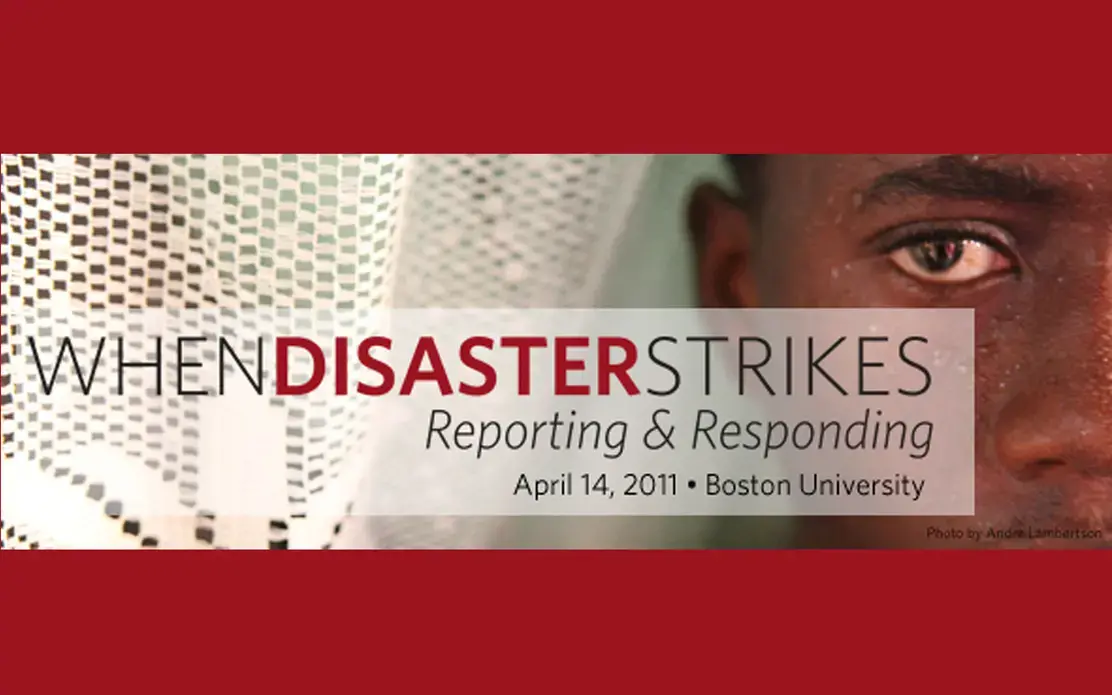 Room:
Photonics Center

RSVP through Boston University

Conference Agenda



Earthquakes, epidemics, oil spills. Tsunamis, mine explosions, flood, famine, war. Whether wrought by nature or made by man, disasters happen. While the ashes still smolder, while the rubble lays untouched, first on the scene are two categories of professionals. Humanitarian aid workers arrive immediately, determined to help in any way they can. Journalists descend simultaneously, intent upon recording the horrible history as it unfolds.

And so continues an often unexplored, symbiotic relationship. Health care professionals and other aid workers need journalists to convey the dimensions of disaster to every corner of the globe. Journalists rely on public health specialists to provide information, context and real-life narratives to make a crisis come alive. Too often, these groups collide. Journalists jockey for the same airplane seats, hotel rooms and rental cars that aid workers require, at precisely the same time. Journalists show up at inopportune moments, demanding the latest points of interest, right this minute. Fierce deadlines mean that details (and sometimes, basic accuracy) suffer. Aid workers who are untrained in dealing with the media can be left feeling ambushed.

When Disaster Strikes: Reporting and Responding is an international conference that will explore the collaboration and tension between journalists and public health workers at times of crisis. The April 14, 2011, gathering at the Photonics Center at Boston University will mark the first annual collaboration of the Pulitzer Center on Crisis Reporting and Boston University's Center for Global Health and Development, School of Public Health and College of Communication. A wide range of experts from the fields of global health, NGOs and journalism, as well as citizens and volunteers will use this first convocation to focus largely on the many layers of crisis in post-earthquake Haiti. The gathering will strive to establish strategies to allow journalists and aid workers to function collaboratively, with minimal interference.

The Pulitzer Center's founder and executive director Jon Sawyer, and journalists William Wheeler and Kwame Dawes will participate as panelists during the day-long conference. Jon Sawyer has reported from over fifty countries, with special projects ranging from southern Africa, Cuba and Haiti to Eastern Europe, the former Soviet Union and China. Full Bio. William Wheeler will share his experiences reporting from South Asia and Haiti on water and sanitation, as well as broader development issues in crisis zones. His reporting has been featured in numerous publications including USA Today, Foreign Affairs, Time and GOOD Magazine. Kwame Dawes is a poet and writer and the author of thirteen books of poetry and many books of fiction, non-fiction and drama. His work on HIV/AIDS in Jamaica with the Pulitzer Center won multiple awards, including an Emmy, and he has recently been reporting from Haiti on the impact of the earthquake, with a special focus on HIV/AIDS.

Keynote Speaker Kerry Sanders

Kerry Sanders has been NBC's Miami-based correspondent since 1996, covering news mainly in the South and throughout Latin America. Sanders contributes regularly to "NBC Nightly News with Brian Williams," "Today," MSNBC and occasionally to "Dateline NBC." Sanders covers breaking news and feature stories. He has more than 20 years experience providing in-the-field-reports during hurricanes. He was a member of the NBC Nightly News reporting team that was awarded a Peabody and the RTNDA Edward R. Murrow Award for coverage of Hurricane Katrina.

Sanders was also one of NBC's embedded reporters during the Iraq war, traveling with the U.S. Marine Corps. He reported on various battles, including the harsh 11-day conflict in Nasariyah. In addition, Sanders has extensively covered the war on terror in Iraq, Kuwait, Saudi Arabia and Afghanistan.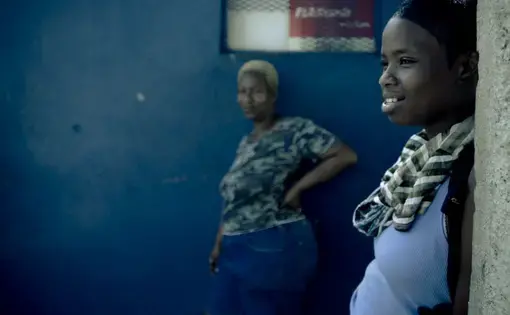 Poet and writer Kwame Dawes travels to Jamaica to explore the experience of people living with HIV...
RELATED ISSUES