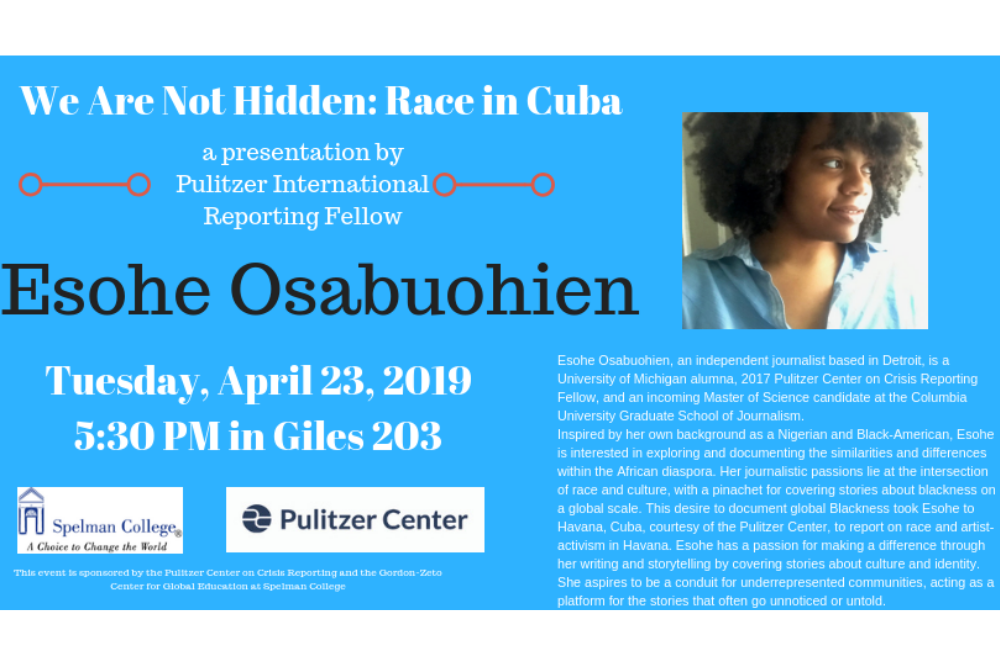 Please join us on Tuesday, April 23, 2019, at Campus Consortium partner Spelman College for a presentation by 2017 Pulitzer Center student fellow Esohe Osabuohien, a graduate of the University of Michigan and an incoming Master of Science candidate at Columbia University Graduate School of Journalism.
As part of her visit, Osabuohien joins faculty and students in Spelman's Caribbean Women's Writing class to discuss on her reporting in Cuba as well as the broader themes of race and colorism in the Caribbean.
When Fidel Castro assumed power in 1959, he publicly condemned racial discrimination and later declared that the Revolution had eradicated systemic racism from Cuba. But the concept of 'one Cuban identity' that he established erased Cuba's rich cultural diversity, effectively eliminating an important racial component from the country's historical narrative. Positive changes have been made under Fidel's brother and successor, Raúl, but a legacy of racism persists.
In addition to her reporting, Osabuohien also will discuss her experiences living and working in the Caribbean, including insight into how she built her writing career and the process of conducting her research.
Please contact Rokhaya Fall at [email protected] for more information.