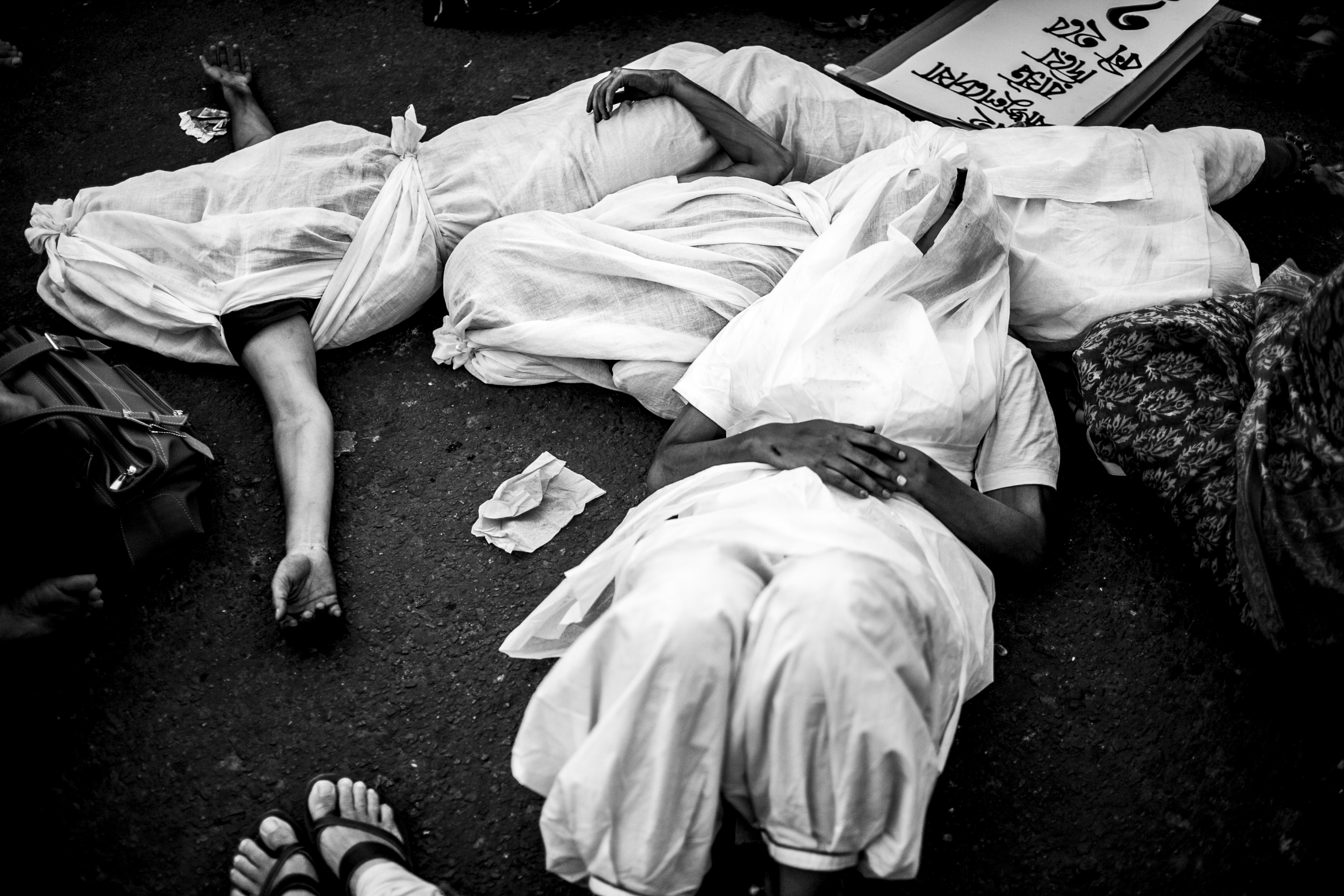 On April 24, 2013, the Rana Plaza industrial building collapsed on the outskirts of Dhaka, Bangladesh, claiming the lives of more than 1,100 garment workers and leaving thousands more with lasting physical and psychological wounds. It was the worst incident in the history of the garment making industry, laying bare the hidden cost of fast fashion. Could it have been prevented?

Pulitzer Center grantee, Jason Motlagh, arrived in Bangladesh a few months after the collapse and asked that question. Photographer Atish Saha witnessed the aftermath first hand and documented it through a powerful series of images.

Motlagh's reporting points to the increase in deadly factory fires like Rana Plaza, as manufacturers cut corners on safety and coerced workers to meet the high volume, low cost demands of Western buyers.

Join us on Monday, May 4 for a Talks @ Pulitzer with Motlagh and Atish Saha as they share stories from their reporting on the Rana Plaza collapse, and reflections on the current state of the garment industry. They will share images and video that illustrate the lives of the victims and their families, and discuss the export leather industry and some of the abuses they have recently documented.

Motlagh and Saha were awarded the Overseas Press Club (OPC) Madeline Dane Ross award for best international reporting in the print medium showing a concern for the human condition for their Virginia Quarterly Review story "The Ghosts of Rana Plaza." Motlagh also won two 2014 South Asian Journalism Association (SAJA) Journalism Awards for his in-depth examination of the Rana Plaza garment factory collapse.

The Pulitzer Center-supported project, Bangladesh: The Real Cost of Fast Fashion, provides an intimate look into the human toll of export industries, the cynical forces that drive them and the dangers that still threaten workers. The project also includes an interactive timeline that follows six characters through the aftermath.

Saha is a photojournalist based in Dhaka, Bangladesh. His work on social and political upheaval has appeared in Time, Virginia Quarterly Review, The Guardian and other international outlets.

Please reserve your seat today: [email protected]—specify in subject line: "May 4 Talks @ Pulitzer."

Monday, May 4
5:30-7:00 pm
Pulitzer Center
1779 Massachusetts Avenue NW
Suite 615
Washington, DC 20036

Closest Metro: Dupont Circle

A light reception will be held between 5:30 and 6 pm before the discussion and screening begins.
RELATED ISSUES