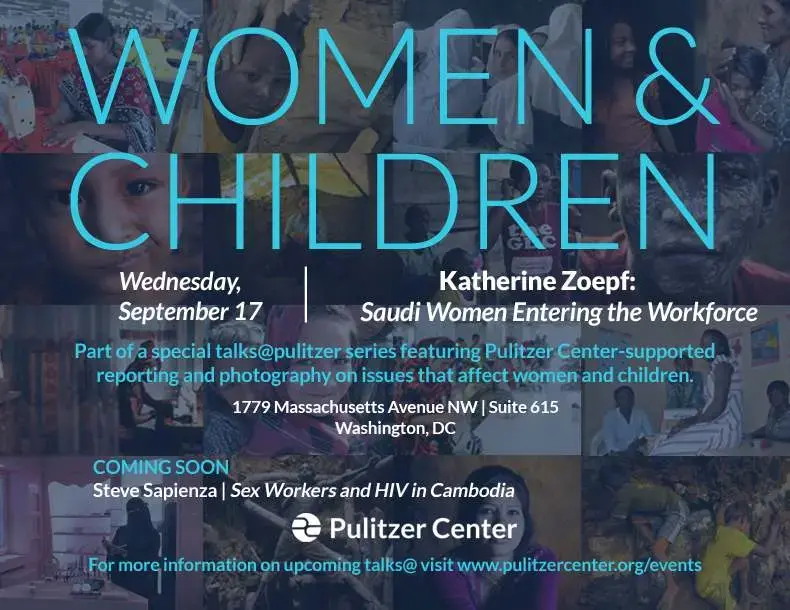 NEW DATE: Talks @ Pulitzer with Katherine Zoepf rescheduled for September 17.

Join us on Wednesday, September 17, for a Talks @ Pulitzer conversation with Pulitzer Center grantee Katherine Zoepf as she examines the changing opportunities for women in Saudi Arabia and the impact it is having on them and their society.

In Saudi Arabia, women have faced endless restrictions in their daily lives, from limited employment opportunities to driving bans. Then in 2011, a decree from King Abdullah allowed women to work in lingerie shops and other businesses with a female clientele. This decree put tens of thousands of Saudi women to work.

Katherine Zoepf is a senior fellow in the Breadwinning and Caregiving Program at the New America Foundation. In her project for Pulitzer Center "New Employment for Saudi Women," Zoepf investigates what it means to be a woman in the Saudi workforce. Explore and learn about the changing gender role in Saudi Arabia with Zoepf in this talk.

Please reserve your seat today: rsvp@pulitzercenter.org—specify in subject line: "September 17 Talks @ Pulitzer."

Wednesday, September 17
5:30-7:00 pm

Pulitzer Center

1779 Massachusetts Avenue NW, Suite 615

Washington, DC 20036

Closest Metro: Dupont Circle


Zoepf's remarks are part of a special series of Talks @ Pulitzer on issues affecting women and children. The series kicked off in April 2014 with two-time Pulitzer Prize-winning photographer Larry C. Price and his work on child labor in the gold mining industry. Other events in the series have featured the work of Pulitzer Center journalists such as Ameto Akpe on the effect of U.S. development projects on women's health in Nigeria, Allison Shelley on reproductive health also in Nigeria, Mellissa Fung on the education of girls in Afghanistan, and Amy Toensing and Jessica Benko on widows in India who are both unwanted and unprotected. This fall the series will also feature Steve Sapienza on sex workers in Cambodia who are battling stigma and HIV.