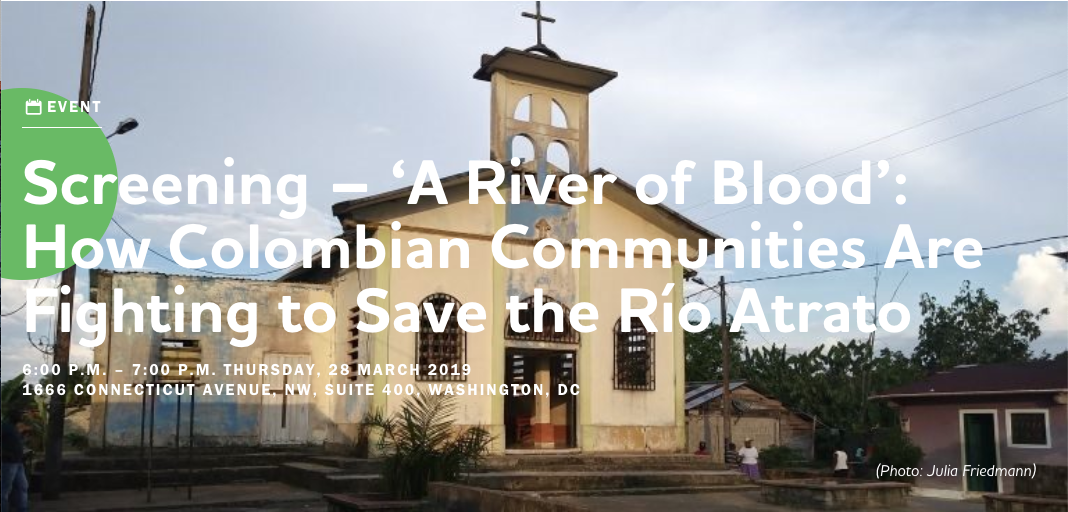 Spanning nearly half of Colombia's Pacific coast, the Río Atrato and its tributaries have sustained communities in the Department of Chocó for generations. The Atrato is the foundation of one of the most biodiverse regions of the world. However, armed conflict, industrial mining, and deforestation have poisoned the Atrato and threatened the survival of the majority Afro-Colombian and indigenous population and their ancestral territory.
On Thursday, March 28, 2019, join the Washington Office on Latin America (WOLA) and the Pulitzer Center for a screening of  'A River of Blood': How Colombian Communities are Fighting to Save the Río Atrato. The film was created by 2018 Pulitzer Center Student Fellow Julia Friedmann from Georgetown University, following a reporting trip to Colombia, where she documented how civil society leaders and WOLA partners in Chocó are partnering with the Catholic Diocese to reclaim territory from armed groups and implement legally-mandated clean-up laws.
Gimena Sánchez, director for the Andes Program at WOLA, and Kem Sawyer, contributing editor at the Pulitzer Center, will give opening remarks.
Georgetown University's Berkley Center for Religion, Peace, and World Affairs is a Campus Consortium partner.
Space is limited at this free event—please reserve your seat.
RELATED ISSUES