Event
Meet the Pros: Camila DeChalus at Westchester Community College
Event Date:
March 22, 2023 | 11:00 AM EDT TO 2:00 PM EDT

ADDRESS:
Westchester Community College
75 Grasslands Rd
Valhalla, NY 10595
Participant:
Camila DeChalus, a 2016 Reporting Fellow, visits SUNY Westchester Community College in Valhalla, New York, on Wednesday, March 22, 2023, for a "Meet the Pros" event with the Department of Communications and Media Arts.
Currently a reporter covering Congress for The Washington Post, DeChalus will share her professional experiences with students, including how the Pulitzer Center Reporting Fellowship built her skills. 
Image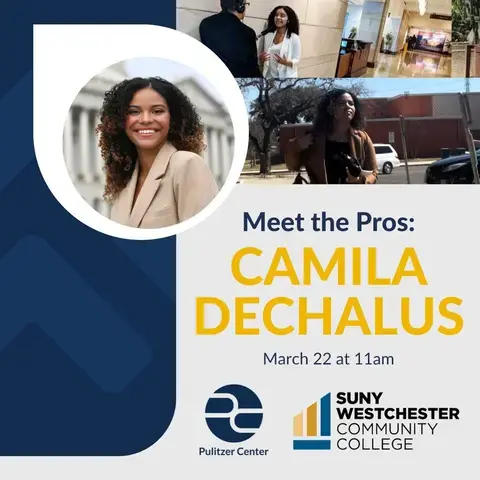 DeChalus is a political reporter based in Washington, D.C., covering the intersectionality of politics and people. She is currently a congressional reporter for The Washington Post, covering key players on Capitol Hill and the most pressing issues facing the country.
To help engage new audiences on various social media platforms, she combines her writing and on-camera work to film and edit videos for social media platforms.
She previously worked at Business Insider, reporting on congressional political campaigns and legal affairs since 2021. At Insider, DeChalus was part of a team of journalists that produced Conflicted Congress, an investigative project that exposed how many members of Congress face possible conflicts of interest around their investments and stock trades. The series ultimately led to lawmakers introducing several pieces of legislation to ban individual stock trading, and it won a 2022 Sunshine Award from the Society of Professional Journalists. Before joining Insider, DeChalus was a homeland security and immigration reporter at CQ Roll Call. 
She is also an adjunct professor at New York University, where she teaches a graduate investigative journalism course.
RELATED ISSUES