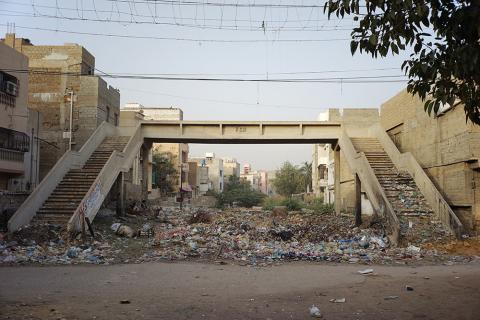 Ivan Sigal, a Pulitzer Center grantee and executive director of Global Voices, speaks on Sunday, April 26, during the "Media and Polarization" working session of the Build Peace Art festival that also is exhibiting his multimedia project about the Karachi Circular Railway in Pakistan. "KCR," Sigal's multimedia installation, is on display throughout the two-day festival of art and technology in Nicosia, Cyprus, which runs Saturday, April 25 and Sunday, April 26.

Build Peace Art is a festival of art and technology that focuses on peace building and features workshops from "Conflict Mediation" to "Media and Polarization." The Build Peace Art program describes the "Media and Polarization" working session as follows:

"Polarization is easy to see in the data from several contexts, and the 'media' frequently takes some blame for this process—from broadcast news to microblogging. There's corresponding evidence of a rise in partisan and extremist information sources, but it's a lot less clear where cause and effect lies. There may be things that journalists and platform operators can do to increase the visibility of opposing points of view, and to promote meaningful dialog between sides. Alternatively media fragmentation may be merely a symptom of increasing polarization, or even just a natural consequence of increased choice. We'll dig into the relationship between media and polarization from several different directions, from the latest data-driven research to the view from working journalists, always asking the question: what does this mean for peace building practitioners?"

"KCR" addresses the same urban development issues that Sigal reported on for his Pulitzer Center-supported project, "The Karachi Circular Railroad," for which he explored the 30-kilometer railway bed, circumnavigating the city and documenting its present disorder. He followed the line both through the city and into the suburbs and rural communities, using it as a guide to stories about the city's growth, its urban present, its rural past and its possible futures.

Media and Polarization Working Session
Sunday, April 26
11:30am-1:30pm
Build Peace Art Festival
10:10 Gallery
Nicosia, Cyprus

In addition to being featured at the Build Peace Art Festival, Sigal's multimedia project will be exhibited at Numaish Karachi, a public art installation on the grounds of Frere Hall, a public park in the center of Karachi (April 6-22), and Lightbox Navigations at the Harvard Art Museums in Cambridge, Massachusetts, as a one-day installation and talk (April 20).
RELATED ISSUES