Event
How To Best Communicate Climate and Inspire Next Generation of Climate Content Creators
Event Date:
September 13, 2022 | 8:00 PM +07 TO 9:30 PM +07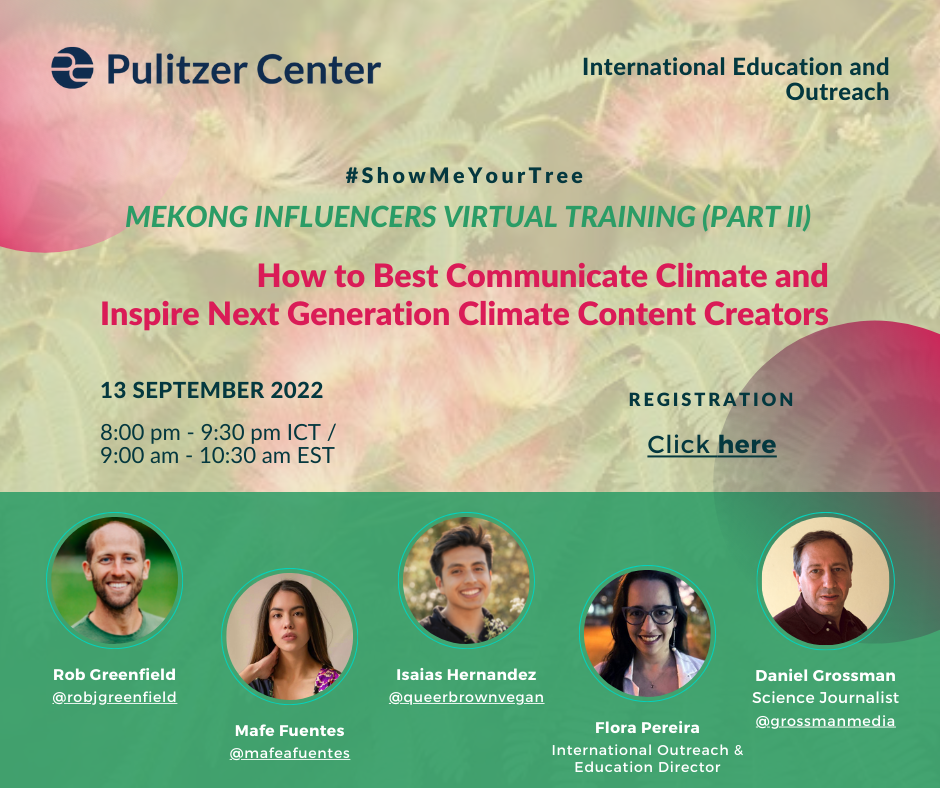 #ShowMeYourTree: Mekong Influencers Virtual Training Part II
September 13, 2022 | 8:00 pm-9:30 pm ICT / 9:00 am-10:30 am EST
Simultaneous translation will be provided in English, Myanmar, Cambodian, and Thai.
Whether you're a food or travel blogger, a seasoned environmental activist, or just someone who cares about our planet and wants to use social media to make an impact, this is the right place for you.
The Pulitzer Center's International Education and Outreach program is hosting training for Mekong social media influencers and content creators. You will learn about the importance of science in climate communication with a Pulitzer Center journalist who uses scientific research in his reporting. You'll also hear from a few leading environmental activists who use social media as a tool to raise awareness of the climate crisis and environmental issues, such as Rob Greenfield, Isaias Hernandez, and Mafea Fuentes from the Amazon region. You'll learn tips on how to best share knowledge on the climate crisis as well as identify opportunities for next-generation climate content creators!
After the training, there will be a chance for you to join our #showmeyourtree Mekong influencers campaign. This is a first-of-its-kind campaign for content creators in the Mekong region to help build an emotive platform where authentic anecdotes/memories linked to our natural environment can be shared.
Agenda:
Why science is important in climate communicating
Dan Grossman, Southeast Asia Rainforest Journalism Fund Advisory Committee Member
The overview of environmental/climate space in social media and opportunities for New Gen Climate Content Creators
Rob Greenfield, activist and humanitarian
Tips on using digital media to communicate environment/climate: Dos and don'ts, and how to deal with climate trolls
Isaias Hernandez, educator and activist, and María Fernanda Fuentes, influencer and environmental consultant
Using audience-centered communication to mobilize action around climate and social-environmental issues
Flora Pereira, Pulitzer Center International Education and Outreach Program Director
We will close the training with Flora who will be sharing outreach and communication strategies to identify and engage different audiences. The presentation will first bring key concepts of audience-centered communication and how that can help to mobilize action around climate and social-environmental issues. The second part of the presentation will bring communication ideas and impact approaches on how to connect with different audiences' values and motivations to inspire shifts in attitudes and behaviors.
Speakers:
Daniel Grossman
Daniel Grossman (@grossmanmedia) has been a science journalist for 30 years. He has produced radio features and documentaries for U.S. public radio, the Australian Broadcasting Corporation, Deutsche Welle radio, the BBC, and the Canadian Broadcasting Corporation. He has written for The New Yorker, National Geographic, The New York Times, The Guardian, The Boston Globe, The Washington Post, Discover, Scientific American, and Science.

Rob Greenfield
Rob Greenfield (@robjgreenfield) is an activist and humanitarian dedicated to leading the way to a more sustainable and just world. He embarks on extreme projects to bring attention to important global issues and inspire positive change. Greenfield's work has been covered by media worldwide including National Geographic, and he's been named "The Robin Hood of modern times" by France 2 TV. Rob's life is an embodiment of Gandhi's philosophy: "Be the change you wish to see in the world." In a time when many feel disempowered, he believes that our actions really do matter and that as individuals and communities, we have the power to improve the world around us. Greenfield donates 100% of his media earnings to grassroots nonprofits. He has committed to living simply and responsibly for life.

Isaias Hernandez
Isaias Hernandez (@QueerBrownVegan) is an environmental justice educator + activist from Los Angeles, CA. He's passionate about making environmental education accessible and advocating for social justice in the environmental movement. Growing up, he lived in a community that faced environmental injustice and it shaped the way he saw the world. His experiences led him to create the Queer Brown Vegan platform, an environmental education page that focuses on social justice and intersectional topics not traditionally covered in environmental spaces. Hernandez has a B.S. in Environmental Science from the University of California, Berkeley, and spent his college years working on a variety of diversity inclusion work in environmental spaces, academic research, and creative work. After graduating, he helped start the digital publication Alluvia Mag before becoming a full-time educator and creator.

María (Mafea) Fernanda Fuentes
María Fernanda Fuentes Díaz (@mafeafuentes) is an environmental engineer. She has a master degree in Biodiversity Conservation. She is currently a master student in Food Sustainability at Cranfield University (UK). Maria promotes initiatives aimed at biodiversity conservation and improving the quality of life of vulnerable communities and groups. She's also a STEM British Council and Cranfield University Fellow (2021) and Fellow of the Israel Agency for International Development Cooperation -MASHAV- (2018). Winner of the 2018 International Youth Award in the "Influencers" category granted by the International Youth Organization for Ibero-America (OIJ), in recognition of her initiative "If each of us changes, the planet changes", which seeks to raise awareness of the potential of social networks as a tool to promote actions aimed at protecting the environment.

Flora Pereira
Flora Pereira is the International Education and Outreach Director at the Pulitzer Center and is pursuing her Ph.D. at the Coimbra University in the Postcolonialism and Global Citizenship Program. Previous Senior Manager at Diálogo Brasil/CLUA, where she led an influencer program focused on communicating social and environmental issues. She was the Communication Manager for UN Environment, and Director and Founder of Afreaka, a media and education NGO. She is the author of five books school-oriented and was awarded the Brazilian Minister of Culture Prize for Independent Media for her work at Afreaka.

Moderated by Vijitra Duangdee, Pulitzer Center Southeast Asia Outreach Coordinator
RELATED INITIATIVES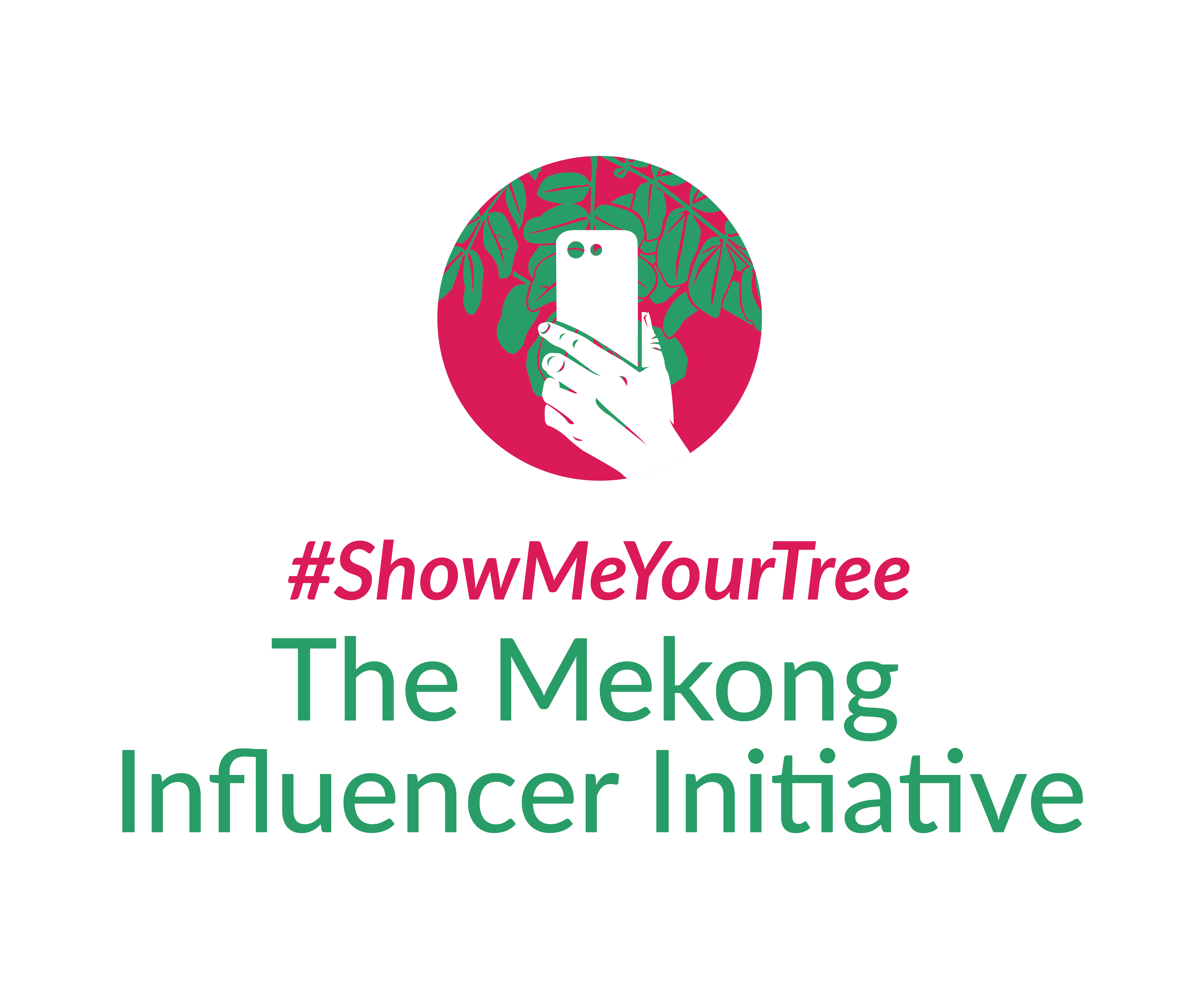 Initiative
#ShowMeYourTree: The Mekong Influencer Initiative
#ShowMeYourTree: The Mekong Influencer Initiative
RELATED ISSUES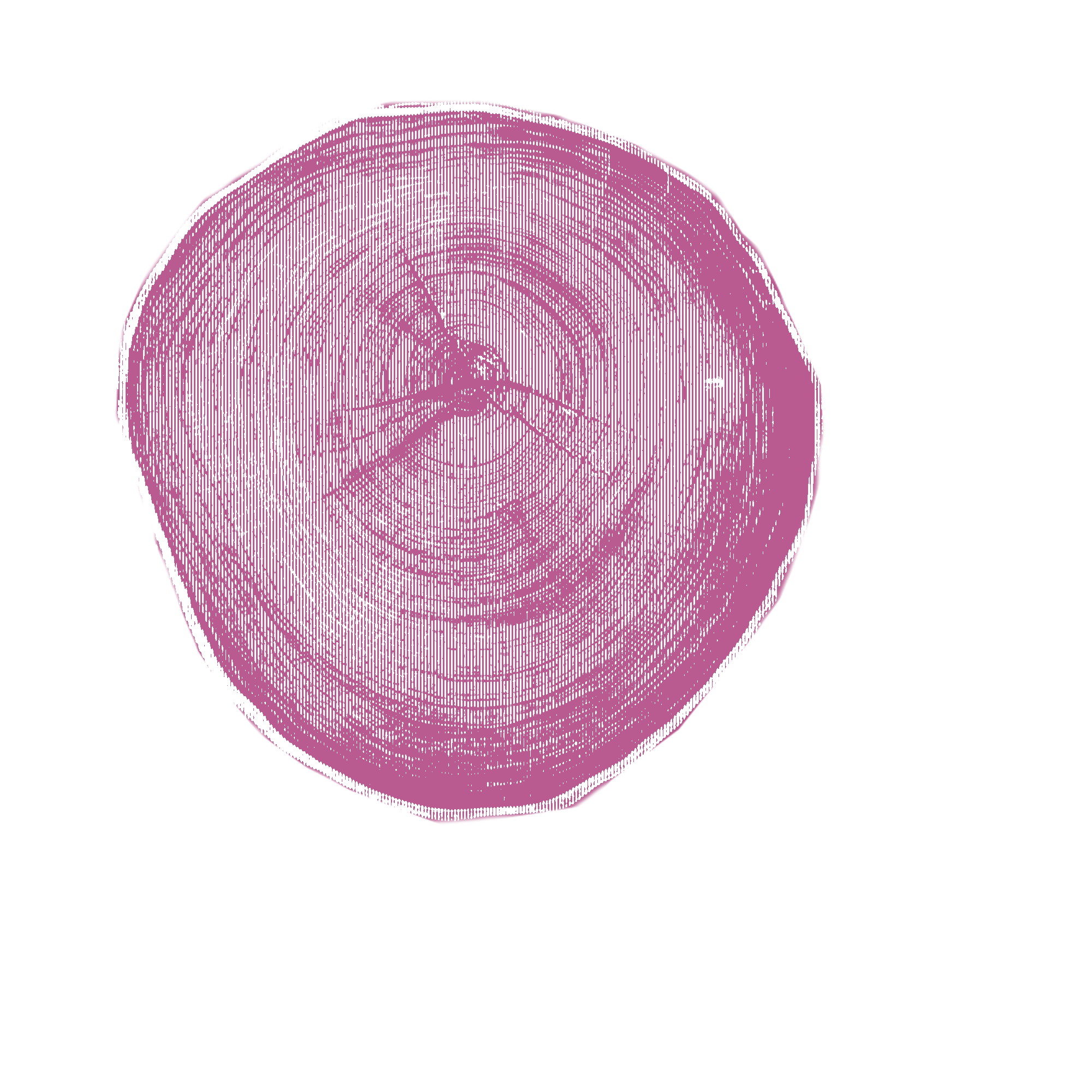 Rainforests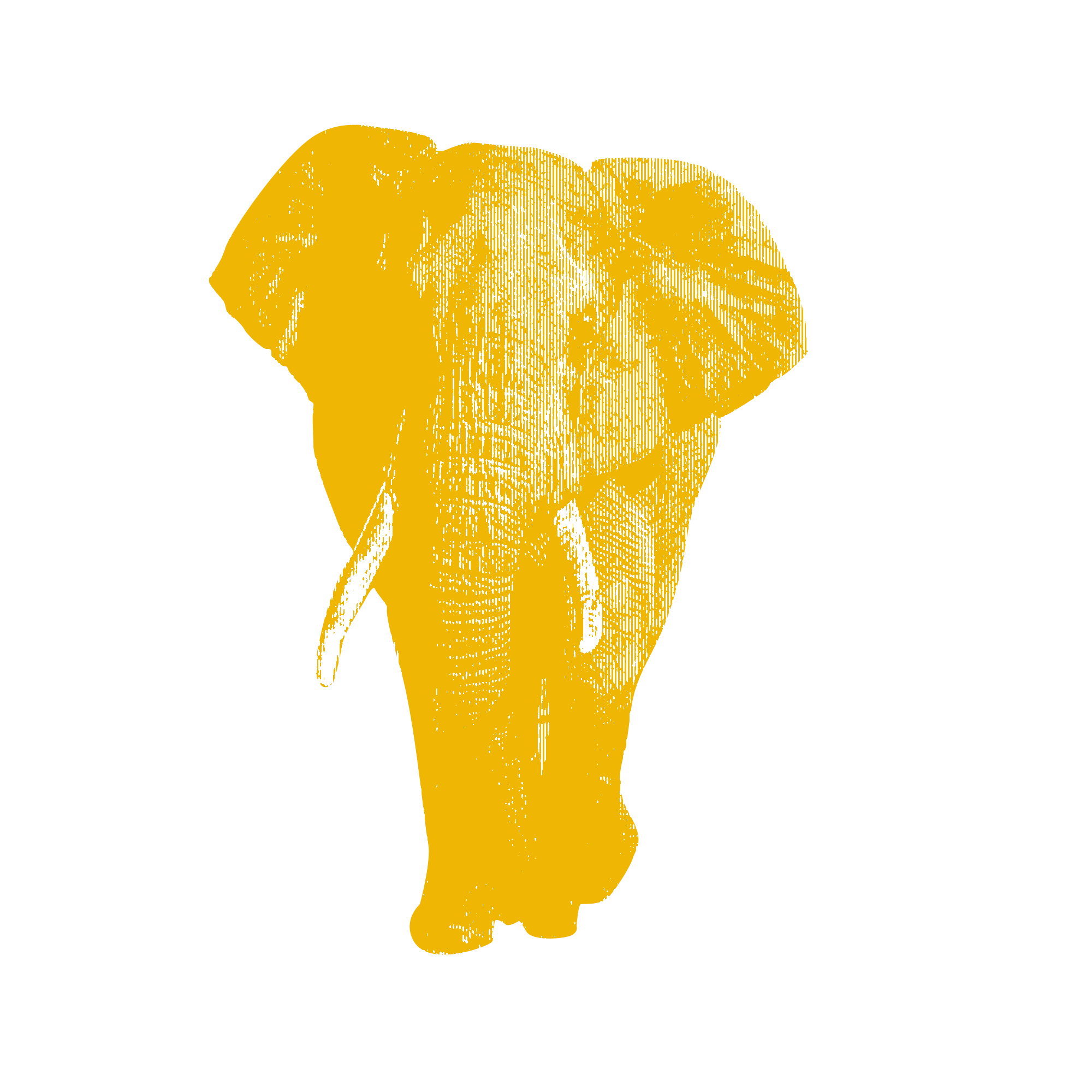 Issue
Environment and Climate Change
Environment and Climate Change