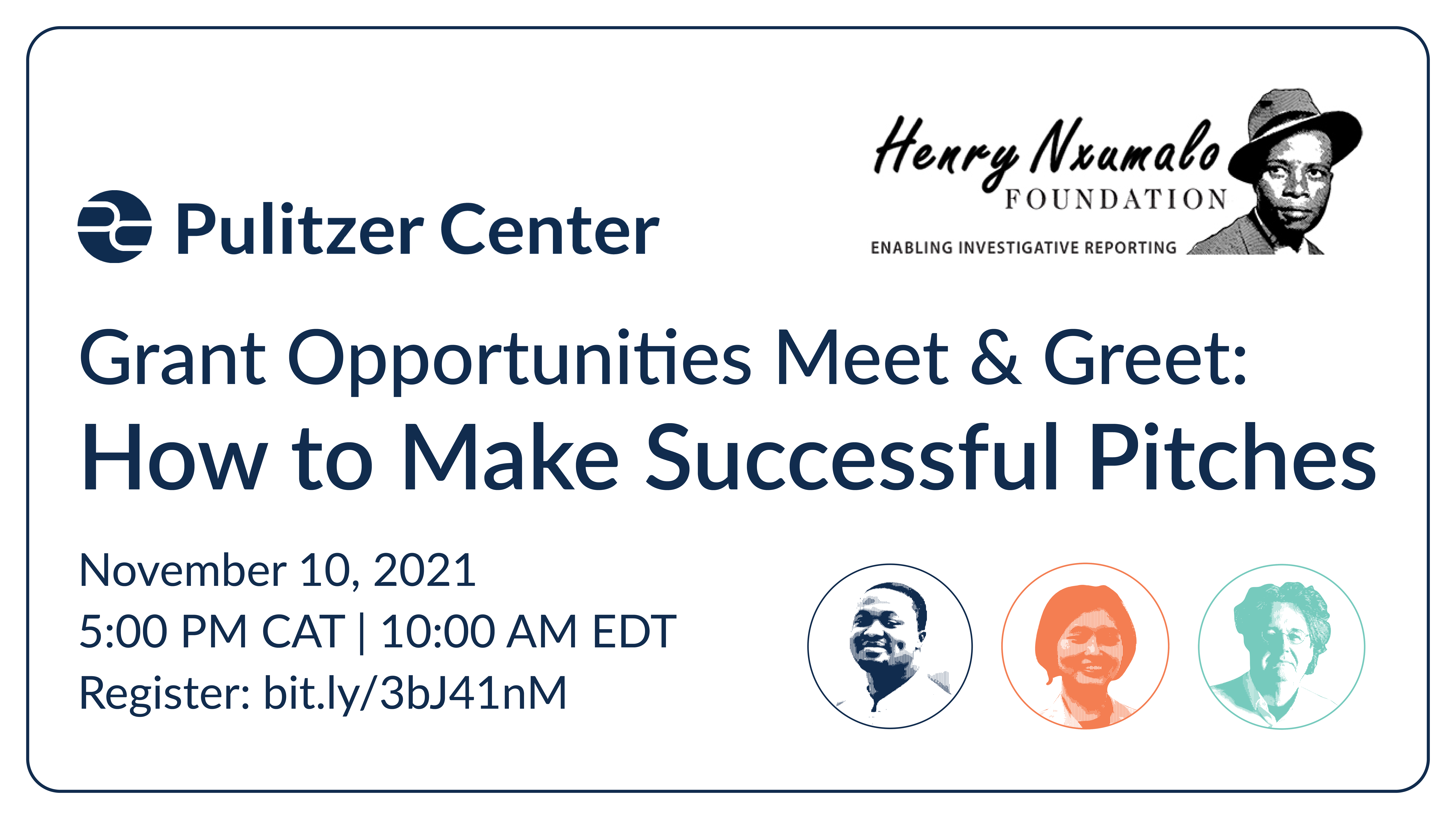 Are you having trouble making your pitches stand out? The Grant Opportunities Meet & Greet will provide journalists with an opportunity to learn how to create a successful pitch to help fund your dream project. Join the Pulitzer Center and the Henry Nxumalo Fund on November 10, 2021, at 10:00am EDT, for advice from panelists Ridwan Karim Dini-Osman, Anton Harber, and Boyoung Lim.
Read more about the panelists:  
Pulitzer Center grantee Ridwan Karim Dini-Osman
Ridwan Karim Dini-Osman is a multiple award-winning development journalist working for Ghana's GHOne TV as a senior reporter and news anchor. Dini-Osman is a recipient of the 2018 Lorenzo Natali Media Prize, a prestigious global award run by the European Commission. In 2020, he was awarded best African TV Journalist in Environmental and Change Reporting by the Panafrican Climate Justice Alliance (PACJA).
Anton Harber
Anton Harber is director of the Henry Nxumalo Foundation and convenor of the African Investigative Journalism Conference (AIJC). His day job is executive director of the Campaign for Free Expression and is the Caxton Adjunct Professor of Journalism at the University of the Witwatersrand, Johannesburg. He was a co-founder and editor of the anti-apartheid newspaper the Weekly Mail (now the Mail & Guardian), editor-in-chief of South Africa's leading television news channel, eNCA, and chief executive of Kagiso Broadcasting. 
Boyoung Lim
Boyoung Lim is a senior editor at the Pulitzer Center. She worked as a police officer with a focus on cybercrime before becoming a journalist. Since starting her journalism career in her native South Korea, she has covered human rights violations, illicit financial flows, tax injustice, the medical device industry, and others. She formerly worked as a reporter at the Korea Center for Investigative Journalism (KCIJ) - Newstapa.
RELATED ISSUES