Join The Everyday Projects and Black Women Photographers at the workshop "Building Your Career," on Wednesday, October 27, 2021, at 12:00pm EDT for a conversation about careers in photojournalism. 
Photographers Sarahbeth Maney and Sarah Waiswa will use their own passion projects and reporting projects to walk attendees through the start of their careers and highlight some of their most important lessons along the way. Coming from different points of their career and different backgrounds, Maney and Waiswa will showcase what they were able to do with limited support and discuss what it was truly like to get their careers off the ground. 
The Everyday Projects and Black Women Photographers host The Essentials, a series of online classes for photographers. The free workshops are for emerging and experienced editorial photographers who would like to learn more about the ins-and-outs of professional photojournalism. This workshop is sponsored by the Pulitzer Center.
Read more about the panelists below:
Sarahbeth Maney is a 2021-22 photography fellow at The New York Times' Washington bureau. Her personal work focuses on topics related to housing insecurity, disability, and inequalities that disproportionately impact Black and brown communities. Most recently, she documented immigration along the U.S.-Mexico border, the Black Lives Matter movement, and the California wildfire season. She is a recipient of the inaugural Pulitzer Center and Diversify Photo Eyewitness Photojournalism Grant in 2020. Her photography has been published by TIME, Vanity Fair, Apple, The Washington Post, and the San Francisco Chronicle, among others. You can follow her @sbmaneyphoto.
Sarah Waiswa is a Ugandan-born, Kenya-based documentary and portrait photographer with an interest in exploring the New African Identity on the continent. With degrees in sociology and psychology, Waiswa's work explores social issues in Africa in a contemporary and non-traditional way. In 2015, she was awarded first place in the story and creative categories in the Uganda Press Photo Awards and second place in the daily life and portrait categories. She is a Pulitzer Center Rainforest Journalism Fund grantee. Her work has been exhibited around the world, most recently at the National Gallery of Victoria in Australia. Her work is on display at the Bristol Photo Festival 2021 in collaboration with the Bristol Archives. Her photographs have been published in The Washington Post, Bloomberg, The New York Times, among other outlets, and she has worked with top brands such as Christian Dior and Chloe. You can follow her @lafrohemien.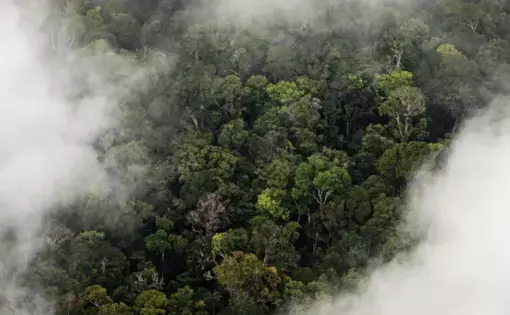 Tropical forests in Indonesia, Brazil, and Democratic Republic of Congo are under-appreciated...