Africa's Children of Arms will be the newest iteration of the Pulitzer Center-Worcester Art Museum exhibit partnership in conjunction with the museum's collection of arms and armory, Knights! The exhibit opens Wednesday, November 19, and brings together 30 photographs by Pulitzer Center grantees Marcus Bleasdale, Robin Hammond and Andre Lambertson to shed light on one of the most pressing human rights issues afflicting Africa, where boys and girls are regularly forced into armed combat.

Whether they are abducted, coerced into violence, or perceive their participation in the army as the only option for survival, many of these child soldiers are not old enough to understand the severe brutality to which they are exposed during conflict. The images by the featured documentarians and photojournalists serve as records of life after war as these individuals reintegrate themselves into society and grapple with the unspeakable trauma that defined their youth.

You can read more about the reception of this exhibition via a review by The Boston Globe.

Previously, the Pulitzer Center-Worcester Art Museum partnership created "Guns Without Borders in Mexico and Central America", a visual examination of gang and cartel violence Photographers featured were Pulitzer Center grantees Dominic Bracco II, Carlos Javier Ortiz and Louie Palu. The idea behind "Guns Without Borders", which runs through Sunday, November 16, was to give audiences greater insight into the real-world ramifications of gun violence, and reviews suggest that the unusual collaboration accomplished that goal.

As with "Guns Without Borders," "Africa's Children of Arms" is organized by the Worcester Art Museum and curated by Nancy Burns, assistant curator of Prints, Drawings, and Photographs, in collaboration with the Pulitzer Center on Crisis Reporting.

Africa's Children of Arms at the Worcester Art Museum
November 19, 2014 - September 20, 2015
Worcester Art Museum
55 Salisbury Street
Worcester, MA 01609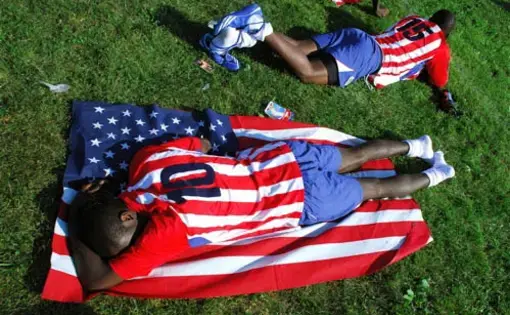 Reporter Ruthie Ackerman and photographer Andre Lambertson travel from Staten Island to Liberia...