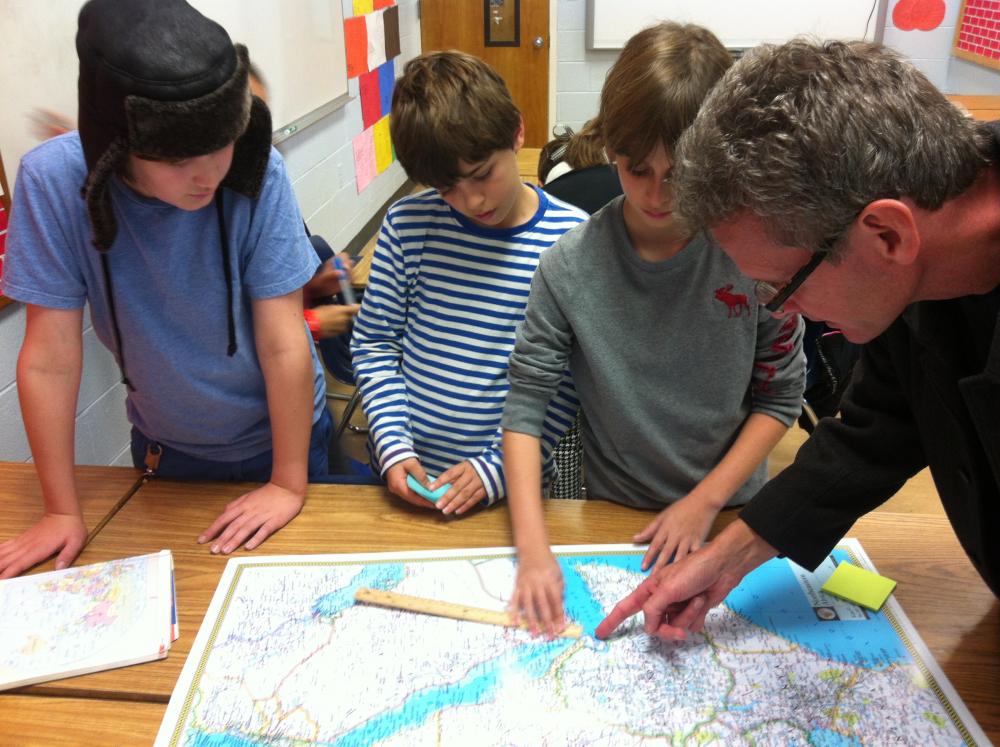 A two-time Pulitzer Prize-winner walking across the planet; a Paris-based photojournalist whose lens captures the mundane and remarkable from life along the North Korean border; a Harvard researcher standing by from her office for a Skype call; and 70 teachers from 30 diverse city and suburban, public, charter and independent schools. This is the scene for a unique professional development workshop recently conducted by the Pulitzer Center on Crisis Reporting in the lunchroom at Independence Charter School in Center City Philadelphia.

The Pulitzer Center promotes in-depth engagement with global affairs by bringing underreported stories to life for a broad and diverse audience. Its education program actively engages K-16 students in learning about the world through its network of more than 300 intrepid grantee journalists who share their stories in schools. Its online Global Gateway illuminates vital issues and offers lesson plans and curricular materials.

At the Philadelphia teacher workshop, these global learning resources took center stage, showing teachers how they could bring the world into their classrooms regardless of whether they or their students had ever possessed a passport.

A Walk As a Launching Point

One particularly exciting vehicle for learning about the world is journalist Paul Salopek's Out of Eden Walk, which will span 21,000 miles and seven years, starting at humankind's birthplace in Ethiopia and ending at the southern tip of South America. Along the way he is engaging with the major stories of our time — from climate change to technological innovation, from mass migration to cultural survival — by walking alongside the people who inhabit these headlines every day. The beauty of walking also lies in Paul's discovery of the quieter, hidden stories of people who rarely make the news. As the Pulitzer Center and Harvard University's Project Zero, the Walk's education partners, can attest, this expedition brims with great learning opportunities — and we want diverse schools and students to experience these.

It was the vast education potential and wide appeal of the Walk that spurred a small team from the Pulitzer Center to bring this opportunity to focus in Philadelphia. Several schools in the city already had a relationship with Pulitzer Center programs and journalists, and as an urban district which has recently experienced a particularly distressing period of budget and program cuts, the team wanted to make sure that teachers and students would benefit from the global learning opportunities available through the Out of Eden Walk.

Global Citizenship

To set the stage for considering how to personalize the global, to make lasting connections with the wider world, teachers were asked to consider a simple but profound and universally regarded human connection — friendship. The group listed qualities of friendship and connected those to a definition of global citizenship: "Be a friend to the whole human race."

Tomas van Houtryve, fresh from presenting his work on North Korea to DC and Philadelphia students, was on hand at the teacher workshop. When we viewed his images, usually depicting lives shrouded in mystery, through a lens of friendship, their inscrutability began to fall away. And the people that Paul will encounter in his 7-year walk represent potential friends, with learning experiences that can follow naturally. As teachers learned about these global citizens, ideas began to flow across the lunchroom.

Let the Creative Ideas Flow

Originally the plan had been to focus the workshop on public school teachers in the city. But after talking to a variety of educators we realized that opening the experience to a wider audience could enable a sort of cross-pollination to take place that embodied the spirit of Paul's encounter with the unfolding of civilization, transcending boundaries and divisions. So we had representatives in attendance from elite schools with abundant resources; charters in high-poverty areas; large, urban public high schools; and small religious schools, at the elementary, middle and high school levels.

After the group was guided through the Pulitzer Center's Out of Eden materials and lesson plans and participated in a Skype call to learn about Project Zero's Out of Eden Learning community, attendees broke into groups to discuss a driving question: How can the Out of Eden Walk be integrated into a richer learning experience in your classroom?

Ideas resulting from the lively and thoughtful discussion included:
• Elementary math teachers plan to embark on a mapping and calculation project. How many miles can Paul walk in a day? Where might he meet obstacles to his walking? How long will it take to get from Point A to B? Then compare those calculations to what actually takes place.
• A school that follows an "expeditionary learning" curriculum will be creating local expeditions to mirror some elements of Paul's walk, whether they look at challenges like water use and population growth, or aim for a certain distance to be walked over a set period of time. They will journal observations from the walk and create "milestones" like Paul does. Pulitzer Center lesson plans can serve as a guide.
• Three diverse high schools located in far-flung parts of the city hope to have students embark on a walk originating in each school and converging at a mid-point in a historic neighborhood. Along the way, they will record sights and sounds to create a culminating project involving multi-media collaboration across the schools.
• In a few schools represented by four to seven teachers, plans for inter-disciplinary engagement got underway. With six more years left in the Walk, they will propose to their administrators to take on a regional focus corresponding to the land where Paul will be walking. Literature, science, history and other subject areas will cover issues emerging from those cultures, lives and terrains.
• Using social media more effectively for learning. Connect with other classrooms around the world that are following the walk, share your local experiences with them. Create or follow a hashtag specific to this project and activity. Try to find a partner school in another country to share what a walk in your own neighborhood is like.

Knowledge that shortly after the session Paul Salopek and the Out of Eden Walk would be featured as National Geographic magazine's cover story added to the energy in the room. So did plans for participants to have an opportunity to engage in a live video chat with Paul from his location in the Middle East in January 2014, thanks to collaboration with the University of Pennsylvania's MAGPI program.

Global learning opens a window to active, rigorous engagement across disciplines. We'll keep checking in with the fabulous teachers we met in the lunchroom to see where their global adventure takes them.
RELATED ISSUES