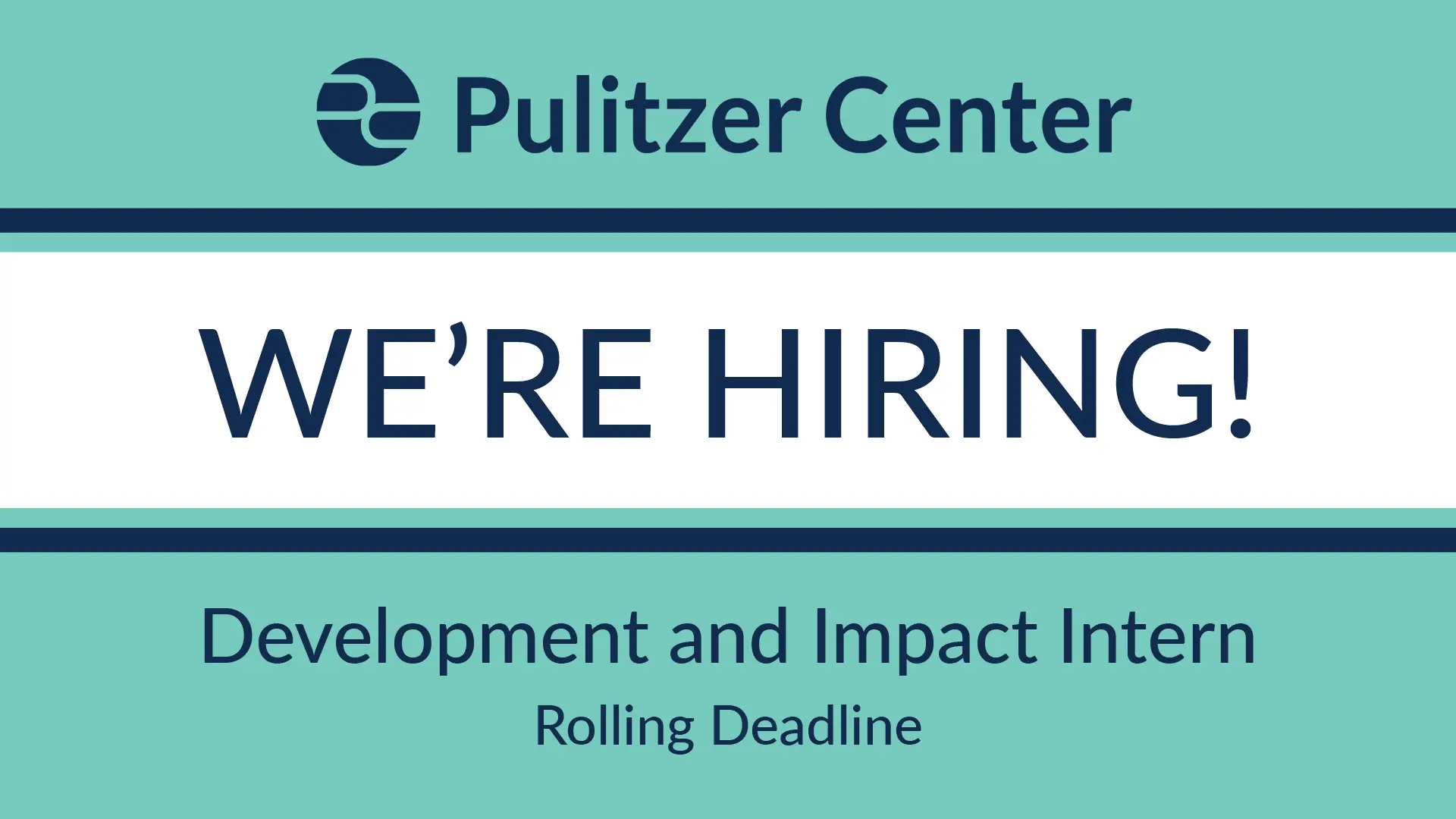 The Pulitzer Center on Crisis Reporting is seeking a creative, detail-oriented, and high-energy person to support our organization as Development and Impact Intern. Our aim is to find a candidate who shares our passion for raising awareness of critical global issues and is eager to learn the ins and outs of fundraising. The Pulitzer Center works with some of the world's most talented journalists, photographers, and filmmakers. The programs we organize bring them into conversation with students, educators, and the public on the broader societal issues explored in the reporting.
The Pulitzer Center seeks an intern to join our team for a 6-9 month internship. Interns are an important part of the Pulitzer Center, and this internship will focus on helping advance the Center's ability to raise support for our critical mission.
This intern will primarily support our growing strategic development team which includes strong coordination with our editorial, outreach and communications teams.
Key Responsibilities
Impact:
Assist with the collection and curation of impact across the Center's editorial, education, and outreach programs, including monthly outreach to grantees for follow-up and additional details on impact, as needed, and tracking the reach of the Center's work using tools like CoverageBook and BuzzSumo
Assist with research on other possible tools for the measurement of reach and engagement
Select examples of impact for the weekly newsletter and social media
Assist with coordination with the communications team on the integration of impact on the website, including writing occasional impact posts, interviews with grantees, and awards write-ups
Grant reporting:
Assist with project and program summaries for grant reports to major funders
Participate in cross-team meetings on major grants to track status of proposed work
Prospecting:
Research on potential new funding sources to support our programs in collaboration with the strategic director of development
Support developing pitches to new funders
Individual donor campaigns:
Assist in coordination and strategies for individual campaigns in collaboration with the comms team
Assist with support of individual donor events
Administration:
Support on administration tasks across the development team's work
Applicants should have an interest in, and familiarity with, current international affairs, and the news media landscape. Excellent copy-editing and design skills are a plus, as are language skills and competence with Microsoft Office, Google Suite, Slack, Asana, and Salesforce.
The Pulitzer Center is a nonprofit organization that supports the development of independent, quality journalism worldwide with an ambitious network of journalism and educational partnerships. We support more than 200 reporting projects a year in partnership with dozens of media outlets worldwide. We also support in-depth engagement with reporting through collaborations with a vast network of nonprofit organizations and outreach partners, hundreds of secondary and middle schools, and a Campus Consortium network of 35-plus universities, community colleges, and historically Black colleges and universities.
We create innovative educational programs to connect students, teachers, and the public with the print reporters, photographers, filmmakers, radio documentarians, and multimedia journalists who work with us around the world.
Deadline
Applications will be reviewed and interviews scheduled on a rolling basis, giving an advantage to early applicants.
Location
The Pulitzer Center is currently hybrid. Staff and interns are welcome to work from the office, where computers and tech equipment are provided. This internship can be remote, in-person, or hybrid. There is opportunity to work remotely as long as there is access to a stable internet connection. Interns will likely be asked to work an in-person event, with transportation and accommodation provided for those who live outside of the Washington, D.C. area.
Compensation
$32,882.00 stipend per year with monthly payments.