Dear Chairman Mendelson,
I'm writing to you amid a globally dark era for reproductive rights, one defined by an egregious level of government interference with bodily autonomy. As you know, the United States Supreme Court recently overturned the landmark case Roe v. Wade, opening the door for several states to ban or severely restrict access to abortion. The dangers of these bans can not be overstated. Pulitzer Center journalist Besty Joles outlines the grave risks of abortion bans in her heartbreaking article "Why Deadly Abortions Keep Killing Women in Pakistan." Despite abortion only being legal in limited instances, Joles described the death of Rabia, a girl who tragically died due to complications from a failed, illegal abortion. She noted that Pakistan has one of the highest abortion rates in the world, many of them performed illegally by untrained individuals. Ultimately, her story serves as the epitome of the expression "abortion bans don't limit abortions, only safe ones." Here in the nation's capital, we must lead the country by example in how to protect access to legal and safe abortions so that we can avoid tragic stories such as Rabia's.
I applaud the city's efforts to protect its residents' access to abortion, including the Strengthening Reproductive Health Protections Amendment Act of 2020. The leadership you and other council members have shown has been remarkable, but I believe that the times we are in today call for much more significant action. With dishonesty and misinformation related to abortion access on the rise, it is no longer enough to merely grant one's access to abortion. For the council to truly champion reproductive healthcare access, I encourage you and your fellow members to examine crisis pregnancy centers (CPCs), as their existence challenges an abortion seeker's ability to get the service they need at a proper clinic.
Crisis pregnancy centers are pro-life centers that disguise themselves as abortion clinics but don't provide abortions or abortion referrals. Even more, staff members at these centers are known to shame/guilt those seeking abortions and falsely advertise abortion services. These centers exist in the district, and in their reviews, you can find harrowing stories of abortion-seekers who went looking for help only to be denied it. I implore the council to end this deception by enacting legislation that forces all reproductive healthcare clinics in the city to be completely transparent about the services they do and don't provide.
A prime example of how to combat such misinformation is the Stop Anti-Abortion Disinformation Act (SAD Act), a bill introduced by Sen. Mendez earlier this year. This bill bans a person from falsely advertising abortion services, which is what CPCs do so well. Inspired by this act, I propose that D.C. implement a version of these laws but take it one step further by enforcing any clinic in the District to include a visible disclaimer about the services they provide. Abortion-seekers deserve not only the right to proper reproductive healthcare, but to transparency and safety as well. 
Pregnancies move quickly, and when not provided with a clear path to their best option, many can end up in dire and dangerous situations if they run out of time. Especially in an era where many are traveling across state lines to receive the care they need, it's vital that people can easily locate where they can receive a safe abortion. Additionally, one could hope that by enacting this legislation, other cities would begin to follow in our footsteps, which would have a monumental impact on helping abortion-seekers have more direct access to the resources they need and ultimately save more lives. I sincerely hope that the council moves forward with this proposal because we've lost too many already not to do anything to protect the people we still can.
Respectfully, 
Claire Simon
---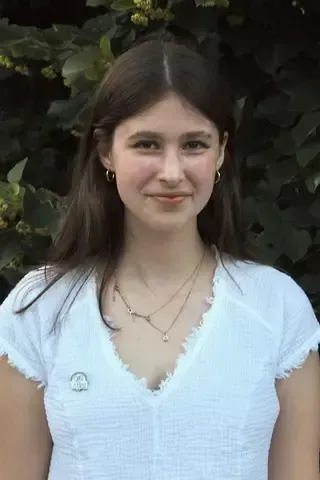 Claire Simon is a young organizer and junior at Georgetown Day School (GDS) who is passionate about D.C. Statehood and reproductive justice. At school, she serves as a head of GDS's Voter Mobilization Initiative and Student Voices club where she strives to fight voter suppression and engage in productive discussions about current events with her classmates. In her free time, she works at Gen-Z for Change, a national youth nonprofit that is dedicated to mobilizing civic participation from Generation Z and enacting change.
Over the summer, Claire helped design her organization's SAFER Initiative, a project that seeks to extend abortion access to those in dire situations through education, funds, and more. During the time she spent working on that initiative, she was made aware of the risk that crisis pregnancy centers pose to those seeking abortions and recalled the information she had learned when writing her letter.
Read more winning entries from the 2022 Local Letters for Global Change contest!