This letter features reporting from "How to Make Abortion Great Again" by Anna Sussman, a Pulitzer Center reporting project
Dear Senator Cindy Hyde-Smith,
Americans' right to legal, medically-safe abortions is currently under siege despite being recognized as a constitional right since 1973. Numerous states have recently passed legislation designed to undermine or completely block abortion access, which contradicts what the United States Supreme Court decided in 1973 in Roe v. Wade, and again in 1992 in Planned Parenthood of Southeastern Pennsylvania v. Casey. Together, these judicial opinions effectively guarantee Americans' constitutional right to terminate a pregnancy before fetal viability, and to terminate a pregnancy after fetal viability when necessary to preserve the life or health of the person who is pregnant. These opinions also prohibit states from barring abortion before the fetus becomes viable or placing "undue burdens" on a person's right to abortion.
Americans need only look to other parts of the world to see how medcially-safe, legal abortions, once easily accessible, can become all but banned in practice, though technially legal. An article by Anna Sussman for Harper's Bazaar and the Pulitzer Center entitled "How to Make Abortion Great Again" relays the story of four Polish abortion rights activists who have risked criminal prosecution to counsel Polish women on how to have a medically-safe abortion. In Poland, abortions were once easily accessible after being legalized in 1956, but now they are practically unobtainable after a restrictive law was passed in 1993. In response, these activists, nicknamed the "Abortion Dream Team," have fought to offer women practical assistance and information about how to find medicine and safely adminster their own abortions. They have also reignited public debate about a woman's right to information affecting their reproductive health including the right to abortion. One of their more clever slogans, inspired by a sign at a Women's March following the election of Donald Trump, is "Make Abortion Great Again."
The article explains how the members of the "Abortion Dream Team" came together in October of 2016 with the goal of providing practical advice to women seeking abortions even when their reasons for needing one fall short under Polish law. The 1993 law is one of the most restrictive abortion laws in the European Union, limiting abortion access to cases of officially-reported rape or incest, incurable and severe fetal abnormality, or danger to the woman's life or health. What is more, it prescribes a national sex education curriculum that focuses on family values and responsible parenting but says nothing about sexuality or abortion. In addition to pushing back on this law, the "Abortion Dream Team" has kickstarted a public conversation about the reality of abortion in Poland—a conversation they insist should be open and "unburdened by the language of stigma, morality, or politics." And they have advocated for all Polish women to have access to abortion regardless of their financial resources. Interestingly, when the Polish Parliament passed the restrictive 1993 law, it promptly triggered an "abortion underground." Doctors who had previously performed abortions in public hospitals began offering safe but illegal abortions in private clinics to those who could afford the steep price tag, the equivalent of about $260 to $1,050, in a country where GDP per capita was less than $9,000 a year.
Meanwhile, on this side of the Atlantic, the United States Supreme Court recently heard Dobbs v. Jackson Women's Health Organization, a case challenging Mississippi's 15-week abortion ban. Additionally, the United States Supreme Court recently allowed a Texas law, S.B. 8, to take effect, which prohibits abortion after six weeks. Especially controversial is a provision of S.B. 8 that creates a private right of action allowing "any person" to sue anyone who helps a person access abortion care, including abortion providers, abortion funders, family members, or friends. Many states already have onerous abortion restrictions, making abortion even harder to access for the people who need it the most. For example, Mississippi has laws requiring a 24-hour waiting period and multiple trips to the abortion clinic, biased counseling requirements, and a provision targeting abortion providers. In fact, Mississippi's only remaining abortion clinic is a party to the pending Supreme Court case. 
Senator Hyde-Smith, I'm writing to urge you, Mississippi's first female United States Senator, to take action to ensure that the right to abortion exists for all Americans regardless of their income, race, or geographic location. The COVID-19 pandemic exposed long-present systemic inequities in the United States health care system, and legislators in nearly every state introduced legislation that would undermine the ability to obtain medically-safe abortions. Abortion services are essential to health care, and access to those services is necessary for women and people who can have children to participate fully and equally in the economic life of this country. Abortion services are also important in terms of promoting racial and gender equality. The harms of abortion-specific restrictions fall especially heavily on people with low incomes, people of color, and people living in rural and other medically-underserved areas. Everyone should have the right to make their own decisions about having children regardless of their circumstances and without governmental interference or discrimination. The United States House of Representatives recently passed H.R. 3755, entitled "Women's Health Protection Act of 2021," to protect a woman's ability to determine whether to continue or end a pregnancy, and to protect a health care provider's ability to provide abortion services. Now the United States Senate should act to guarantee that all Americans have access to legal, medically-safe abortions and health care providers are allowed to provide abortion services. Will you support each individual's right to make decisions about their bodies, health, sexuality, and families? Will you protect the people of Mississippi, which continues to have one of the nation's highest rates of poverty and income inequality, and where people of color make up nearly forty percent of the population? Will you stand with us? 
Sincerely,
Caroline Lowery
---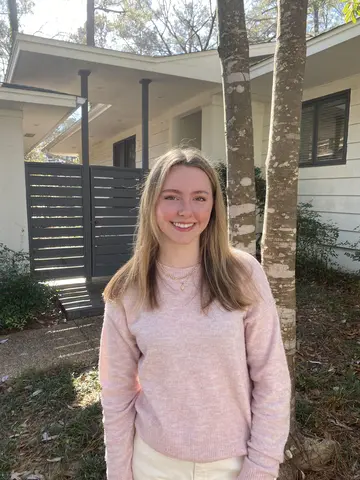 Caroline Lowery is a sophomore at St. Andrew's Episcopal School in Jackson, Mississippi. She enjoys using her writing to advocate for the change she wants to see in the world. Caroline is very grateful that she has the support needed to discuss important topics with her school community. When Caroline isn't in school, she loves playing volleyball, hanging out with her friends and family, and reading fiction.
Read more winning entries from the 2021 Local Letters for Global Change contest!