Lesson Plan September 21, 2017
Visualizing Stories: Preparing to connect with journalists Peter DiCampo and Austin Merrill
Questions for "Journalist Austin Merrill on War, Peace and Cocoa in the Ivory Coast"
1) What story did Merrill and photojournalist Peter DiCampo investigate in Ivory Coast?
2) How did Merrill and DiCampo report the story?
3) What detail(s) stick with you from the journalist's description of the project?
Objective:
Students will explore the work and careers of journalists Austin Merrill and Peter DiCampo in order to prepare detailed questions that they can ask when meeting with Merrill and/or DiCampo in person or over Skype
Warm Up:
1) On a separate sheet of paper, write down your responses to the following questions. Be prepared to share your answers with the class:
What does a journalist do? Why? What is the role of a journalist?
How do you prefer to get information? Text/audio/visual?
Where do you go for information you trust about what is happening in the world?
Introducing journalists Austin Merrill and Peter DiCampo:
In today's lesson, you will prepare to connect with Austin Merrill and/or Peter DiCampo, journalists who use writing and images to tell stories. They will be speaking about Everyday Africa, a project that uses photos taken on their phones to tell stories. The photos are posted on Instagram. Look closely at the image below and consider the following:
1) Observe: What do you see?
2) Predict: What story do you think that this image tells?
3) Question: What more do you want to know about the subject of this photo and how the photo was taken?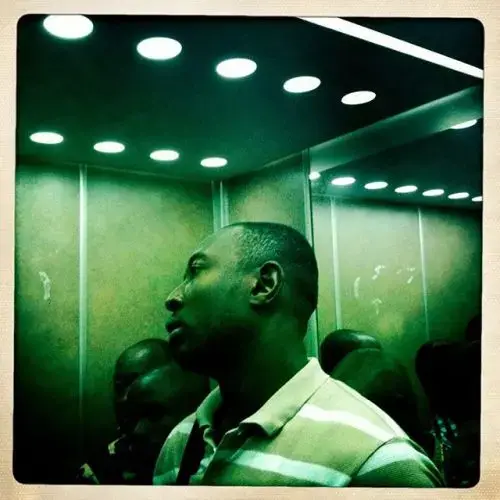 Connecting to Everyday Africa:
1) Think/Observe: Write down your responses to the following questions. Be prepared to share your responses with the class.
a. What are the last images you took with a phone?
b. What were the themes and who was the intended audience?
c. If someone from another country were to scan through your photos from the last week, what would they learn about you? Your school? your community?
d. If you were working as a journalist in your community, what issues would you want to investigate? What images would you want to get to tell those stories?
Exploring the work of and careers of Peter Di Campo and Austin Merrill:
1) Read the bios for Peter DiCampo and Austin Merrill, who collaborate on the Everyday Africa project. Your teacher will let you know which journalist you will be meeting in person or over Skype. As you read, consider the following questions:
What themes do these journalists cover?
Where has their work been published? Which of these publications are you familiar with and which are new to you?
How do these journalists tell stories?
Peter DiCampo is a documentary photographer whose goal is to contribute his work to a dialogue on international development. He launched his freelance career while also working as a Peace Corps Volunteer in rural Ghana.
His current long-term project, "Life Without Lights," explores the varied social and economic implications of global Energy Poverty and raises questions on energy's future. The work earned him the top prize in The British Journal of Photography's 2010 International Photography Awards and additional awards in the 2011 PDN Photo Annual and 2011 Anthropographia Awards for Human Rights. "Life Without Lights" has been the subject of solo exhibitions in London, New York, and Vienna. It was accepted into the curated exhibitions at the 2011 LagosPhoto Festival in Nigeria and screened at Visa Pour l'Image in Perpignan 2010. In addition to these accolades within the world of photography, Peter has partnered with various NGOs and energy experts at events that foster discussion on solutions to Energy Poverty.
Peter's photography and multimedia work have been published by National Geographic, TIME, Newsweek, Vanity Fair, The New York Times, The Wall Street Journal, Le Monde, GEO, Wired, Good, Businessweek, CNN.com, MSNBC.com and The Boston Globe, among others. His NGO clients include Medecins Sans Frontieres (Doctors Without Borders), International Committee of the Red Cross, Human Rights Watch, The Bill & Melinda Gates Foundation, The Carter Center, and the UN Food and Agriculture Organization.
Peter has received three grants from The Pulitzer Center on Crisis Reporting, in 2009, 2011, and 2012. He joined the VII Mentor Program in 2010.
Austin Merrill is a writer and editor based in New York. His writing has appeared in Vanity Fair, The New Republic, Wired, The New York Observer, Tin House, Good and other publications. Projects have included a piece about the Ivory Coast national soccer team's efforts to end the Ivorian civil war; a story about U.S. Army Rangers training West African soldiers in counter-terrorism tactics in Timbuktu, Mali; a feature on efforts to eradicate Guinea Worm disease in northern Ghana; and reporting from Angola and South Africa for the Vanity Fair blog on the 2010 World Cup.
Austin's introduction to Africa was as a Peace Corps volunteer in Ivory Coast, where he worked as a rural water and sanitation engineer. He later returned to Ivory Coast and was based in Abidjan, the economic capital, as a foreign correspondent for the Associated Press. While with the AP he covered the Ivorian civil war as well as politics and culture in Senegal, Guinea, Sierra Leone, Liberia, Burkina Faso, the Democratic Republic of the Congo, and elsewhere.
2) Peter and Austin will tell you more about Everyday Africa when they visit, but you can learn more about the project that inspired Everyday Project by watching the attached "Meet the Journalist" video about their reporting from the Ivory Coast. As you watch the "Meet the Journalist" video, respond to the attached questions. See the image below to identify Ivory Coast on a map.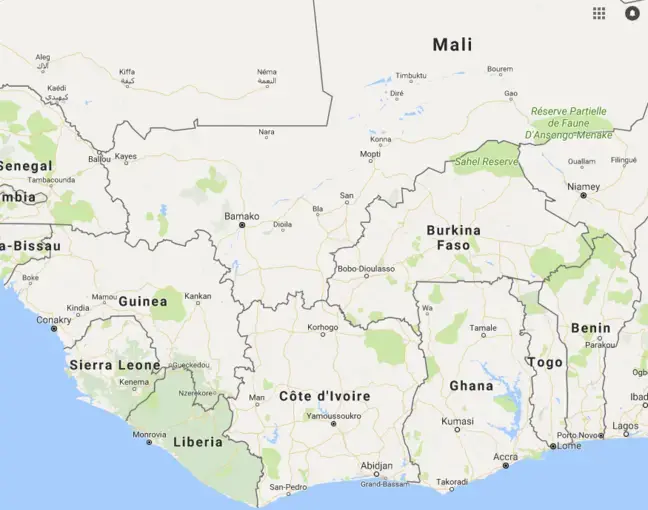 Preparing to connect with DiCampo and Merrill:
1) On your own, or with a partner, prepare at least three questions for your guest speakers. Consider the following as you develop your questions:
What questions do have for these journalists about the themes they cover?
What do you want to know about how Peter and Austin do their work?
What do you want to know about being a journalist?
This lesson is designed to introduce students to the role that images can play in telling stories. It also designed to prepare students to connect with journalists Austin Merrill and Peter DiCampo. If you are interested in connected Merrill and/or DiCampo with your students over Skype, contact our team by emailing education@pulitzercenter.org.
REPORTING FEATURED IN THIS LESSON PLAN