Lesson Plan July 8, 2016
Place Matters Introduction
Essential Questions:
1) How do you walk through a place mindfully, noticing details and inviting questions?
2) How does what you notice when moving slowly through a place enlighten larger issues in your community?
Place Matters Introduction:
Follow the instructions below to explore how journalists observe, report and document stories. By the end of this warm up, you will be prepared to take your own investigative walk through your own neighborhood.
Analyzing Photos of U.S. Cities
Click on this link to connect to photos from Pulitzer Center journalists Matt Black, Roger Thurow and Carlos Javier Ortiz. 
As you look at the photos, write your responses to the following questions (at least three responses to each question for each photo):
1) What do you see? (objects, colors, shapes people, places, etc.)
2) What do you think is happening in the photo? What do you learn about this place from the photo?
3) What questions do you have about the photo?
Example:
1. I see men and women with candles. I see trees. I see the word pray on one t-shirt. I see it is night time.
2. I think this could be a funeral. I think the photo was taken in the U.S. I think the event could be a protest.
3. Are the subjects going to or leaving an event? Why are these subjects gathered? Why did the photographer publish this photo in black and white?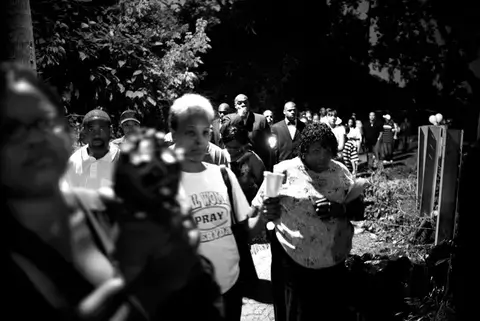 Learn more about these journalists' projects and how the reporting projects that led to these photos by watching the videos attached. 
Observe and Reporting
Observe the following images from journalist Paul Salopek, who is the field now for a project partially funded by the Pulitzer Center. Consider the following:
What do you see in the photos?

Where do you think they were taken? And why?

What do you learn about the place from the photo? What do you want to know?
These photos are all part of one project, the Out of Eden Walk, which Salopek began in early 2013. His mission is to walk the same 21,000 mile path that modern humans took from Africa to South America over the course of roughly 50,000 years. Paul's goal throughout the Out of Eden Walk is to take a slow approach to reporting that allows readers to reflect on how the small things we notice as we walk through the world reveal larger international issues.
Watch the video "Out of Eden Walk: What Makes a Good Story?" from Paul. Listen for his tips on the following:
How do you investigate a place?

What tools does Paul use to report?

Once you've investigated, how do you identify a story to pursue further?

 
Write down at least one tip from Paul that you will use to help you observe and research as you walk through your own community.
Documenting Your Reporting



 
Look at the following images from the project Everyday Africa and consider the following:

What do you notice is happening in the photo?

What do you like about the photo?

What do you learn about these places from the photos?
As part of the Everyday Africa project, Pulitzer Center journalists Austin Merrill and Peter DiCampo use photography to capture the everyday lives of different countries in Africa. According to their project's home page, "Everyday Africa, a collection of images shot on mobile phones across the continent, is an attempt to re-direct focus toward a more accurate understanding of what the majority of Africans experience on a day-to-day basis: normal life." The project has been adapted and used by countries all over the world.
Explore tips on how Peter DiCampo uses photography to capture everyday life in the places that he travels by watching the video Everyday Africa: A Photographer's Toolkit. As you watch, take note of how Peter explains the following photography tips:
Look for something surprising or interesting

Experiment with the frame

Look for a clear moment

Take multiple photos. Keep shooting.

Get to know your subject.
Write down at least two tips you will apply to your own photography while you're walking through your own neighborhood.
Reporting in Your Own Community:
You will now take a slow walk through your own community. As you walk, take note of the following:
1) What do you see? What are things you notice that you haven't noticed before?
2) What brings you joy? What worries you? 
3) What questions do you have about this place based on your slow observations?
<p>This lesson plan includes exercises that can be used to introduce students to reporting skills that they can apply to reporting projects in their own communities. The lesson plan was designed to be used as an introduction to the DC Public Schools&nbsp;<em>Place Matters&nbsp;</em>unit.&nbsp;</p>
REPORTING FEATURED IN THIS LESSON PLAN